Yes, you read correctly! Biscoff Cookie Butter Bread. Every word of that title is delicious.
I've had a jar of Biscoff Cookie Butter burning a hole in my cabinet, just waiting for another recipe worthy of using it.
I bought it originally for the recently posted Fig, Blackberry & Tahini cake in place of the tahini. Oh, and I take a spoonful out of the jar occasionally (all the time) for an amazing snack.
I was thinking about making a peanut butter bread or loaf cake. Then I came up with the bright idea to substitute the cookie butter for the peanut butter and add crumbled Biscoff cookies.
Biscoff cookies are wonderful little crunchy, beautifully spiced cookies. I'm usually a soft cookie kind of gal, but Biscoff cookies are addictive. You can eat them alone, dip them in hot tea, or put them on a snack platter with a small bowl of honey/cream cheese for dipping.
You'll find these cookies on the top row of the cookie aisle, next to the Milano or foreign cookies. They're a touch more pricey than Oreos or Keeblers, but far superior in taste.
I think there may be a cult-following of Biscoff somewhere in the world. Or maybe it's just here in Texas at my house.
Back to the bread, though. You know I like easy and this is easy to make and bake. Besides the Biscoff cookies, all of the ingredients are in your pantry. Oh, and there isn't any egg in this bread either.
The end result is a tender, but substantial bread with a uniquely wonderful flavor. Then you get the bits of crumbled Biscoff cookie in there. I love this bread.
For a snack (after I first snacked on it while getting photos), I warmed up a thick piece dotted with butter and thought I was in heaven. This Biscoff Cookie Butter Bread is terrific right now during Summer months, but I'm also putting it on my Fall recipe list. Those barely-there warm spices will be just the thing for a holiday table.
You can get Biscoff Cookie Butter on the peanut butter aisle at your local store. Again, like the cookies it's a little more pricey than peanut butter, but it's so incredibly worth it.
Pair it with jelly in a sandwich or dabbed between salty Ritz crackers for a snack. You'll be hooked. If you can't find it, try Trader Joe's Speculoos Cookie Butter - it's ginger-bready and very similar in taste.
Looking for more wonderful breads?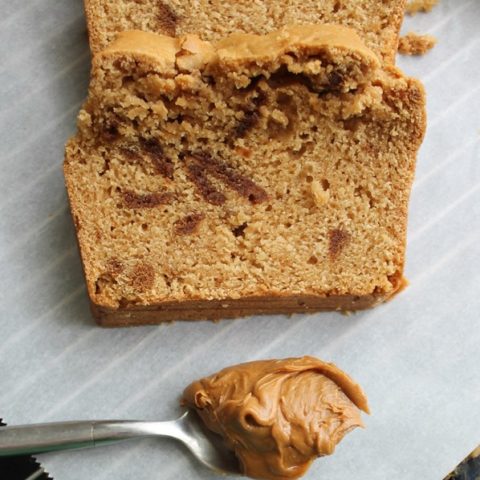 Biscoff Cookie Butter Bread
Total Time:
1 hour
15 minutes
Lightly spicy with a tender, but substantial texture.
Ingredients
2 C all-purpose flour
4 teaspoon baking powder
½ C granulated sugar
1 teaspoon salt
⅔ C Biscoff cookie butter
1 C milk
1 tablespoon canola oil
1 teaspoon vanilla
8 Biscoff cookies, crumbled - not crushed
Instructions
Preheat oven to 350°. Spray an 8" loaf pan and line the bottom with parchment paper.
In a medium bowl, sift together the flour, baking powder, sugar and salt. Set aside.
In a stand mixer (or you can use a hand-held mixer), blend the cookie butter, milk, vanilla, and oil together and mix for a minute or so until combined. Turn the mixer to low and add the flour. Mix until just blended.
Remove the bowl from the mixer and stir a couple of times to make sure the bottom stuff has blended with everything else.
Stir in the crumbled (not crushed) cookies. Pour the batter into the loaf pan and bake for 45-60 minutes (turn the pan about half-way through baking). Start checking at 45 minutes. Test for doneness when a piece of spaghetti inserted to the middle comes out just barely with crumbs.
Let the cake cool in the pan for about 15 minutes, then turn out onto a rack. Store at room temperature in a cake box or wrap in aluminum foil.
Notes
Tips and Stuff:
Yes, that's 4 teaspoons of baking powder.
If you can't find Biscoff Cookie Butter, Trader Joe's Speculoos Cookie Butter is very similar in flavor and could be used.
Don't crush the cookies to finely - you want little chunks throughout the cake.  Yum.
For a more tender cake, don't over mix the batter.
Mine took about 55 minute to bake.  Keep a watch on it after 45 minutes and cover with aluminum foil if you think the top is browning too much.
If you want to use a 9" loaf pan, check for doneness at 30 minutes and bake for less time than called for.
Terrific sliced, slathered with butter and microwaved for about 10 seconds.  
Nutrition Information:
Yield:

10
Serving Size:

1 slice
Amount Per Serving:
Calories:

271
Total Fat:

8g
Saturated Fat:

3g
Trans Fat:

0g
Unsaturated Fat:

4g
Cholesterol:

10mg
Sodium:

523mg
Carbohydrates:

45g
Fiber:

1g
Sugar:

16g
Protein:

5g
Nutrition Values are Approximate