Updated: September, 2020
This Sour Cream Cranberry Pound Cake is the next-to-the-last cake that we're baking from America's Test Kitchen's The Perfect Cake.
Come January 2019 we may not be officially baking from the book anymore, but this is truly one special baking cookbook that will take its place on my carefully streamlined cookbook shelf.
I'm not being compensated in any way when I highly recommend The Perfect Cake if you're in the market for a new cake cookbook!
Although this is what I classify as a fairly easy pound cake, it does take some time to chop up the cranberries, so do that before you begin. The eggs definitely need to come to room temperature, as does the butter.
When using the smaller loaf pan that's called for, this cake takes over an hour-and-a-half to bake, then it cools for a couple of hours. If you're using a larger loaf pan, be sure and lessen the baking time and start checking it earlier. So, yes it's fairly easy to put together, but it does take a bit of time between the bake and the serve.
I use fresh cranberries, but you can also use frozen (don't thaw before adding). It definitely wouldn't be as good with dried cranberries, so get fresh if you can.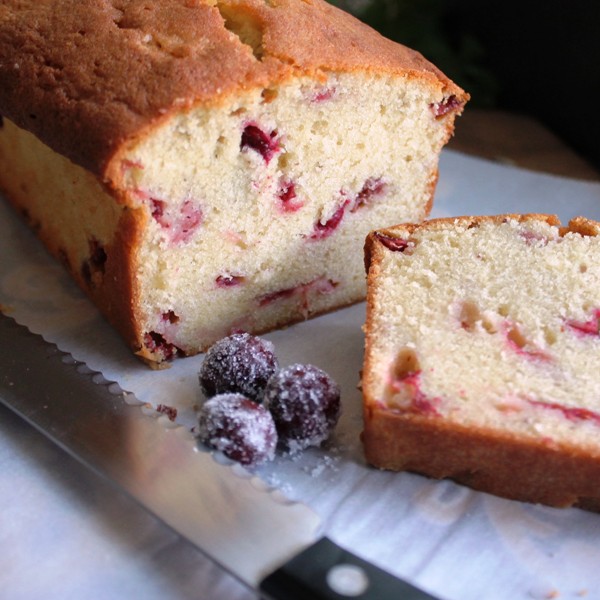 America's Test Kitchen is spot-on for this pound cake recipe. From the ingredients to the instructions, each step is carefully structured to make sure your cake comes out its best. And it does!
Cranberry Sour Cream Pound Cake is a delicious, lighter-than-usual, wonderfully flavorful pound cake with bits of tangy cranberries scattered through it. (Enough adjectives for you?) This will be a great Fall or Christmas cranberry pound cake to share with friends and family.
We noticed that this delicious cake gets more moist every day. Grab a slice for dessert, a snack, or for breakfast and you'll enjoy it immensely.
Cranberry Sour Cream Pound Cake
Cook Time:
1 hour
45 minutes
Total Time:
2 hours
5 minutes
Soft, tender, delicious cranberry pound cake. Gets more moist every day.
Ingredients
5 large eggs
2 teaspoon vanilla extract
1 ¾ C (8 ¾ oz) all-purpose flour
Salt
½ teaspoon baking powder
⅓ C sour cream
2 tablespoon milk
14 tablespoons unsalted butter, cut into 14 slices and softened, but still cool
1 ¼ C (8 ¾ oz) granulated sugar
1 C (4 oz) fresh or frozen cranberries, chopped coarsely
1 tablespoon powdered sugar
Instructions
Adjust oven rack to lower-middle position and heat oven to 300°. Spray an 8 ½" by 4 ½" loaf pan with cooking spray, then lightly flour the pan.
Whisk the eggs and vanilla together in a small bowl. Sift the flour, ¾ teaspoon of the salt, and baking powder together into a medium bowl. Whisk sour cream and milk together in a separate small bowl.
Using a stand mixer, beat the butter on medium-high speed until smooth and creamy, 2 to 3 minutes, scraping down the bowl as needed. Reduce speed to medium and gradually add the granulated sugar. Increase the speed to medium-high and beat until pale and fluffy, 3 to 4 minutes, again scraping down the bowl as needed. Reduce speed to medium and gradually add the egg mixture in a low, steady stream.
Scrape down sides of the bowl, then continue to mix on medium speed until completely combined, about 1 minute (batter may look slightly curdled, but that's OK).
Reduce mixer speed to low and add the flour mixture in 3 additions, alternating with the sour cream/milk mixture in 2 additions. Scrape down the sides of the bowl as needed. Give batter a final stir by hand to make sure everything is blended from the bottom of the bowl.
Toss the cranberries with powdered sugar and ⅛ tsp. salt in a small bowl until evenly coated (to keep them from sinking to the bottom of the cake). Fold cranberries into the batter.
Pour the batter into the prepared pan and gently tap pan on counter a couple of times to release air bubbles. Bake until toothpick inserted in the center comes out virtually clean, 1 ¾ hour to 1 hour 55 minutes - rotating the pan halfway through baking. Start checking the cake for doneness at 1 hour.
Remove the cake pan to a wire rack and cool for about 15 minutes. Remove the cake from the pan and let cool completely on the rack - about 2 hours.
Notes
Tips and Stuff:
Don't use dried cranberries, please.
I used 2% milk and salted butter.
If you use a larger loaf pan, use the same instructions, but keep checking every 15 minutes after one hour of baking. It won't take as long to bake in a larger pan.
Nutrition Information:
Yield:

10
Serving Size:

1 slice
Amount Per Serving:
Calories:

286
Total Fat:

20g
Saturated Fat:

12g
Trans Fat:

0g
Unsaturated Fat:

7g
Cholesterol:

140mg
Sodium:

125mg
Carbohydrates:

20g
Fiber:

1g
Sugar:

2g
Protein:

6g
Nutrition Values are Approximate