A couple of weeks ago I made Cranberry Sour Cream Pound Cake, baking with fresh cranberries for the first time. It's a terrific cake, but now I have half a bag of fresh cranberries left over.
I think about all of those workers slogging around in the cranberry bog, picking up those very cranberries just for me and I can't bring myself to waste them!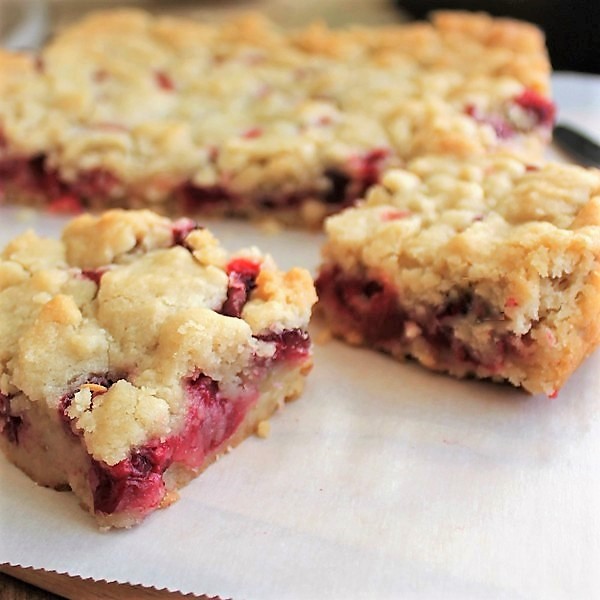 These nice Fresh Cranberry Bars use those leftover cranberries beautifully.
They're super easy to put together - basically a buttery dough sprinkled with fresh, sugared cranberries and then finished off by dotting the dough on top of the bars.
The cranberries peek through the crumbly topping and are a tangy/tart contrast to the sweet dough.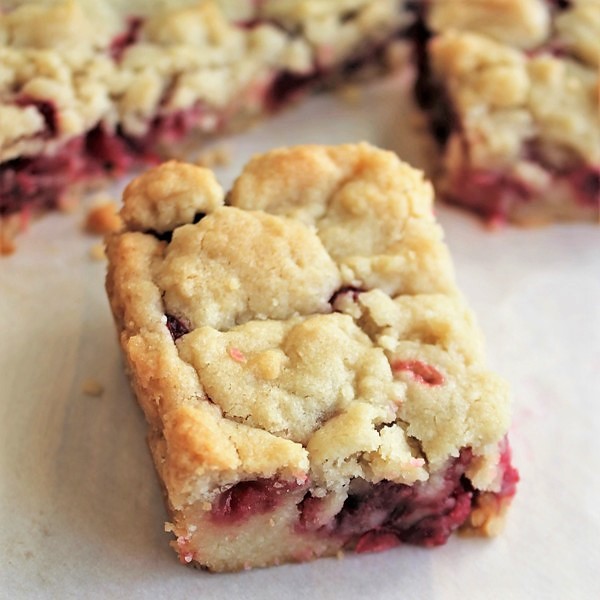 I really like these Fresh Cranberry bars and can see using blueberries, chopped peaches, strawberries, or even sweet cherries.
Use whatever fruit you want, but for me - I'll use the cranberries for now to make sure those cranberry workers aren't wasting their time! **
(**And yes, I know machines scoop up the cranberries these days, but it's more fun thinking about people slogging in the bog.)
If you think these cranberry bars sound good, you want to try America's Test Kitchen's Cranberry Sour Cream Pound Cake or the absolutely amazing One-Bowl Cranberry Sauce Cake.
Fresh Cranberry Bars
Great little bars bursting with fresh, tart cranberries. Sweet/tangy combination.
Ingredients
1 C (2 sticks) butter, room temperature
⅔ C plus 3 tsp. granulated sugar
½ teaspoon salt
1 tablespoon vanilla extract
¼ teaspoon almond extract
2 C cake flour
1 ¼ C fresh cranberries
Instructions
Preheat the oven to 350°. Line a 8x8" square pan with a long piece of aluminum foil that overhangs the edges (to lift them out easier) and spray the foil lightly with non-stick spray.
Cream the butter and ⅔rds cup of sugar together until creamy. Add the salt, vanilla, and almond extract and mix until blended. Turn mixer to low and add the flour, blending until just combined.
Put two teaspoons of sugar into a medium bowl. Wash the cranberries and pat until barely damp. Add them to the sugar and stir to lightly coat.
Pat ⅔rds of the dough into the prepared pan, spreading evenly with your fingertips. The dough is soft and a little sticky, so lightly flour your fingers if needed.
Sprinkle the cranberries evenly onto the dough base, pressing down slightly to keep them from rolling around. Sprinkle the remaining 1 teaspoon of sugar evenly over the cranberries.
Pull the remaining dough into little ½ inch pieces and sprinkle evenly over the top. All of the cranberries won't be covered, but that's OK.
Bake for 45 to 50 minutes, until the top is golden brown (don't under bake). Remove from the oven and let cool in the pan for 10 minutes. Carefully lift out by the aluminum foil handles and cool on a rack.
Notes
If you don't have cake flour, go ahead and use all purpose flour. Cake flour makes for a more tender crumb, but they're good with all purpose flour also.
Make sure the cranberries are just slightly damp so the sugar will stick to them.
Nutrition Information:
Yield:

12
Serving Size:

1 bar
Amount Per Serving:
Calories:

95
Total Fat:

0g
Saturated Fat:

0g
Trans Fat:

0g
Unsaturated Fat:

0g
Cholesterol:

0mg
Sodium:

98mg
Carbohydrates:

20g
Fiber:

1g
Sugar:

2g
Protein:

2g