Fluffy, creamy filling chock full of crushed Butterfingers, this Butterfinger Pie is the ultimate summer icebox dessert.
When I asked Bret what kind of dessert he'd like for me to make, he said without hesitation - icebox pie.
Remember when they called refrigerators iceboxes? They were called iceboxes because people pretty much had to stock a box with blocks of ice to keep perishable foods cool.
That was quite the height of technology for back then. No, I'm not that old - my grandparents had them back in the day.
I am, though, old enough to remember that aluminum ice tray that had a lever you had to pull up to get the ice out. Thank God for refrigerators with ice makers. I digress.
When Bret asked for an icebox pie I immediately thought of this Butterfinger Pie. It's easy to make and is amazingly delicious.
The ingredients are simple - cream cheese, Cool Whip, Butterfingers, a little powdered sugar and a graham cracker crust. Mix the filling together with a hand mixer, fold in more Butterfingers and pour it into the crust.
This pie is easy to make, but don't let it fool you - it's a little bit decadent, so you may want to cut smaller slices.
The crushed Butterfingers are all through the pie and if you're lucky, you get that occasional big chunk of candy. The candy bars are easy to crush, but I don't pulverize them since I like that little candy chunk surprise.
This pie is nice and cooling during the 100-degree Texas heat. Some people like to put a couple of tablespoons of smooth peanut butter in the filling, but I think it takes away from the Butterfinger flavor.
The main thing you have to watch out for with this Butterfinger Pie is not sitting down with a fork and eating half of it in one sitting. It's really, really good!
More pies that you'll love!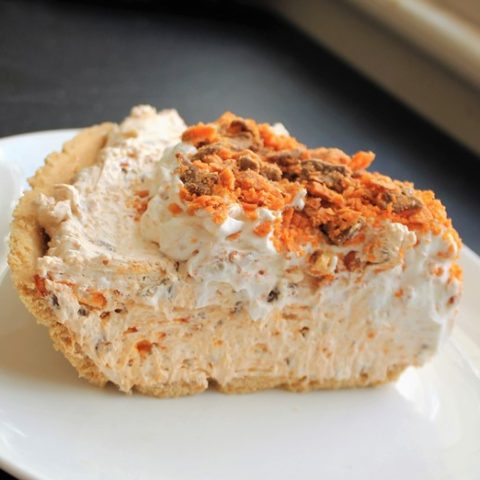 Butterfinger Pie
Total Time:
3 hours
15 minutes
Creamy pie with little chunks of crushed Butterfinger throughout. It's rich, so cut smaller slices!
Ingredients
1 large (about 9") graham cracker crust
2 8 oz. containers Cool Whip
1 8 oz. package of cream cheese, room temperature
3 tablespoon powdered sugar
16 oz. Butterfinger candy bars (refrigerated), crushed
Instructions
Put the cream cheese in a large bowl and blend until smooth with a hand mixer.
Add one and a half (about 12 oz) of the containers of Cool Whip and the powdered sugar and mix well. Fold in about 14 oz. of the crushed Butterfingers and mix until well blended.
Pour the mixture into the pie crust and smooth the top. Refrigerate for 3-4 hours until fairly firm.
Before serving, dollop about 1 cup of the remaining Cool Whip over the top of the pie and sprinkle with the remaining 2 oz. of crushed Butterfingers. Cut into fairly small slices.
Notes
Tips and Stuff:
Refrigerate your Butterfingers, so that when you crush them the chocolate doesn't stick to the wrapper.
I used one container of regular Cool Whip and one container of Cool Whip Lite.  Still tasted great.  To make it lighter, use Neufchatel instead of cream cheese and all Cool Whip Lite.
Nutrition Information:
Yield:

10
Serving Size:

1 slice
Amount Per Serving:
Calories:

443
Total Fat:

28g
Saturated Fat:

19g
Trans Fat:

0g
Unsaturated Fat:

7g
Cholesterol:

23mg
Sodium:

190mg
Carbohydrates:

47g
Fiber:

1g
Sugar:

35g
Protein:

4g
Nutrition Values are Approximate