I do believe that this homemade Butterscotch Pie is one of the best pies I've ever made!
It's a brown sugar and butter-based pie with plenty of whipping cream added in along with egg yolks and a little vanilla.

Cook and stir, stir, stir and you've got the creamiest, most delectable pie filling you've ever had. (NOTHING like Jello-O butterscotch pie filling, trust me.)
In my younger days I didn't like pie crust. My Mom could bake some really good desserts, but I didn't like her homemade pie crust. I'd eat the filling out of the pies and leave the crust. She didn't take too kindly to that and wouldn't let me eat pie because I threw the crust away.
I was ten - I've gotten much more polite since then.
After I discovered different pie crusts (graham cracker, shortbread, good flour-based pie crust), I found out that homemade pie is fantastic! Cakes and cookies are still tops on my list, but a really good pie is climbing up that list fast.
I made this for a dinner party last week and it went over well, so I made it again for some good photos. The first try at crust in a 9" pan shrank up and was hideous.
I pulled out the 8" deep-dish pie plate and tried again. It was fairly successful, but still shrank up a little. I'm gonna have to get better at crusts so this perfect pie filling will have someplace nice to be.
Although this Butterscotch Pie is fairly easy to throw together, be patient when stirring everything together while it's cooking. You want a smooth, creamy texture and if you'll give it a little time, it'll be perfect.
I've made this pie twice this week and it will definitely be in my regular rotation not only for special occasions, but also when we're wanting a divine, luscious pie!
*Adapted slightly from Midwest Living True Butterscotch Pie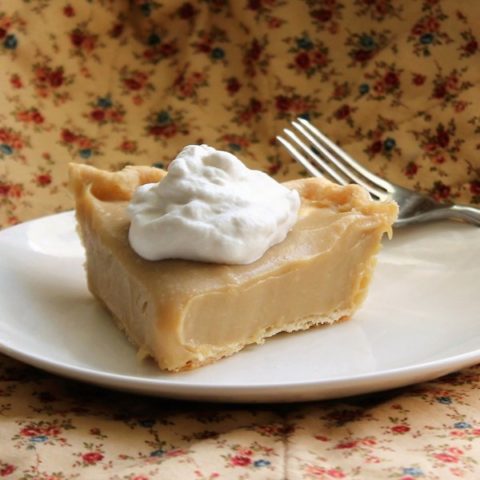 Butterscotch Pie
Total Time:
3 hours
40 minutes
Creamy, dreamy butterscotch pie. Smooth, cooked filling - a fantastic homemade pie.
Ingredients
Baked and cooled 8 or 9" pie crust
1 ¼ C packed dark brown sugar
¼ C butter
⅓ C all-purpose flour
1 teaspoon cornstarch
2 C heavy whipping cream
3 egg yolks
3 tablespoon butter, cut into small pieces
1 teaspoon vanilla
Whipped Cream Topping
1 ½ C heavy whipping cream
¼ C powdered sugar
½ teaspoon vanilla
Instructions
Bake pie crust and prepare filling while it cools.
For the filling: In a medium nonstick saucepan, combine ½ cup of the brown sugar and ¼ cup butter. Cook over medium-low heat, stirring constantly until smooth , about 2-3 minutes. Remove from heat.
In a small bowl, whisk together the flour, ¾ cup of the brown sugar, and cornstarch. Slowly add the flour mixture to the butter/brown sugar mixture, stirring to combine. (It will be a thick paste.) Gradually add the whipping cream while stirring to mix it in. Return the saucepan to medium heat and stir constantly until thickened and simmering. Reduce heat to low and cook/stir for 2 more minutes. Remove from the heat.
In a small bowl, lightly whisk the egg yolks together. Get 1 cup of the hot filling and slowly drizzle into the egg yolks, constantly whisking. Add the yolk mixture into the hot filling, stirring constantly. Bring the filling to a simmer over medium heat (still stirring). Reduce the heat and cook for 2 more minutes. Remove from heat and stir in the butter and vanilla.
After the butter is melted and mixed in, pour the filling into the cooled pie crust. Gently shake to remove air bubbles. Cool for 5 minutes at room temperature, then cover the pie filling surface with plastic wrap. Chill in the refrigerator for at 2-3 hours before serving.
When ready to serve, prepare the whipped cream: Pour the whipping cream into a clean medium bowl and beat with for 1-2 minutes until soft peaks form. Sprinkle in the powdered sugar and vanilla and beat for 30 seconds to 1 minute more until stiff peaks form. Spread the whipped cream over the top of the pie (or put the whipped cream in a bowl and make it available to your guests). If you have any leftovers, store covered in the refrigerator.
Notes
Tips and Stuff:
The filling will look like it has brown sugar lumps in it when you're combining everything, but don't worry - they'll smooth out by the end.
This is a creamy pie - it won't firm up a lot.
Nutrition Information:
Yield:

10
Serving Size:

1 slice
Amount Per Serving:
Calories:

1191
Total Fat:

79g
Saturated Fat:

38g
Trans Fat:

1g
Unsaturated Fat:

36g
Cholesterol:

172mg
Sodium:

743mg
Carbohydrates:

109g
Fiber:

5g
Sugar:

33g
Protein:

13g
Nutrition Values are Approximate