I'm jumping on the Great Autumn Pumpkin Bandwagon (that's what I call it anyway) and posting the best pumpkin recipe ever. Ever. I've made this pumpkin bread for years because it's so very good and moist. Nothing worse than a dry quick bread.
This year the recipe is even better with the addition of caramel icing.
We never ate pumpkin when I was a kid. My Mom made everything with sweet potatoes (including an incredible sweet potato pie). To this day, I don't really like pumpkin pie, but I do love this pumpkin bread!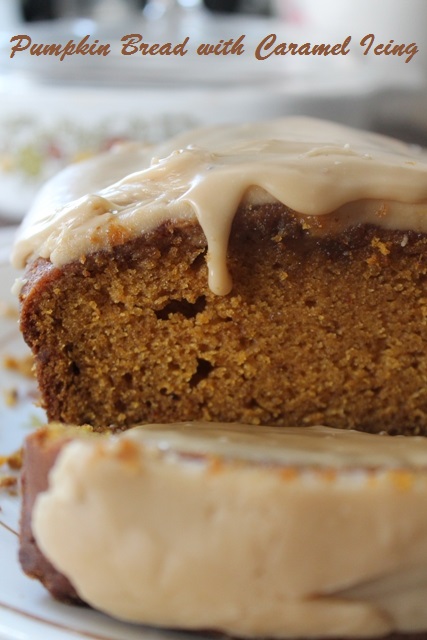 This icing originally came from a Pumpkin Cookie with Icing recipe, but I made a mess out of the cookies and ended up using the icing on my tried-and-true pumpkin bread recipe. The result is very successful and the recipe immediately altered to include the icing in the instructions.
Bret has a general mistrust of quick breads - I promise him I don't put onions in them, but he's suspicious. He liked this pumpkin bread, though, and compared the icing to his grandmother's famous banana bread caramel frosting. It's a great compliment.
This Pumpkin Bread with Caramel Icing is thick, moist and delicious. It's just rich enough and the icing surprisingly doesn't make it too sweet. Give me a fork and let me loose with this bread. Awesome.
Put this pumpkin bread recipe on your holiday recipe list. I promise it won't disappoint and your friends and family (and you) will love it. It makes 2 loaves, so you can give one away and keep one for yourself!
Pumpkin Bread with Caramel Icing
Outstanding pumpkin bread with amazing caramel icing.
Ingredients
4 eggs
2 C. pumpkin puree, about 1 full can and not pie filling
1 C. oil
⅔ C. water
3 C. sugar
3 ½ C. flour
2 tsp. baking soda
1 ½ tsp. salt
1 ½ tsp. cinnamon
1 tsp. nutmeg
Caramel Icing:
6 tablespoon butter
½ C. heavy whipping cream
1 C. packed light brown sugar
Two pinches of salt
1 ½ to 2 C. sifted powdered sugar
2 teaspoon vanilla
Instructions
Preheat oven to 350 °.
Mix wet ingredients together along with sugar until well blended. In a separate bowl, mix together dry ingredients and gradually add to wet mixture while mixing on low.
Divide mixture and pour into 2 sprayed loaf pans. Bake for 45 min. to 1 hour, turning pans once during baking. Cool before turning out on rack and icing.
To make the icing: In a medium saucepan, combine the butter, cream, brown sugar and salt and cook over medium heat. Stir constantly until the mixture comes to a low boil. Remove from the heat and stir in vanilla and 1 ½ C. powdered sugar. Stir well. It will thicken considerably on cooling, so don't add too much more powdered sugar.
After cooling, if it's still thinner than you want, add a little more powdered sugar and mix very well until it's the consistency you want. Let cool slightly before icing loaves.
Notes
Tips and Stuff:
I used freshly grated nutmeg because the flavor is so much better (and my bottled nutmeg is probably 10 years old).
My bread came out best when I used a glass loaf dish for baking.  My larger metal loaf pan browns the crust a little too much.
Be patient after adding the sifted powdered sugar to the icing - keep stirring until it's smooth and lump-free.
After removing the pans from the oven, while the loaves were still hot, I pressed down lightly on the tops with a pot holder to make it flatter.  That way the icing isn't thin on the top and running down the sides (even with this thick icing).
As always, put a sheet of waxed paper under the rack while you're icing the loaves.
Nutrition Information:
Yield:

24
Serving Size:

1 grams
Amount Per Serving:
Calories:

410
Total Fat:

16g
Saturated Fat:

4g
Trans Fat:

0g
Unsaturated Fat:

11g
Cholesterol:

44mg
Sodium:

318mg
Carbohydrates:

66g
Fiber:

1g
Sugar:

49g
Protein:

3g
Nutrition Values are Approximate