Every holiday season, I look for a new, unique cookie or candy to try.
This year's new recipe is amazing Chocolate-Covered Cherry Cookies from Esther Brody's 500 Best Cookies Bars & Squares!
If you've followed me for several years, you know this is my favorite go-to cookbook for delicious holiday and non-holiday desserts.
You can search Esther Brody on MyRecipeReviews.com and see what I mean. It's hard to find different cookie and bar recipes, but Esther definitely delivers in this book.
OK. On to the cookies.
These cookies are chocolate thumbprint cookies (yummy on their own) with a maraschino cherry dropped into the indentation, then smothered with a chocolate chip/condensed milk/cherry juice glaze.
Take a bite and you really do get chocolate-covered cherry flavor. They're best completely cooled and room temperature.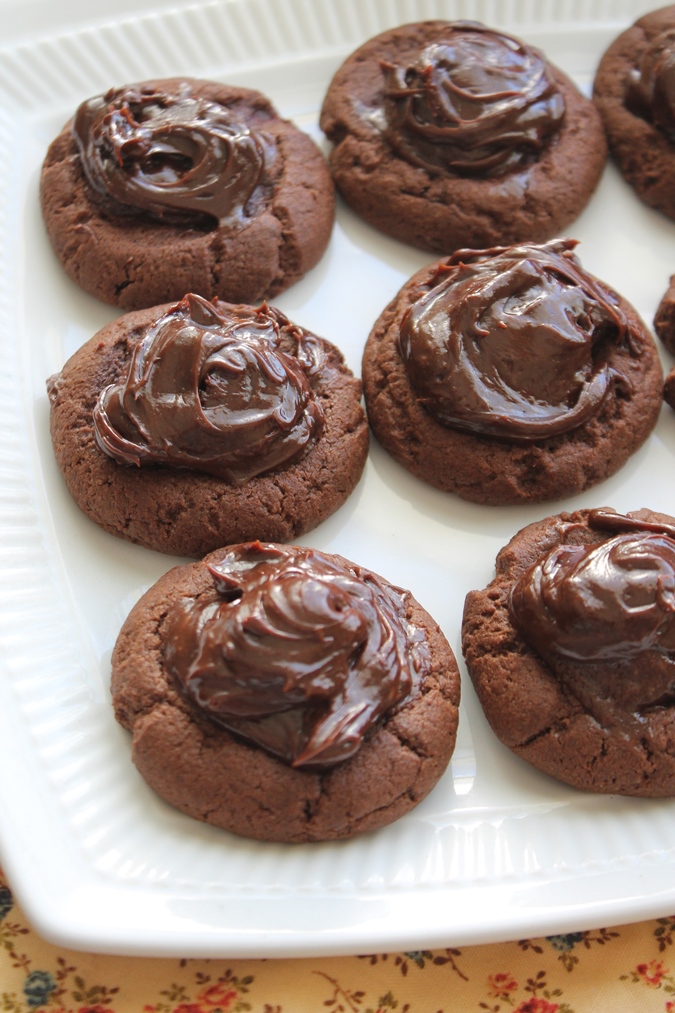 Oh, and lets talk about that glaze. I used Albertson's Signature-brand of mini chocolate chips, which have a top-notch semi-sweet flavor. I was pleasantly surprised.
The glaze is simple as mentioned before - chocolate chips and condensed milk (not evaporated please), then at the last minute you stir in some reserved cherry juice. Delectable and bit decadent.
The cookies are quite simple to put together. The only tedious part is placing the cherry, then swirling the chocolate on top without making a mess. The glaze is thick enough where it won't run all over the place, though.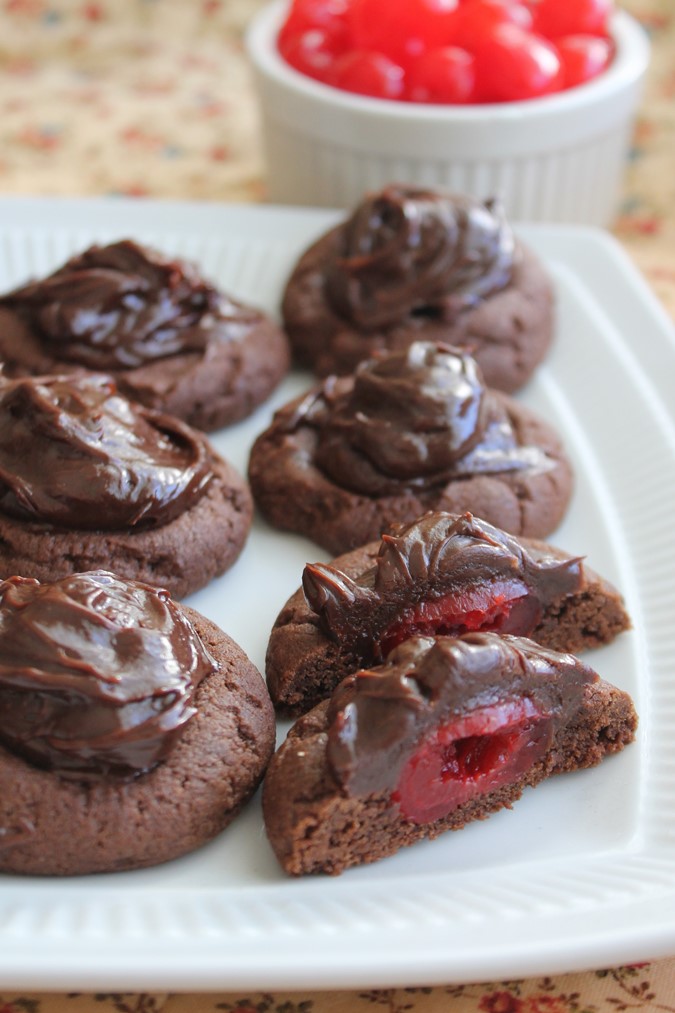 Chocolate-Covered Cherry Cookies are rich, but you can still eat two or three at a sitting without being too much. Your family and guests will love these.
I made a few small changes to Esther's recipe, but kept the delicious-ness intact!
If you're looking for more amazing holiday recipes try...
Chocolate-Covered Cherry Cookies
Rich, delicious chocolate cookies filled with a cherry and topped with an amazing chocolate glaze!
Ingredients
1 ½ all-purpose flour
½ C unsweetened cocoa powder
¼ teaspoon baking powder
¼ teaspoon baking soda
½ cup butter, softened
1 C granulated sugar
1 egg, room temperature
1 ½ teaspoon vanilla
1 jar (16 oz) maraschino cherries
4 teaspoon reserved cherry juice
¾ C mini-chocolate chips
½ C condensed milk
Instructions
Preheat oven to 350°. Place parchment paper on two cookie sheets (or ungreased cookie sheets).
In a medium bowl, sift together the flour, cocoa, baking powder and baking soda.
In a stand mixer bowl, beat butter and sugar together until smooth and creamy (2 to 3 minutes) on medium high. Scrape down the sides of the bowl as needed.
Add the egg and beat for 30 seconds, then add the vanilla and mix.
Turn mixer down to low and add the flour mixture until well-blended.
Shape the dough into 1 to 1 ½" balls and place about 2 inches apart (they won't spread much) on the cookie sheet. Make a thumbprint indentation in each cookie.
Drain the cherries (keeping the juice) and pat them fairly dry. Place a whole cherry into each cookie, pushing very lightly down on the cherry.
In a small saucepan (or double boiler), melt the chocolate chips and condensed milk and stir until smooth and creamy. Add the 4 teaspoons of cherry juice and stir to completely blend together.
Spoon about ¾ teaspoon of the chocolate mixture over the top of each cookie, covering the cherry.
Bake for 11 to 12 minutes. Since they're chocolate cookies, they won't brown, so don't over bake. Transfer to wire racks to cool completely.
Notes
If handling the cherries, you may want to wear gloves. The juice will stain your fingers or any surface very quickly.
You can use regularly-sized chocolate chips as long as it's ¾ cup.
I had some of the chocolate glaze leftover, so I swirled it on top of the cookies to add a little extra chocolate layer. Good idea..
Nutrition Information:
Yield:

36
Serving Size:

1 cookie
Amount Per Serving:
Calories:

102
Total Fat:

4g
Saturated Fat:

3g
Trans Fat:

0g
Unsaturated Fat:

1g
Cholesterol:

13mg
Sodium:

41mg
Carbohydrates:

15g
Fiber:

1g
Sugar:

10g
Protein:

1g
Nutrition Values are Approximate