This week I stumbled across a bag full of hundreds recipes that I've been collecting for almost 20 years!
Bret used to laugh when I would say "someday I'm gonna make all these recipes." Hah! I'll show him!

Lately I've been a little frustrated at the lack of new, inventive recipes, and am so excited to have rediscovered this bag.
One of the first recipes I pulled out is these Butterscotch Cashew Bars from an old Taste of Home magazine (Lori Berg, creator).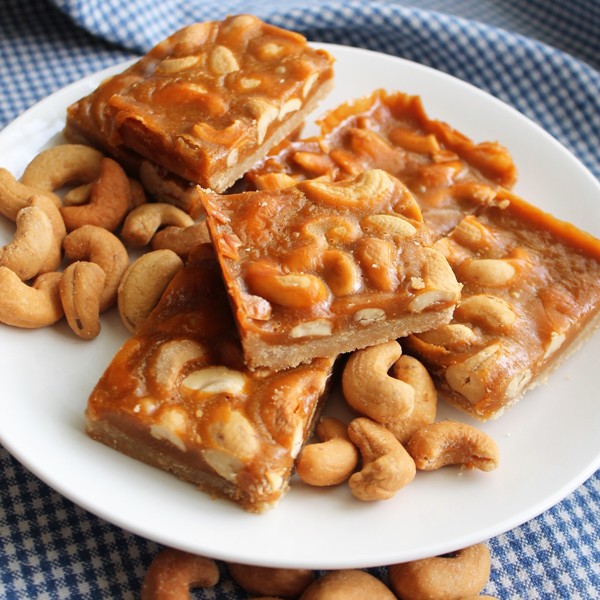 I had all of the ingredients on hand and whipped up these babies this morning.
Bret can't eat most nuts, but does like cashews, and we both love butterscotch. And don't forget the incredible shortbread crust all this good stuff sits on top of.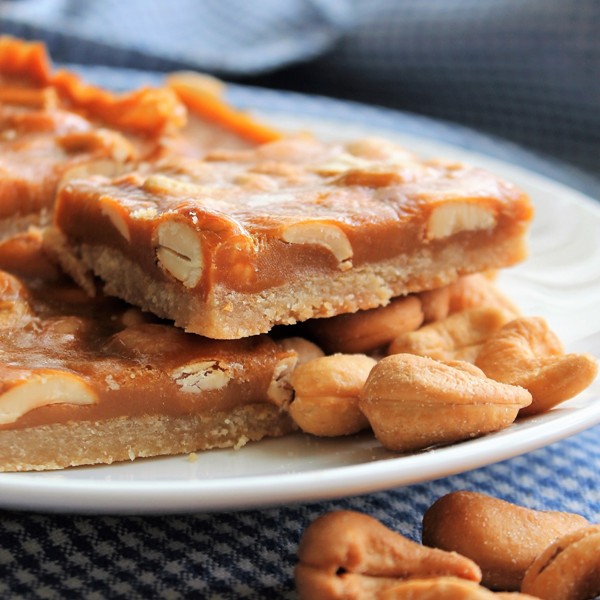 These Butterscotch Cashew Bars are exactly what I thought they would be. Very buttery, delicious shortbread base, perfect chewy caramely butterscotch filling, then sprinkled with fresh lightly salted cashews.
Such simple ingredients come together to make an outstanding sweet/salty dessert or snack bar. They're fairly rich, so I cut them rather small - about 1 ½ x 2".
Even though they're quick to make, you'll need to give them an hour or so to cool. They're a terrific little bar that we just can't stop eating.
I halved the original recipe (original recipe TOH link above) and they came out perfectly. You'll like these and they'll be very, very popular at your next family gathering.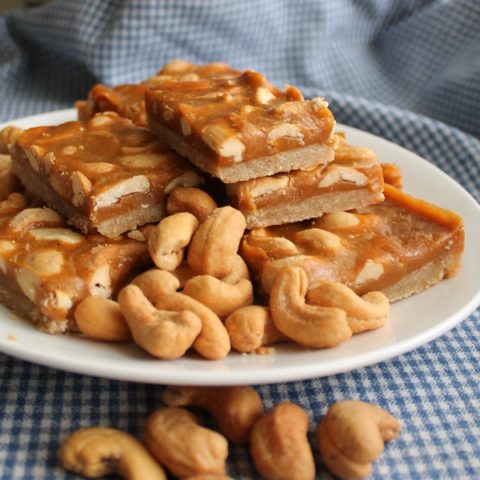 Butterscotch Cashew Bars
Buttery shortbread base with a chewy butterscotch filling, then sprinkled with lightly salted cashews.  Amazing!
Ingredients
Shortbread
½ C plus 1 tablespoon butter, softened
7 tablespoon packed brown sugar
1 ¼ C all-purpose four
¾ teaspoon salt
Topping
7 oz butterscotch chips
¼ C plus 1 tablespoon light corn syrup
1 ½ tablespoon butter
1 teaspoon water
1 ¼ C salted cashew halves
Instructions
Preheat the oven to 350°. Line a 9x9" pan with aluminum foil with two ends longer so you can lift the bars out after cooled.
In a mixing bowl, cream the butter and brown sugar. Add the flour and salt to the butter mixture and mix until just combined.
Press the dough into the pan and prick four or five times with a fork. Bake for 12-13 minutes until lightly browned.
After you remove the shortbread from the oven, press it down gently, but firmly (this will compact the base a bit), using folded paper towels or the bottom of a smooth glass. Be careful - it's hot!
When the shortbread has 5 minutes left to cook, make the topping. In a medium saucepan combine the butterscotch chips, corn syrup, butter, and water. Cook and stir over medium-low heat until the chips and butter are melted and smooth. Spread the mixture evenly over the crust.
Sprinkle the cashews on top of the topping and press in them in gently, taking care of the hot mixture. Bake for 12-13 minutes or until topping is bubbly. Cool in the pan on a wire rack, then after completely cooled, pull out of the pan and remove the aluminum foil. Cut into bars and serve.
Notes
Not many tips on this one because it's so easy to make. The original recipe is doubled and made in a 15x10" sheet pan, so if you need a bunch, do that.
Stir the butterscotch mixture until completely smooth, smushing down the little butterscotch pieces with a spoon to blend more. This mixture is hot, so be careful.
Next time I'll stir the cashews into the melted butterscotch mixture, just to make it easier!
Nutrition Information:
Yield:

24
Serving Size:

1 bar
Amount Per Serving:
Calories:

113
Total Fat:

7g
Saturated Fat:

3g
Trans Fat:

0g
Unsaturated Fat:

3g
Cholesterol:

3mg
Sodium:

138mg
Carbohydrates:

12g
Fiber:

0g
Sugar:

10g
Protein:

1g
Nutrition Values are Approximate