The Cake Slice Bakers group I'm a part of has come to the end of our 2021 cake cookbook, Little Everyday Cakes!
I've enjoyed the heck out of this cookbook and have already repeated a few of the cakes for special occasions. My choice for the finale is Gingerbread Cake in keeping with the holiday season!
The ingredients are stirred together in a big bowl, then spooned into an 8" square pan. Not much fuss or muss - just a few other little bowls to combine the melted butter and molasses together, etc.
The aroma coming from the kitchen is pure holiday. Ginger, nutmeg, cinnamon, cloves and that thick, rich molasses. It's a holiday classic combination of spices.
Remember, this isn't gingerbread - it's a Gingerbread Cake. It rises high and has a very soft, wonderful texture.
The whole wheat flour is an interesting addition. It adds some depth and you get just a bit of chew from it.
I couldn't find a small bag of whole wheat flour, so had to invest in a regular 5 lb. bag. I don't really bake much with whole wheat, but will be expanding my horizons so that the flour doesn't go bad.
Yes, whole wheat flour can go bad, (more quickly than all-purpose flour) so be sure and note the date on the bag.
We enjoyed this cake. Especially the coarse sugar on top. I added a bit more than called for so it would cover the top completely.
The cake itself is not very sweet and I think it's best with a big dollop of sweetened whipped cream on top. Also, the book recommends serving it warm, but we found it's better room temperature.
I do recommend this cake, although I think I'll search out a real gingerbread (versus gingerbread cake) and see if I can get that perfect blend of spices along with that spongy, moist gingerbread texture.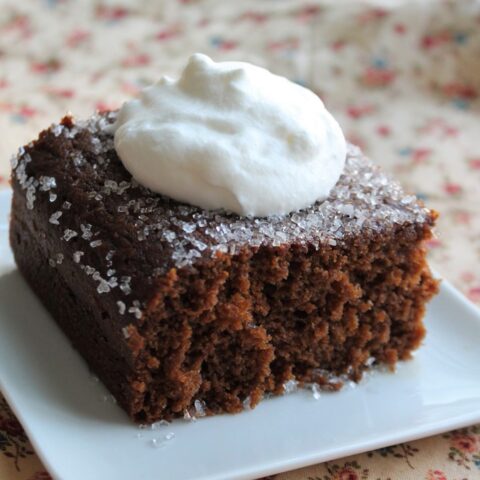 Gingerbread Cake
Tender cake with great holiday spices.
Ingredients
¾ C all-purpose flour (90g)
¾ C whole wheat flour (85g)
3 tablespoon granulated sugar (37g)
¾ teaspoon baking soda
½ teaspoon salt
1 ¼ teaspoon ground ginger
¾ teaspoon ground cinnamon
⅛ teaspoon ground cloves
⅛ teaspoon ground nutmeg
6 tablespoon butter, melted and cooled (84g)
½ C molasses (like Grandma's Original, not blackstrap) (170g)
3 tablespoon water (42g)
1 egg, room temperature
⅔ C buttermilk, room temperature (148g)
2 to 3 teaspoon coarse sugar
1 C whipped cream
3 to 4 tablespoon powdered sugar
Instructions
Before beginning the recipe: Melt the butter, then set aside to cool. Also set out your egg and buttermilk so it can get to room temperature.
Preheat the oven to 350° (180C). Butter an 8-inch square cake pan and dust it with flour.
In a large bowl, whisk together the all-purpose flour, whole wheat flour, sugar, baking soda, salt, ginger, cinnamon, cloves, and nutmeg.
In a small bowl, combine the cooled butter and molasses together and stir until well blended. Pour this mixture over the flour mixture and stir until smooth. Add the water and stir again until smooth. In a small bowl, combine the room temperature egg and buttermilk and whisk until blended well. Pour this over the batter and stir until blended (batter will be rather thin).
Pour the batter into the prepared pan and bake for 25-30 minutes, until a toothpick inserted in the middle comes out almost clean.
Remove the pan to a rack and sprinkle the coarse sugar evenly over the top of it. Let cool.
For the whipped cream: In a clean, cold stand mixer bowl (or make by hand mixer if you wish), pour the whipped cream. Beat on medium-high until it starts thickening, then add the powdered sugar. Beat until soft peaks form. Serve over cooled gingerbread cake.
Store at room temperature.
Notes
Next time I make this, I will only use a pinch of cloves - just a preference because I think it's a very strong spice.
Nutrition Information:
Yield:

9
Serving Size:

1 slice
Amount Per Serving:
Calories:

294
Total Fat:

10g
Saturated Fat:

6g
Trans Fat:

0g
Unsaturated Fat:

3g
Cholesterol:

46mg
Sodium:

346mg
Carbohydrates:

49g
Fiber:

2g
Sugar:

33g
Protein:

4g
Nutrition Values are Approximate
Each month The Cake Slice Bakers are offered a selection of cakes from the current book we are baking through. This year it is Little Everyday Cakes by Candace Floyd. We each choose one cake to bake, and then on the 20th - never before - we all post about our cake on our blogs. There are a few rules that we follow, but the most important ones are to have fun and enjoy baking & eating cakes!
Follow our Facebook, Instagram, and Pinterest pages where you can find all of our cakes, as well as inspiration for many other cakes. You can also click on the thumbnail pictures below to take you to each of our cakes. If you have a blog and are interested in joining The Cake Slice Bakers and baking along with us, please send an email to thecakeslicebakers at gmail dot com for more details.
The Cake Slice Bakers also have a new Facebook group called The Cake Slice Bakers and Friends. This group is perfect for those who do not have a blog but want to join in the fun and bake through this book.
This is our last cake from Little Everyday Cakes - and traditionally our last bake for the year is free choice, and our choices for December 2021 were ~