Pan de Siosa is a buttery, soft pull-apart bread popular in Filipino bakeries.
The Avid Bakers Challenge this month is for ethnic recipes. I loved the Filipino Spanish Bread that I made last year and was hoping these Filipino rolls would be as good. They are!
The dough is easy to put together thanks to the instructions from Sanna at WomanScribbles.net. I made a few adaptations and it came out beautifully.
Sanna mixes her ingredients in a big bowl by hand as well as hand-kneads the dough. Call it efficient or lazy, I decided to use my stand mixer for the ingredients as well as the kneading.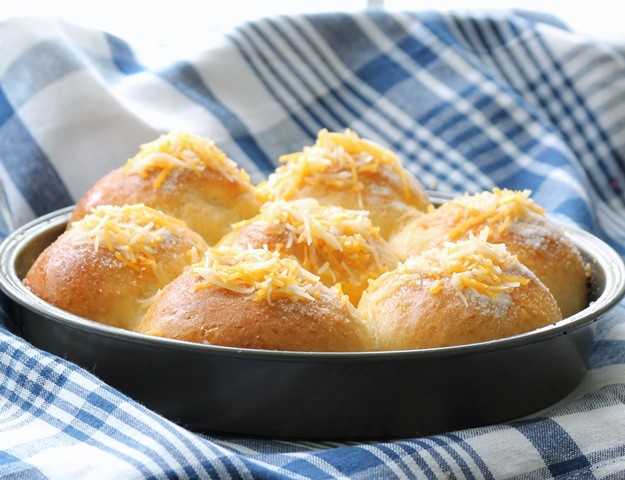 Sanna says you should get two pans of seven rolls (14 total), but I only had 13. Each little pre-baked dough ball came out to roughly 2.5 oz. Make them a touch smaller if you want to fill the pans completely.
The dough balls rise nicely, then are brushed with egg to get that lovely brown shiny top. Then after they're baked, you brush them with butter, sprinkle with sugar, and top with your favorite shredded cheese.
I thought the shredded cheese would be a little strange tasting, but it actually goes perfectly on the Pan de Siosas.
The roll is very slightly sweet and topped with crunchy sugar. The shredded cheese gives it a savory, tiny bit salty flavor. Oh, and you can't forget the final addition of butter to complete the whole experience!
These rolls are heavenly soft and fluffy right out of the oven. But don't worry - after they cool off, you can split them, add a pat of butter on each half and warm them up for a few seconds in the microwave.
The Filipino recipes I've come across have been amazing and I look forward to discovering new ones in the future. Pan de Siosas - delicious!
We used some of the rolls the next for sliders. Thinly sliced leftover pork, warmed up and tucked between a warmed sliced bun. A little of our favorite BBQ sauce and we had some of the best sliders ever!
Don't forget to check out these related recipes:
Pan De Siosa (Filipino Pull-Apart Bread)
Total Time:
2 hours
50 minutes
Incredibly soft, fluffy rolls. Lightly sweet and finished with sugar and shredded cheese.
Ingredients
¼ C warm water (105-110°)
2 ¼ teaspoon active dry yeast (1 pkt)
¾ C warm milk (105°)
1 egg, room temperature
¼ C softened butter
¼ C granulated sugar
1 teaspoon salt
3 ½ - 4 C all-purpose flour
1 egg, slightly beaten for egg wash
For the topping:
½ C butter, softened
granulated sugar (for sprinkling)
½ - ¾ C shredded cheddar cheese
Instructions
In a stand mixing bowl, combine the yeast, warm water, and about a teaspoon of sugar. Let this stand for about 5 minutes, until the mixture is foamy.
Add the milk, egg, softened butter, ¼ C of sugar, and salt. Mix on low for about 30 seconds until everything is mixed together.
With the mixer on low, gradually add the flour, until it thickens into a soft, almost sticky dough. (You should be able to touch it without being too sticky). You may not use all of the flour - I used about 3 ¾ C.
Turn the mixer on medium-low and mix (knead) the dough for 4-5 minute, until you can pull off a bit of dough and it's smooth, elastic and creates see-through window pane when stretched.
Lightly flour a surface and turn your dough out onto it, scraping it all out of the bowl. Gently shape the dough into a ball. Spray a bowl with nonstick spray and put the dough ball into it, gently rolling it around in the spray. Cover with a kitchen towel and let rise in a draft-free warm place for about 1 to 1 ¼ hour, until doubled in size.
Remove the dough from the bowl and gently punch down the dough. Divide into 14 equal portions and shape each into a smooth ball. Spray two 9" cake pans and place the balls evenly around the edges, with one in the middle of the pan.
Cover the pans with a kitchen towel and let the dough rise again for about an hour - the size will almost double.
Preheat the oven to 350°.
Brush the surface of the risen rolls with the egg wash, making sure to brush the sides of the rolls if possible.
Bake the rolls for 18-20 minutes, swapping the pans around half-way through baking to get even browning. Remove from the oven when the buns are golden brown.
Let the buns cool, then brush the surface of each with the softened (not melted) butter. Sprinkle each bun generously with sugar, then top with a sprinkle of the shredded cheese.
Serve immediately. For leftovers, split the buns, top with a pat of butter and microwave for 10-12 seconds.
Notes
If you don't want to use the stand mixer, mix the ingredients by hand in a large bowl until the dough is soft, but rather sticky. Remove to a floured surface and knead for 7 to 8 minutes until the dough is smooth, elastic and window panes when a small piece is stretched between your fingers.
The final butter slathered on the baked, cool buns is softened, not melted. If you're not serving all of them at once, wait to butter and top them until you're ready to serve as they won't store as well.
I used colby-jack shredded cheese on mine. The author, Sanna, had used a mild white cheddar cheese and it was pretty. Use what you like or have in the refrigerator.
Nutrition Information:
Yield:

14
Serving Size:

1 roll
Amount Per Serving:
Calories:

583
Total Fat:

13g
Saturated Fat:

7g
Trans Fat:

0g
Unsaturated Fat:

4g
Cholesterol:

44mg
Sodium:

279mg
Carbohydrates:

100g
Fiber:

4g
Sugar:

4g
Protein:

15g
Nutrition Values are Approximate