Today we're going to the Philippines to experience a favorite bakery snack - Filipino Spanish Bread.
Did you know the Philippines consists of over 7,500 islands and has a population of around 100 million?
Interesting history, too (Spanish rule, then U.S. control until World War II, then the Japanese, and finally independence in 1946).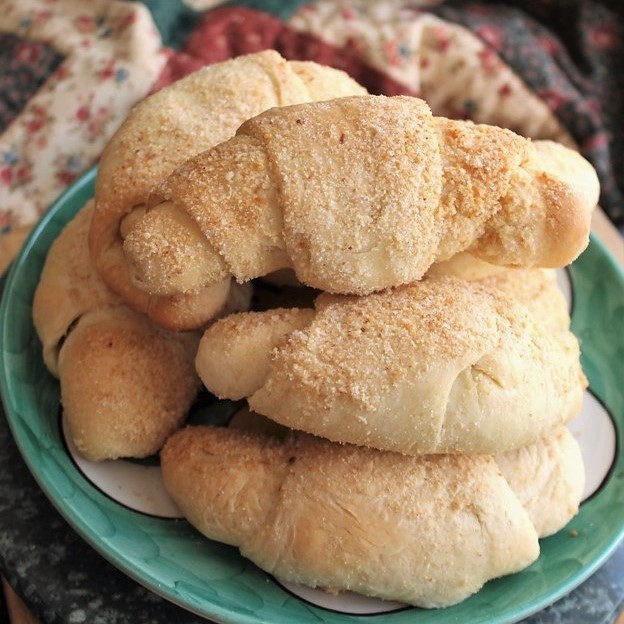 The Spanish influence is still felt in this Filipino Spanish Bread. They're soft yeast rolls with a buttery sweet filling. What really caught my attention is the use of breadcrumbs.
Breadcrumbs are combined with sugar and butter to create the filling. Then after they're rolled up little-croissant style, they're rolled in breadcrumbs to create a lightly crunchy coating. Very unusual!
The dough for these homemade rolls is beautiful and soft to the touch. You want the dough a little sticky to make nice, moist bread, but it also comes together into a final silky, pliable dough.
Give yourself enough time to make these rolls. Get the ingredients together before you start and it will make the process go more smoothly. It's no fun running around the kitchen looking for stuff while your dough is impatiently waiting.
It takes a few minutes to put together the dough, then you knead it for a few more. The dough needs to rise for an hour after that. After the first rise, you create the rolls and fill them and this process takes a while. Let them rise for another 30 minutes, then bake.
Filipino Spanish Bread smells heavenly while it's baking! You could add cinnamon to it for a different bread experience, but these rolls are terrific as is.
The addition of bread crumbs to the filling and on the outside of the rolls really make them unique. I thought the bread crumbs would be a strange texture, but when you bite into them they're very slightly crunchy, then you get the soft, bready insides with a whisper more of buttery sweet crunch.
I had to eat one right out of the oven with a little pat of butter. Quality control for you, of course. They're delicious. A little time consuming, but definitely worth the time and effort.
Just a note: These are best the first day. I find that overnight in a sealed container, the bread crumbs soften and lose that nice crunch. After they're a day or two old, slice them horizontally and dab on a little butter. Pop them under the broiler for a minute and enjoy!
Thank you, Philippines.
*Adapted from a recipe by Bebs at foxyfolksy.com. Check out her website - it's a lot of fun!
Filipino Spanish Bread
Total Time:
2 hours
55 minutes
Soft yeast rolls with a buttery sugar filling, rolled in fine bread crumbs and sugar.
Ingredients
Dough:
3 C all-purpose flour
¼ C plus 1 tablespoon sugar
1 teaspoon salt
¾ C milk, lukewarm
3 tablespoon butter, melted
1 egg, lightly beaten
1 ½ teaspoon instant yeast (not quite a whole packet)
Filling:
¼ C butter
2 teaspoon all-purpose flour
½ C fine bread crumbs
⅛ C plus 1 tablespoon water
½ C sugar
⅛ teaspoon salt
2 tablespoon butter, melted
Crumb Roll:
2 tablespoon butter, melted
½ C fine bread crumbs
2 tablespoon sugar
Instructions
In a stand mixer bowl with a dough hook, mix together the flour, sugar, and salt. Add the lukewarm milk (about 110°) and melted butter and turn mixer to low. Add the beaten egg. Mix until blended. Sprinkle in the instant yeast and mix well to form a slightly sticky dough. (Add a tablespoon more of flour if too sticky).
Lightly flour your counter or marble and turn out the sticky dough onto it. Knead the dough until it becomes smooth and elastic, about 10 minutes. (Or keep the dough in the stand mixer bowl, turn it to low, and knead the dough with the dough hook for 5-6 minutes.)
Shape the dough into a ball and place it into a greased bowl. Cover the bowl loosely with plastic wrap and place in a draft-free place to rise. Allow to rise for approximately 1 hour, until doubled in size.
While the dough is rising, prepare the filling. In a saucepan over medium-low heat, melt the ¼ C butter until bubbly. Sprinkle in the flour and ¼ cup of the bread crumbs and stir until mixed well. Once it starts to simmer, add the water, sugar, and salt and the remaining ¼ cup of bread crumbs. Stir briskly with heat on low until it's fairly thick. Remove from heat and stir for a minute until it's a paste-like texture.
Line a large baking sheet with parchment paper and set aside.
After the dough is risen, melt the 2 tablespoons of butter in a small bowl. Punch down the risen dough and divide the dough into 16 equal pieces (about 1.75 oz. each). Roll or press each piece of dough into a long triangle with the wide end toward you (roll fairly thin and about 6 ½" to 7" long, kind of the shape of a pizza slice).
Brush each triangle lightly with melted butter, then sprinkle or spread filling on the triangle, leaving about 1 cm. around the edges so it won't melt out while baking. Roll the dough fairly loosely, starting from the wide end.
For the Breading: melt the remaining 2 tablespoon butter. Combine the bread crumbs and sugar in a bowl. Brush each roll with butter, then lightly dip and roll from side to side in the bread crumb mixture.
Place each roll seam side down onto the baking sheet about an inch apart. Cover with a tea towel and place in a draft-free area for 30-45 minutes, until doubled in size.
Preheat the oven to 325°. Bake the rolls for 25-30 minutes until lightly browned. Store in a sealed container (but best right out of the oven, warm).
To serve leftover rolls, slice them horizontally and pat a little butter on them. Warm in the microwave for 15-20 seconds or placed under the broiler for 1 minute.
Notes
Tips and Stuff:
Use Instant yeast, not Active Dry.  You don't have to proof Instant yeast.  
The dough will be sticky when turned out from the bowl.  This will make a lighter, fluffier roll.
I only got 15 pieces of dough, mainly because I weighed each one out to about 1.8 oz.  Whatever size you make them, roll them out fairly thinly and be generous with the filling.
**Make sure your bread crumbs are PLAIN - not garlic or cheese flavored!!**
Nutrition Information:
Yield:

15
Serving Size:

1 roll
Amount Per Serving:
Calories:

243
Total Fat:

10g
Saturated Fat:

6g
Trans Fat:

0g
Unsaturated Fat:

3g
Cholesterol:

36mg
Sodium:

305mg
Carbohydrates:

35g
Fiber:

1g
Sugar:

10g
Protein:

5g
Nutrition Values are Approximate