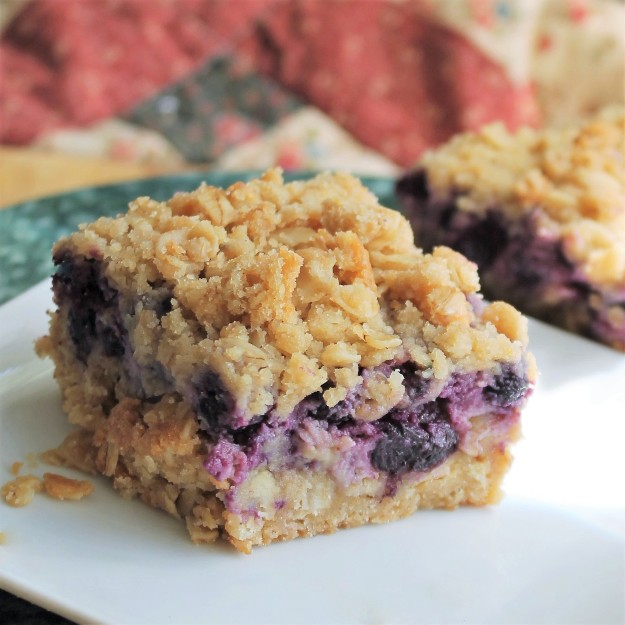 I was going to half this Lemon Blueberry Crumble Bars recipe, but after looking at it decided to make the full recipe. Lemon, blueberry, oats, condensed milk. I knew this was going to be a good one!
And I was right. These bars are wonderful.
The filling turned a lovely lavender, mainly because I used frozen blueberries without thawing and drying them, but I like it. Makes 'em pretty. Use fresh blueberries if you have them since this is blueberry season.
The rather large amount of nutmeg in the base was a bit worrisome. But I like nutmeg, so went for it and am glad I did. It gives the bars a wonderful nutty flavor and really stands out. Don't skimp on the nutmeg.
There's more crumble than filling, but that's OK by me. I'm planning on sprinkling a couple of spoonfuls of it over some vanilla ice cream (if there's any leftovers).
The base layer is thick, kind of chewy and oat-y, then you get that delicious thin layer of almost a lemon cream with tons of blueberries. It's topped off with the same combination of oats and butter, but it's more crumbly.
Have you ever had one of those really soft granola bars that have a nice fruity layer in the middle? That's kind of what these bars are like. Except homemade and better!
These Lemon Blueberry Crumble Bars are wonderful. I found the recipe in my go-to cookbook 500 Best Cookies, Bars & Squares by Esther Brody. Every one of the nine recipes I've made from this book has been so unique and delicious. You can open the book up to any random page, close your eyes and point, and you'll have picked a terrific recipe!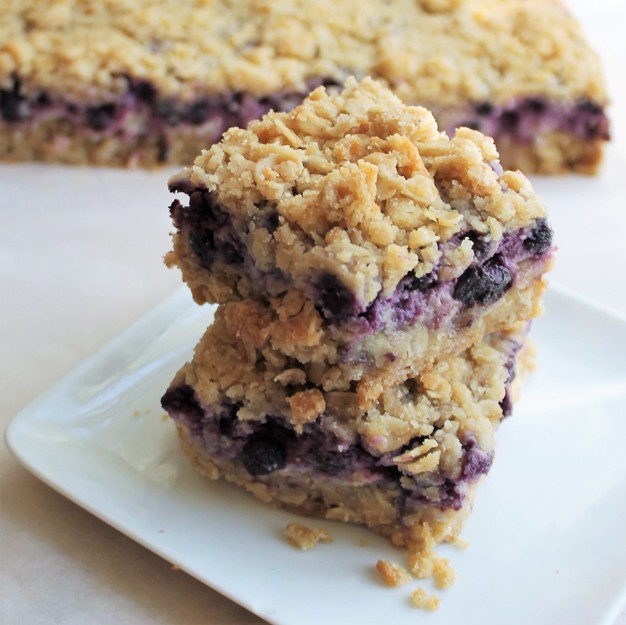 Others I've made from this cookbook that are posted on this site:
Soft Cinnamon Roll Cookies (over half a million hits on Pinterest!)
Cinnamon Honey Oatmeal Biscotti
Dreamy Krispie Toffee Squares
Cherry Bell Cookies
Chocolate Chip Meringue Bars
Try 'em all!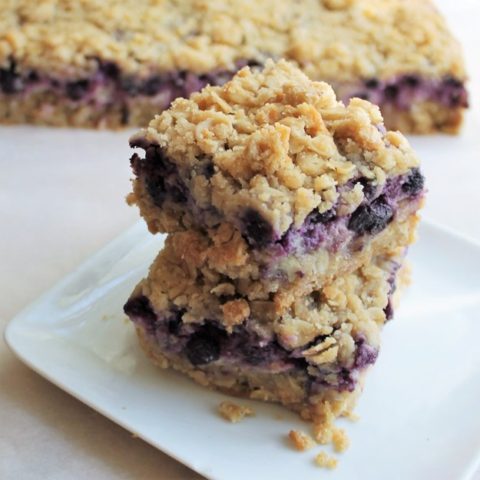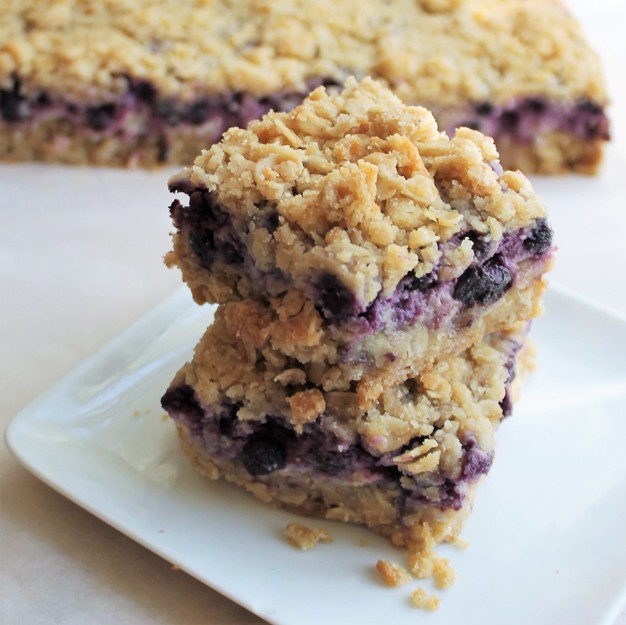 Lemon Blueberry Crumble Bars
Total Time:
1 hour
10 minutes
Creamy Lemon Blueberry filling on a buttery oatmeal based and topped with a chewy crumble.
Ingredients
3 C all-purpose flour
2 C old-fashioned rolled oats
1 ⅔ C packed brown sugar
1 ½ teaspoon baking powder
1 ⅛ teaspoon ground nutmeg
½ teaspoon salt
1 teaspoon lemon zest
1 ¼ C butter
1 large egg, lightly beaten
Filling:
1 large egg
1 can (14 oz) sweetened condensed milk
½ C fresh lemon juice
2 tablespoon all-purpose flour
2 teaspoon lemon zest
pinch of salt
3 C blueberries
Instructions
Preheat oven to 375°. Line a 13x9" pan with aluminum foil, extending ends by about three inches so the bars can be lifted out after cooled. Spray foil lightly with cooking spray.
In a large bowl, mix together the flour, oats, brown sugar, baking powder, nutmeg, salt, and lemon zest. Add the butter and, with your fingers, cut the butter completely into the flour mixture until it resembles coarse crumbles. (Butter should be pea-sized or smaller). Set 2 cups of the mixture aside.
Add the lightly beaten egg to the remaining flour/butter mixture and mix until completely incorporated. Batter will be thick. Spread mixture into the bottom of the pan, pressing lightly and making sure it's evenly dispersed to the edges. Bake in the preheated oven for 10 minutes.
Filling: In a stand mixing bowl, beat the egg, condensed milk, and lemon juice until smooth and blended. Blend in flour, lemon zest, and the pinch of salt until incorporated. Fold in the blueberries.
Spread filling evenly over the top of the base. Sprinkle with the reserved 2 cups of crumbles, making sure to spread evenly to the edges. Bake for 45 minutes until the top crumbles are lightly browned.
Place the pan on a wire rack to cool completely, then carefully lift out the bars and cut to serve. Store in a sealed container for 2 to 3 days.
Notes
Tips and Stuff:
I used frozen blueberries which turns the filling a pretty lavender.  Use fresh blueberries if you have them - they'll work fine.
Enjoy!
Nutrition Information:
Yield:

36
Serving Size:

1 bar
Amount Per Serving:
Calories:

160
Total Fat:

7g
Saturated Fat:

4g
Trans Fat:

0g
Unsaturated Fat:

2g
Cholesterol:

28mg
Sodium:

115mg
Carbohydrates:

22g
Fiber:

1g
Sugar:

10g
Protein:

2g
Nutrition Values are Approximate