Updated: December 2020
Siopao (shoh-pow) is a yeast-risen, filled bun that's popular in the Philippines as a homemade comfort food as well as a hand-held street food. It can be savory or sweet, but I think most of us are used to the savory fillings (bbq, asian pork, etc.).
We really enjoyed these and I was surprised at how easy they are to make!
First you make this fairly easy, non-knead dough that reminds me a little of my thighs under fluorescent lighting. Sorry I put that image into your brain.

While the dough is proofing, you make a wonderful filling of your choice. I made an asian-inspired ground pork, but it would be great with shredded bbq pork or chicken.
One baker in the Daring Kitchen made it with a coconut creme filling - another with a creamy vegetable filling. I think almost anything would work as long as it's not too wet of a mixture.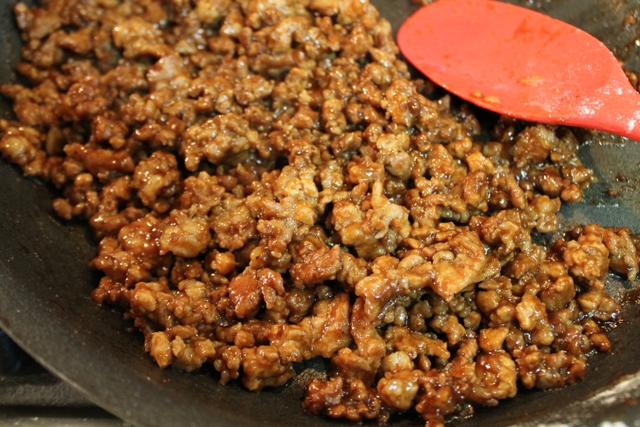 After the dough has risen, you punch it down and divide it into 12 individual portions (lightly flouring as needed). You pat the portions into 5 to 6 inch disks, spoon a heaping tablespoon of filling in each disk and then bring up the edges and pinch them together, forming a nicely filled dough ball.
Don't they look like the main puffy character in that movie Big Hero 6?

Let them rise another hour, then brush lightly with egg wash. I sprinkled mine with sea salt for an extra crunch.

You bake them for 20 minutes or so and then enjoy them while they're warm. I think they're best the first day, after cooled a few minutes out of the oven. The yeast bun is heavenly.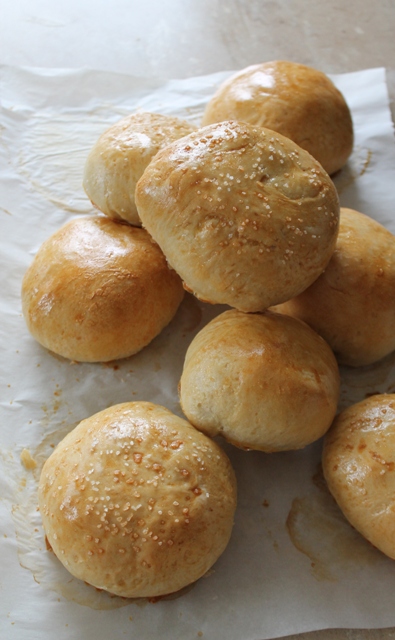 I usually link over to the Daring Kitchen recipe, but this Siopao (Philippine Filled Buns) recipe isn't that long and I made some changes to the filling. Hope you try these! Thanks to Julie from One-Wall Kitchen for the fun challenge.
Blog-checking line: The February Daring Bakers' challenge is hosted by Julie of One-Wall Kitchen. She challenged us to an easy, simple filled bun using no-knead dough.
Siopao (Philippine Filled Buns)
Total Time:
2 hours
40 minutes
Very, very good and fairly easy.  It will be fun to change up the fillings to go with the delicious bun.  Read my tips below the recipe before beginning.
Ingredients
Buns:
¼ oz. 2 tsp. or 1 packet active dry yeast
1 ½ C. warm water
1 tbsp. sugar
2 tbsp. melted butter
1 tsp. salt
4 to 5 C. all-purpose flour
1 egg for egg-wash
Filling:
1 tbsp. vegetable or olive oil
1 lb. ground pork
1 tsp. garlic power
1 tsp. onion powder
¼ to ½ tsp. ginger, depending on your tastes
½ tsp. black pepper
2 tsp. water
3 tbsp. soy sauce
1 tbsp. hoisin sauce
1 tbsp. flour
Instructions
For the dough, mix yeast, water, sugar, melted butter and salt in a large mixing bowl. Slowly mix in flour until it's fully incorporated and you have a shaggy, very tacky dough (but not wet and sticky). I used the dough hook with my mixer.
Cover the bowl with plastic wrap and let it rise for an hour in a warm place until doubled in size. While the dough is rising, make the filling.
To make the filling, heat the oil in a large skillet. Brown the pork and stir in the garlic and onion powders, ginger, and water. Pour in the soy sauce, hoisin and pepper and stir until combined. Cook for 2-3 minutes, then sprinkle the flour over the mixture and stir. Simmer on low until thickened. You don't want the mixture too wet or it will squish out of the dough and stay soggy. Set mixture aside.
After the dough has risen, punch it down and turn out onto a lightly floured surface. If it's too sticky (gooey), roll lightly in the flour. Fold it over several times and shape it into a smooth ball, then divide into 12 equal pieces.
Roll each piece into a ball and flatten it into a 5 to 6" disk. Don't make the disk too thin or the filling will squish out when cooked. Place a heaping tablespoon of filling into the center of the disk, wrap the dough around the filling and firmly pinch it closed all the way around the filling, forming a ball shape. Don't leave any holes.
Place the filled buns on cookie sheets lined with parchment paper and loosely cover with a dish towel. Let them rest for 1 hour.
10 minutes before baking, preheat the oven to 350 degrees. Beat the egg in a small cup and lightly (don't press down too hard!) brush the tops and sides of the buns. Sprinkle with sea salt if desired.
Bake the buns for about 20 minutes until medium golden brown. Serve warm.
Notes
Tips and Stuff:
I used 4 ½ Cups of flour and it was perfect.
When making the flattened dough disks, I made them a little thicker in the middle (which becomes the top when you put them seam-side down on the cookie sheet) because there seemed to be a consensus that they could be too thin on top and the filling might leak.  Just be sure and pinch the sides together with no gaps.
You can see how much filling I put (heaping tablespoon), but I might try even a little more next time so that the filling-to-bun ratio is a little more equal.
When you warm up the leftovers, do so in a 300 degree oven for about 15 minutes.  I'm not sure they'd microwave so well.
If you want to freeze them, let them cool completely, wrap individually in saran wrap, then aluminum foil, then put into a well-sealed freezer bag.  Don't thaw them before popping in the oven to warm up (probably 30-35 minutes when they're frozen).
Nutrition Information:
Yield:

12
Serving Size:

1 bun
Amount Per Serving:
Calories:

924
Total Fat:

14g
Saturated Fat:

5g
Trans Fat:

0g
Unsaturated Fat:

7g
Cholesterol:

72mg
Sodium:

496mg
Carbohydrates:

162g
Fiber:

6g
Sugar:

2g
Protein:

33g