It's beginning to look a lot like Spring and Glazed Lemon Braid Cookies make the warmer days a little brighter!
Another winner recipe from Esther Brody's 500 Best Cookies, Bars & Squares. This is the tenth recipe I've tried from this baking cookbook.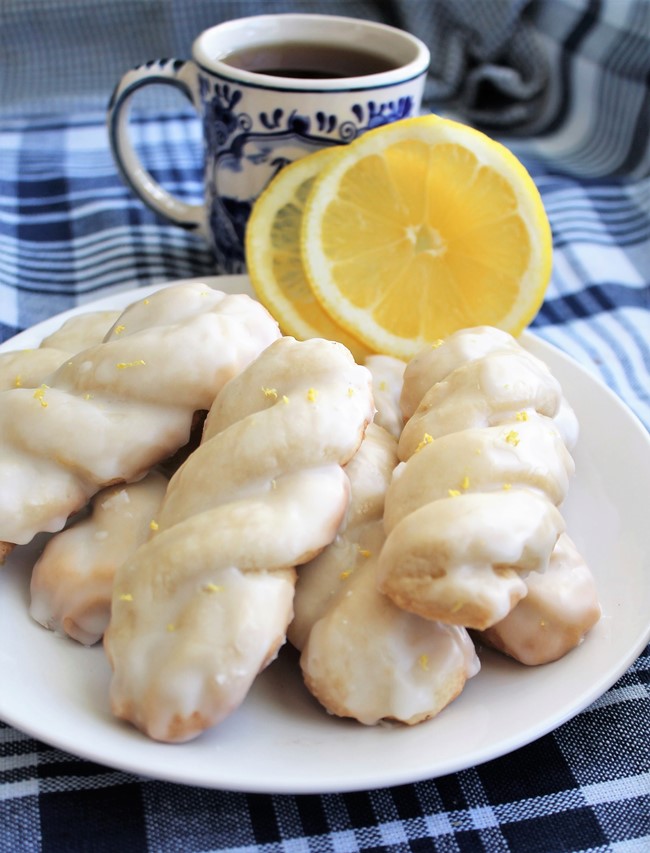 There aren't any photos in this cookbook, but it doesn't matter. Any recipe I choose from this book has an outstanding result.
Some of the favorites that I've posted previous are Cinnamon Oatmeal Biscotti, Dreamy Krispie Toffee Squares, and Lemon Blueberry Crumble Bars.
These amazing lemon cookies are a little chewy, but a little crunchy around the edges.
The best part? The smooth, creamy lemon glaze! Who knew two ingredients - powdered sugar and lemon juice - could be so fabulous mixed together and simply brushed over a delicious little braided cookie?
Glazed Lemon Braid Cookies are easy to put together with ingredients I'm sure you have in your pantry. Butter, sugar, flour, egg, and a fresh lemon along with powdered sugar for the glaze.
The braiding sounds fancy, looks pretty and is easy to do. You're only using two strands of dough and they're gently twisted around each other.
You'll want to lightly flour your hands when rolling out the dough strands or they'll be a little unruly. Unruly = slidey all over the place. The flour hands help a little and they're really quickly done.
Refrigerate the cookies for 30 minutes, then put straight into the oven for 15 to 18 minutes until just browned around the edges. They won't get very browned, so don't over bake them.
Brushing the glaze over the still-warm Lemon Braid Cookies makes this step a lot easier and less messy. If you spoon or pour the glaze over them, you waste a lot of glaze and coverage isn't as good.
For a final touch, I grated a little more lemon zest over the glazed cookies. There's also some zest in the cookie batter, but I don't think you can ever overdo lemon flavor.
These are delicious little lemony cookies that are great to eat for a grab-and-go snack or dunked in your afternoon hot tea. I can't wait to make them again.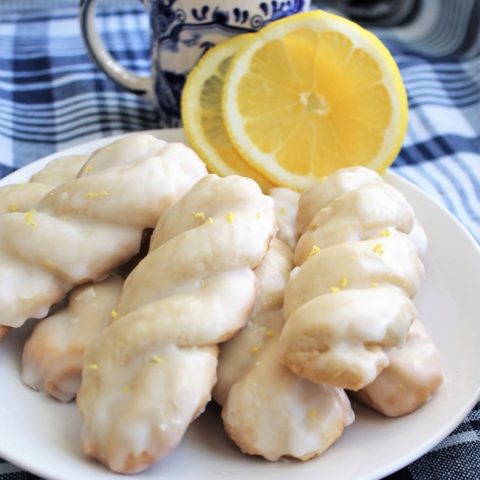 Glazed Lemon Braid Cookies
Additional Time:
30 minutes
Total Time:
1 hour
8 minutes
Delicious vanilla-lemon cookies with a creamy lemon glaze.
Ingredients
½ C butter
1 C granulated sugar
1 egg, room temperature
Zest of one medium lemon
Pinch of salt
2 C all-purpose flour
For the Glaze:
Juice of 1 lemon
1 ½ C powdered sugar, sifted
Instructions
In a stand mixer bowl, beat the butter and sugar together until combined and crumbly. Add the egg, lemon zest, and salt, again beating until combined.
Gradually add flour, ½ cup at a time and mix thoroughly between additions. The dough will be soft, but kind of thick.
Prepare two baking sheets with parchment paper (or spray with cooking spray).
Scoop out about ¼ cup of dough and divide that into two pieces. Lightly flour your hands and on a dry counter or baking marble, roll each piece into about an 8-inch rope.
Twist the two strands together, gently but as tightly as you can without smushing the braid. Cut the braid in half (about 4" pieces) and place on the prepared pan.
Repeat with the rest of the dough. Refrigerate braids for about 30 minutes. Preheat oven to 350° while the dough is chilling.
Place one of the cookie sheets on the middle rack of your oven, and the other sheet on a rack just below the middle. Bake for 15-18 minutes, just until the edges begin browning. Swap the baking sheets onto different racks half way through baking.
Immediately remove the cookies to a cooling rack. While the cookies are cooling, make the glaze.
In a small bowl, whisk together the powdered sugar and lemon juice until the glaze is creamy and smooth.
Place a big piece of waxed paper under your rack to catch the glaze dripping. While the cookies are still a bit warm, brush the glaze over the cookies with a pastry brush, covering the cookies completely. Let set for about 20 minutes.
Store the cookies in a tightly sealed container for up to three days.
Notes
Don't be tempted to roll the dough ropes between your palms - they'll fall apart. Just roll it gently on a counter or marble and it will go quickly.
I finished my glazed cookies with a little more lemon zest, but that's optional.
Don't over bake the cookies - they'll still be fairly blonde when they're done.
Nutrition Information:
Yield:

18
Serving Size:

1 cookie
Amount Per Serving:
Calories:

144
Total Fat:

6g
Saturated Fat:

3g
Trans Fat:

0g
Unsaturated Fat:

2g
Cholesterol:

24mg
Sodium:

52mg
Carbohydrates:

22g
Fiber:

1g
Sugar:

11g
Protein:

2g
Nutrition Values are Approximate