Jalapeno Crab Dip is a deliciously cheesy baked dip, served warm, with a little kick from jalapenos and hot sauce.
My sister-in-law makes this wonderful dip for every Thanksgiving get-together.
This year we didn't travel to her home this year and I sure missed the dip. Mostly missed visiting with the family, but missed this dip, too!
The original recipe is an old one from Emeril Lagasse's Everyday is A Party Cookbook and I've adapted it a little more towards our tastes (i.e., less salty and less spicy).
The ingredients are easy to get ahold of locally and the end result is a wonderful party dip. Cheesy, warm, and oh, so good with your favorite crackers or croutons.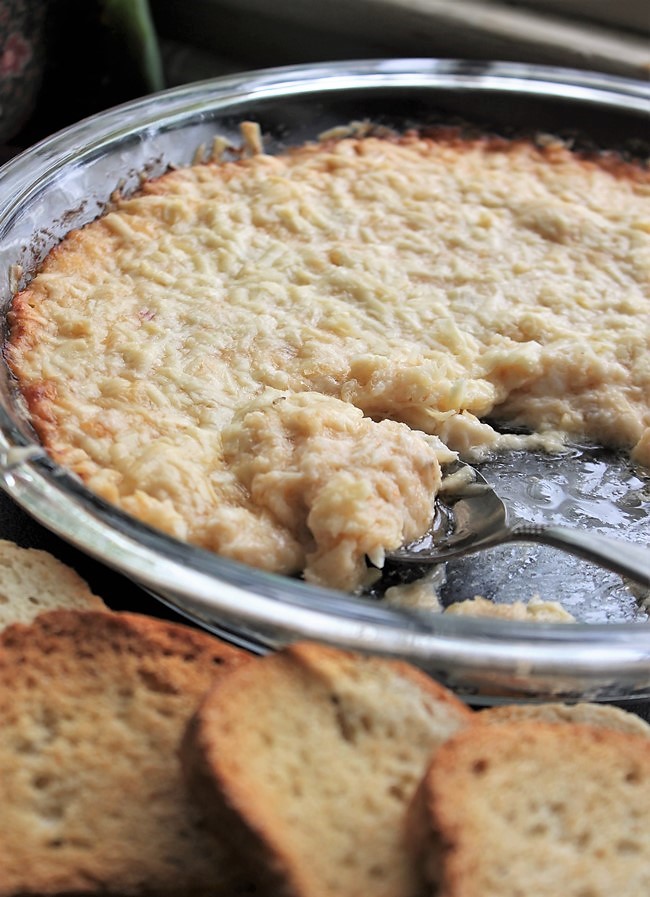 A Few Tips I've Learned Along the Way:
You can use fresh lump crab meat or canned

. I use canned - be sure it says 'lump crab meat' on the can instead of the shredded crab meat. It makes a nicer dip.

Kick up the heat

- the original crab dip recipe calls for ½ cup of pickled jalapenos. I like hot and spicy, but this was too much for me. You can experiment with heat level to your tastes.

Use Parmigiano-Reggiano cheese

- it has a different flavor and slightly different texture than Parmesan and works great in this recipe. You can find it in your local grocery's deli or cheese section.
This dip is so flavorful, you'll want to

use crackers that are on the plain side

so they won't clash with the dip flavor.
The part I like best about the dip is the crusty brown outer edge. That Parmigiano-Reggiano gets crisp and chewy around the edges and is great!
It's hard to find a good appetizer that you can serve at room temperature - seems like they all need to be served while warm. That's kind of tricky when you're transporting the appetizer and it cools off before people get a chance to enjoy it.
This Jalapeno Crab Dip is best served warm, but is OK cooled off a bit, too. This will be a good New Year's eve appetizer or a quick fix for the Super Bowl.
It's really hard to stop eating this delicious, substantial dip!
Jalapeno Crab Dip
Delicious cheesy crab dip, served warm, with a bit of a kick.
Ingredients
2 cans (6 oz each) lump crab meat
1 teaspoon minced garlic
¼ C  chopped pickled jalapenos
¼ lb Monterey Jack cheese with jalapenos, grated
1 teaspoon Worcestershire sauce
1 teaspoon hot sauce
⅛ teaspoon salt
½ C mayonnaise
2 oz Parmigiano-Reggiano cheese, grated
Various crackers for dipping
Instructions
Preheat the oven to 350°.
Combine the crab meat, garlic, jalapenos, Monterey Jack, Worcestershire, hot sauce, salt, and mayonnaise in a medium-sized mixing bowl. Stir to completely combine.
Pour the crab mixture into a 8 to 9" pie plate and sprinkle the Parmigiano evenly on top.
Bake until golden brown and bubbling, 30 to 35 minutes. Remove from oven and let sit for a few minutes before serving.
Notes
This is an old Emeril Lagasse recipe that I adapted just a bit - the original amount of jalapeno was ½ cup, but I found it way too spicy (and I like spicy).
Original recipe calls for 1 pound of lump crab meat. You can use fresh or canned - I chose to use two 6 oz. cans of lump crabmeat.
I also cut the salt from ½ teaspoon to ⅛ teaspoon.
I use Cholula for the hot sauce - it's very flavorful. You could also use Tabasco.
Nutrition Information:
Yield:

20
Serving Size:

1 tbsp
Amount Per Serving:
Calories:

82
Total Fat:

7g
Saturated Fat:

2g
Trans Fat:

0g
Unsaturated Fat:

4g
Cholesterol:

21mg
Sodium:

216mg
Carbohydrates:

1g
Fiber:

0g
Sugar:

0g
Protein:

4g
Nutrition Values are Approximate