It's December and that means The Cake Slice Bakers group gets to choose any recipe from The New Way to Cake.
In January, we'll begin to bake from a new cake cookbook - stay tuned to find out which book we'll use!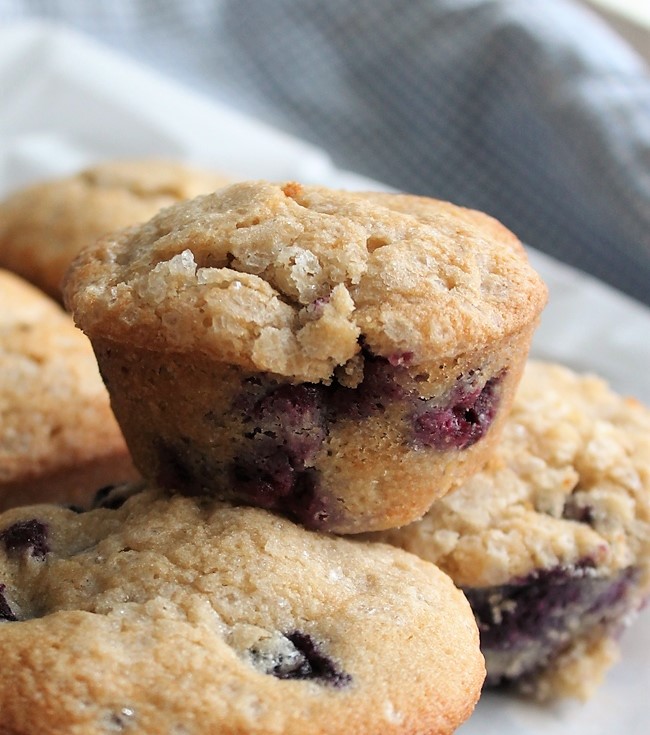 Earl Grey & Blueberry Tea Cakes were on the recipe list earlier this year and I didn't get participate that month. It sounds so intriguing, but simple, so I chose it for my final 2020 choice.
These 'tea cakes' are actually baked in a muffin tin, so I'm going to call them muffins. They aren't ordinary muffins, though, because of the infusion of Earl Grey tea flavor.
The muffins bake up beautifully soft and they're filled with fresh blueberries.
Even though the Benjamina says this recipe will make 10 muffins, I had a ton of batter leftover. I went ahead and made 12 muffins, then had enough batter to make 3 mini-loaves.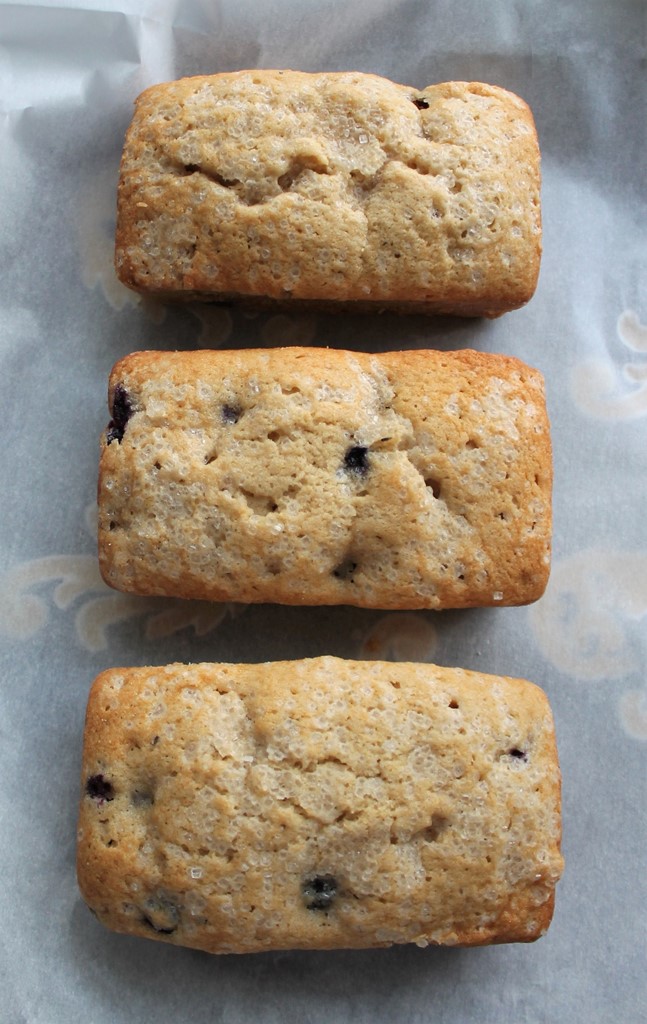 You get a whisper of Earl Grey tea, but it's not overwhelming. It gives the muffins a delicate, tea-time flavor.
We're lucky enough to have fresh blueberries almost all year long. Costco has been having them available and they're really nice, plump blueberries.
If you can't get fresh blueberries, though, use frozen. Just remember to add them to the muffin batter right out of the freezer so they don't bleed and make grey muffins. That's not pretty.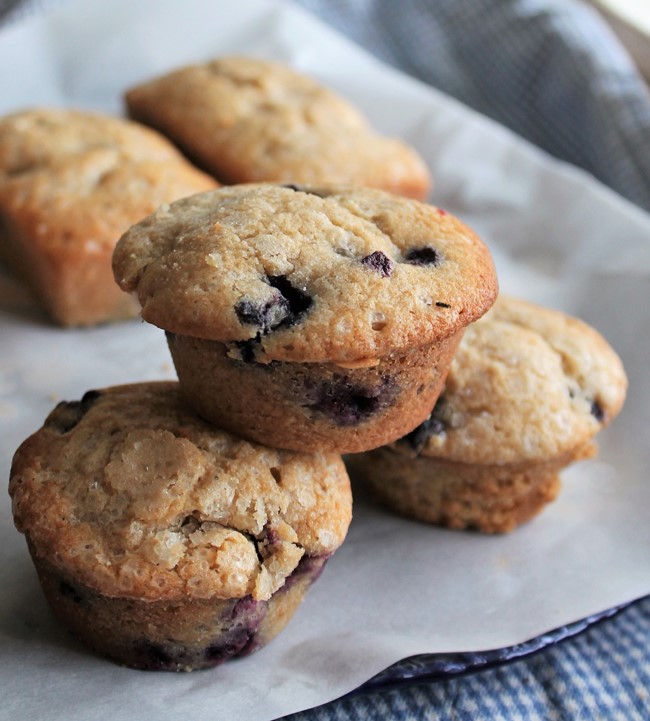 Earl Grey & Blueberry Tea Cakes (a.k.a. muffins) are a great breakfast, brunch, or snack.
You'll like the fluffy texture and those pops of blueberry flavor. I can see these made with your favorite tea - chai or chamomile come to mind.
These are terrific muffins (or tea cakes) and we're glad to add them to our muffin file!
Here are some other great muffin recipes!
Earl Grey & Blueberry Tea Cakes
Fluffy blueberry muffins flavored with Earl Grey tea.
Ingredients
½ C milk
3 Earl Grey tea bags or 4 teaspoon of loose tea
1 teaspoon vanilla extract
2 ¼ plus 1 tablespoon all-purpose flour, divided
1 tablespoon baking powder
1 C granulated sugar
1 C (2 sticks) butter, softened
3 eggs, room temperature
1 ⅓ C blueberries, fresh or frozen
2 tablespoon coarse sugar for sprinkling on top of muffins
Instructions
Preheat oven to 350°. Take 1 or 2 teaspoon of butter from already softened butter and grease each cup of a 12-cup muffin tin. Dust lightly with flour, shaking out the excess.
In a small sauce pan, combine the milk, tea bags (or loose tea) and vanilla. Heat on medium until the milk just boils. Remove from heat and set aside to cool while making the batter.
In a medium bowl, sift together 2 ¼ cups of the flour and the baking powder.
Using a stand mixer, beat the sugar and butter together until pale, creamy and slightly fluffy, 3 to 4 minutes on medium-high. Add the eggs, one at a time, beating well after each egg addition. Add half of the flour mixture and combine. (At this time, if you've used loose-leaf tea, pour through a strainer into a bowl).
Add the milk to the batter, then the remaining flour mixture. Beat until just combined.
Toss the blueberries in the remaining tablespoon of flour so they won't sink to the bottom of the muffins. Shake off the excess flour, then gently stir the blueberries into the batter.
Fill the muffin cups about ⅔rds full of batter, sprinkle with coarse sugar, then bake for 25-27 minutes until a toothpick comes out almost clean.
Let cool for 5 minutes in the pan, then run a knife gently around the edges to loosen from the pan. Turn out onto a wire rack to cool.
Re-butter and flour three of the muffin cups (or use a second pan) and use the remaining batter. You may have extra batter, so fill as many cups as you need. Sprinkle tops with coarse sugar, bake for 25-27 minutes, then repeat above steps.
Notes
Tips and Stuff:
This made a ton of batter (original recipe says 10 muffins) and I made 12 muffins, plus 3 mini-loaves.
The original - calls for whole milk, but I successfully used 2% milk; the original also calls for vanilla bean paste, but I used regular vanilla extract.
The original also calls for unsalted butter - I used salted.
Nutrition Information:
Yield:

15
Serving Size:

1 tea cake
Amount Per Serving:
Calories:

118
Total Fat:

2g
Saturated Fat:

1g
Trans Fat:

0g
Unsaturated Fat:

2g
Cholesterol:

40mg
Sodium:

142mg
Carbohydrates:

23g
Fiber:

0g
Sugar:

19g
Protein:

2g
Nutrition Values are Approximate
Each month The Cake Slice Bakers are offered a selection of cakes from the current book we are baking through. This year it is The New Way To Cake by Benjamina Ebuehi. We each choose one cake to bake, and then on the 20th - never before - we all post about our cake on our blogs. There are a few rules that we follow, but the most important ones are to have fun and enjoy baking & eating cakes!
Follow our Facebook, Instagram, and Pinterest pages where you can find all of our cakes, as well as inspiration for many other cakes. You can also click on the thumbnail pictures below to take you to each of our cakes. If you have a blog and are interested in joining The Cake Slice Bakers and baking along with us, please send an email to thecakeslicebakers at gmail dot com for more details.
The Cake Slice Bakers also have a new Facebook group called The Cake Slice Bakers and Friends. This group is perfect for those who do not have a blog but want to join in the fun and bake through this book.
It is a new year and a new book - The New Way To Cake - traditionally our last bake for the year is free choice, so our choices for December 2020 were ~