I've had these Easy Chocolate Chip Muffins in my "to-make" files forever!
They first popped up from Gal on a Mission and with a little tweaking, they are now perfect little muffins for us.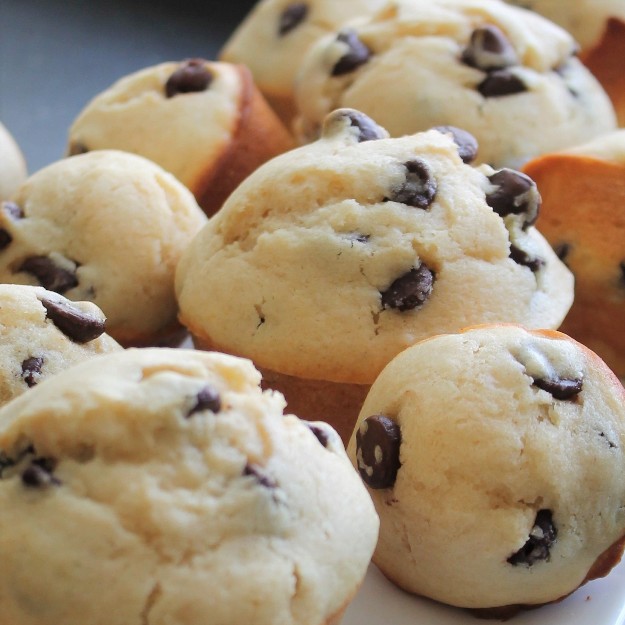 These muffins remind me of a lightly sweet, very fluffy biscuit with just enough chocolate chips to get chocolate in every bite. T
hey're hard to stop eating once you get started - especially those mini-sized ones that you can just pop in your mouth.
These were really quick and easy to put together. The original called for buttermilk but, even though I'm a Southerner and we use buttermilk in almost everything, I amazingly didn't have any today.
So, I used the old milk plus a tablespoon of vinegar trick to create a pseudo-buttermilk and it worked like a champ.
They don't really turn golden brown, so don't leave them in the oven too long.
Add pecans or walnuts - really, whatever goodies you usually add to your chocolate chip cookies would be good in these.
I ended up giving quite a few of them away since I still have some Cherry Walnut Drop Scones from January in the freezer.
These Easy Chocolate Chip muffins would freeze well, too, but I want to share them because they're so, so good!
Easy Chocolate Chip Muffins
Yield:
12 regular-sized muffins and 8 mini-muffins
Lightly sweet fluffy biscuits, dotted with chocolate chips. 
Ingredients
1 C whole or 2% milk
1 tablespoon white vinegar
½ C canola or vegetable oil
2 large eggs, room temperature
1 C granulated sugar
2 teaspoon vanilla extract
3 C all-purpose flour
4 teaspoon baking powder
¼ teaspoon salt
1 ½ C chocolate chips
Instructions
Preheat oven to 425°. Spray a muffin tin (and mini-muffin tin if using) with non-stick cooking spray.
Pour the milk into a glass measuring cup and gently stir in the vinegar. Let sit for 10 minutes.
In a large mixing bowl, combine the milk mixture, oil and eggs. Mix together until well combined.
Add the sugar and vanilla extract and mix on medium until blended.
In a medium bowl, stir together the flour, baking powder, and salt. Turn mixer to low and add the flour mixture ½ cup at a time, just mixing until combined (don't over mix at this stage).
Fold in the chocolate chips.
Pour the batter into the muffin tins, almost to the very top so the muffins will be tall and domed. Bake the muffins at 425° for 5 minutes, then turn down the oven to 375° and rotate the muffin pan - continue baking for 9-10 minutes until toothpick comes out clean. (They won't brown much.) Cool in the pan for 5 minutes, then move to rack to cool completely
For the mini-muffins: put the rest of the batter into the sprayed mini-muffin pan and turn up the oven to 425°. Bake for 4 minutes, then rotate the pan and turn the oven down to 375°. Bake for 6 ½-7 minutes until a toothpick comes out clean.
Notes
Tips and Stuff:
You can use buttermilk in place of the milk/vinegar combo.
Don't over bake the muffins - they won't turn brown except around the very edges.  And don't forget to turn down the temperature during the baking process.
Store in an airtight container for 3-4 days or freeze (or give away to a good friend!)
Nutrition Information:
Yield:

16
Serving Size:

1 muffins
Amount Per Serving:
Calories:

291
Total Fat:

13g
Saturated Fat:

4g
Trans Fat:

0g
Unsaturated Fat:

8g
Cholesterol:

24mg
Sodium:

177mg
Carbohydrates:

42g
Fiber:

2g
Sugar:

22g
Protein:

4g
Nutrition Values are Approximate