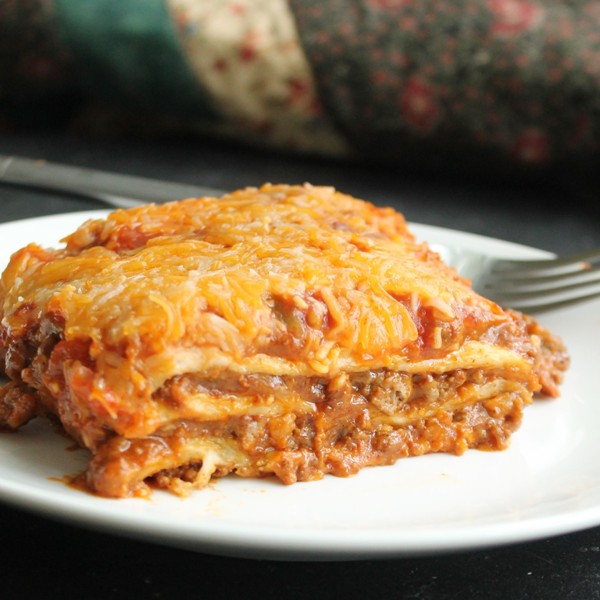 Years ago while my kitchen was being redone I created this tasty Enchilada Lasagna. It consists of ingredients we always have in the cabinet and refrigerator and comes together in a snap.
Throw together ground beef (I use 80/20), chili, and cheese, then layer flour tortillas with the mixture and salsa. Put it in the oven for 25 minutes and you're done!
This Enchilada Lasagna is layers of cheesy chili goodness. You can use your own chili recipe or use Wolf Brand Chili (no beans) for a shortcut. I'm not usually a canned chili fan, but Wolf Brand works great in this particular recipe.
I also use extra-soft tortillas because after they're baked, the pasta-like 'al dente-ish' texture goes great with the chili/cheese mixture.
This isn't a fancy dish, but it's hearty and filling with just the right combination of all the ingredients. Whip this up for an easy, delicious weekend lunch or weeknight meal.
I was hoping during this stay-at-home mandate that I'd be baking and cooking up a storm. To tell the truth, it's a little more of a struggle than I thought it would be.
After a couple of weeks of being immersed in the news, I've turned off the television and looked around at my home and surroundings. There's plenty to do - lots of projects and things I've been meaning to do but never have (like cleaning my work desk that hasn't been dusted for two months...). I feel better and more optimistic that we'll make it through this and will come out better because of the good people in this world.
My thoughts are with you and your family while you're plugging through this, too. God bless and happy cooking!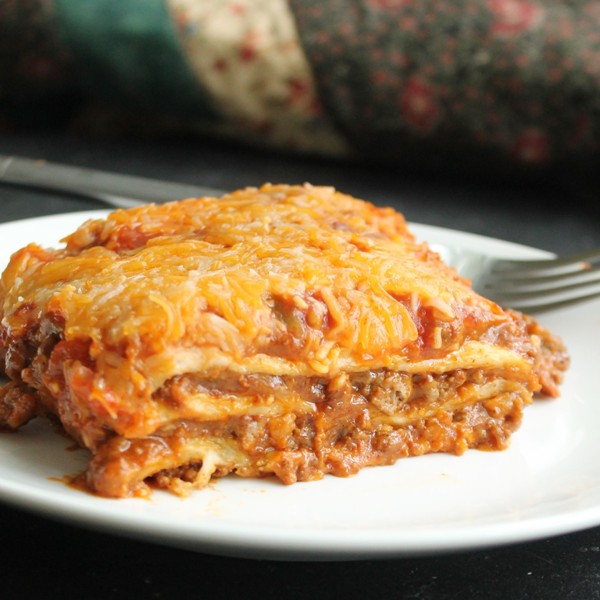 Enchilada Lasagna
Tasty soft tortilla-layered 'lasagna' with beef, chili, salsa and lots 'o cheese.
Ingredients
½ lb ground beef
1 tablespoon taco seasoning
1 15 oz Wolf Brand Chili (no beans - or your favorite chili)
1 ½ C shredded Mexican-blend cheese
6 soft flour tortillas
½ C salsa
Instructions
Preheat oven to 350°.
In a large skillet over medium heat, brown the ground beef, draining if necessary. Add the taco seasoning and stir to combine.
Add the chili and ¼ cup of the cheese to the hamburger/chili mixture. Stir to combine and let simmer for 1 to 2 minutes. Remove from heat.
In a casserole dish, spoon 2 tablespoons of the chili mixture on the bottom of the dish. Put two of the flour tortillas as the bottom layer, then spoon ⅓rd of the chili mixture over the bottom layer. Sprinkle with ¼ cup of cheese.
Repeat the next layer of two tortillas, the chili, then another ¼ cup of cheese. Finish with the final layer of two flour tortillas and the rest of the chili. Pour the salsa evenly over the top and spread with a spoon to the edges of the dish. Finish with the ¾ cup of cheese.
Bake for 20 to 25 minutes until the cheese is melted and bubbly. Remove from the oven and let sit for 5 minutes before cutting.
Notes
Tips and Stuff:
I use 80/20 ground beef and Pace's Medium Picante Sauce.
If you want a thinner beef/chili mixture, add ¼ cup of water and let simmer for a minute.
Nutrition Information:
Yield:

6
Serving Size:

1
Amount Per Serving:
Calories:

457
Total Fat:

23g
Saturated Fat:

10g
Trans Fat:

0g
Unsaturated Fat:

10g
Cholesterol:

75mg
Sodium:

917mg
Carbohydrates:

34g
Fiber:

3g
Sugar:

2g
Protein:

27g
Nutrition Values are Approximate