Blueberry Cornbread with Honey Butter. Oh my gosh. The Cook's Country show on PBS a month or so ago highlighted this recipe and it looked amazing.
I wrote down the ingredients and instructions real fast (rewinding quite a few times) and decided to try it when fresh blueberries came out.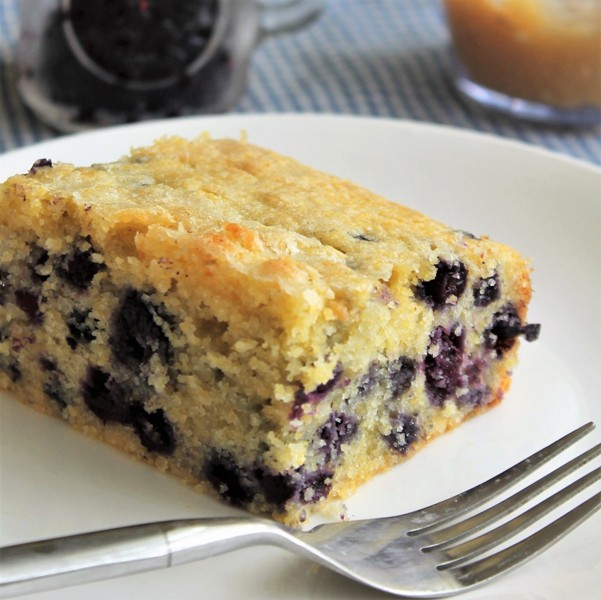 Well, I couldn't wait for fresh blueberries and picked up some frozen Maine blueberries to make this recipe. (If you're using frozen blueberries, put them in the batter straight from the freezer so they don't turn your batter purple-gray.)
Still under house arrest, er, I mean government stay-at-home mandates, it's a perfect time to make this lightly sweet, blueberry-filled cornbread.
There's quite a bit of flour in this recipe and Cook's Country says that's to make the cornbread a little more cakey and to help keep the blueberries from dropping to the bottom of the pan. It definitely works.
I only used two bowls - one for the dry ingredients and one for the wet. Whisk them together, pour it in the prepared 9-inch pan and bake it for 40 minutes. So easy for such an incredible result.
This Blueberry Cornbread with Honey Butter is bursting with 2 cups of delicious blueberries. The texture of the cornbread is a combination corn mealy/cakey and it rises beautifully.
Don't forget the wonderful honey butter! Softened butter swirled with honey, a touch of salt and a pinch of cayenne. It makes this cornbread almost decadent.
You'll love this recipe and can have it for breakfast, lunch, dinner, or dessert. It's really the best cornbread I've ever made and I'll be making it again and again. Baby Girl Honey agrees that it looks very tasty - she's such a big help while I'm trying to take photos.
You might also like this Sweet Cornbread from an previous post of mine!
Blueberry Cornbread with Honey Butter
Delicious, amazing blueberry cornbread bursting with blueberries and served with a lightly spicy honey butter.
Ingredients
1 ½ C all-purpose flour
1 C yellow corn meal (plus 1 ½ for dusting pan)
¾ C sugar (plus 1 tablespoon for sprinkling on top of batter)
2 teaspoon baking powder
¾ teaspoon salt
12 tablespoon melted butter, cooled
1 C cold milk
2 large eggs
2 C blueberries (if frozen, don't thaw first)
For the honey butter:
4 tablespoon butter, softened
2 tablespoon honey
¼ teaspoon salt
generous pinch of cayenne (to taste)
Instructions
Spray a 9-inch square or round cake pan. Dust with about 1 ½ tablespoon yellow cornmeal. Preheat oven to 375°.
In a large bowl, whisk together the flour, corn meal, sugar, baking powder, and salt.
In a smaller bowl, whisk together the melted butter, milk, and eggs. Pour the wet ingredients into the dry ingredients and whisk until just combined - there may be small lumps and that's OK. Finish by folding with a large spoon to make sure all is incorporated from the bottom of the bowl.
Fold the 2 cups of blueberries into the batter, pour it into the prepared pan and lightly smooth down the top of the batter. Finish off the top by sprinkling 1 tablespoon of sugar over the batter.
Bake for 40-45 minutes (mine was perfect at 40 minutes) until toothpick comes out clean. It will be very lightly brown on top. Let cool in the pan for 20 minutes. Run a paring knife around the edges of the pan and turn out onto a rack. Cool for an additional 20 minutes until completely cooled. Use a serrated knife to cut pieces.
To make the honey butter, mix together the butter, honey, salt and cayenne until totally blended. Serve with cooled cornbread.
Notes
I just realized the original recipe calls for a 9-inch round cake pan and I used a square pan - either one will work.
Don't over mix so the cornbread won't be tough
I used salted butter, but the original recipe calls for unsalted.  Salted works fine.
Tip from a reader: Toss frozen blueberries briefly to keep them from bleeding (and from me - always add them to the batter frozen). I also always toss my fresh blueberries in flour before adding to the batter to keep them from dropping to the bottom of the pan.
Nutrition Information:
Yield:

12
Serving Size:

1 piece
Amount Per Serving:
Calories:

331
Total Fat:

17g
Saturated Fat:

10g
Trans Fat:

1g
Unsaturated Fat:

6g
Cholesterol:

73mg
Sodium:

424mg
Carbohydrates:

41g
Fiber:

2g
Sugar:

19g
Protein:

5g
Nutrition Values are Approximate