For years I've been attempting to recreate the best chili I've ever had and finally developed this Best Bowl of Red.
A Bowl of Red is the most complimentary slang term for a perfect bowl of chili and to me, this is the best!
This chili is an amazing combination of flavors starting with 80/20 ground beef and Italian sausage, and moving on to the tomatoey, spicy, thick sauce.
I made sure the herb/spice combination will reach perfection after simmering for a couple of hours - chili powder, not too much cumin, garlic, paprika, and oregano.
Balance out the salt and pepper, and yes a bit of Worcestershire sauce and the flavor palate is complete.
Here's a bowl of it right out of the pan, piping hot with no condiments yet. You can see why it's called Bowl of Red (thank you paprika):
Now here's the controversial part...
Beans! I usually scoff at beans in chili. Southerners don't put beans in chili, but I'm finding out that they enhance my recipe quite a bit - both the texture and the flavor. So there. I put pinto beans in this chili and it works. Don't judge (or if you like them in chili, you're welcome).
Serve with sour cream, your favorite shredded cheese, onions, fresh saltines (my favorite) or homebaked cornbread (Bret's preference) and you have a perfectly rounded, hearty meal.
You'll want to make this all year round, but especially right now while the weather is frosty cold. It'll sure warm you up.
I know there are a lot of chili recipes out there, but to me this one is finally the best! If you enter a chili competition and win, let me know (and send me my 10% please....). Enjoy!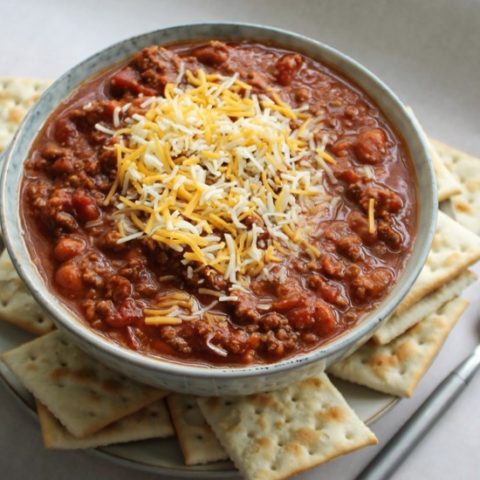 Best Bowl of Red
Cook Time:
2 hours
30 minutes
Total Time:
2 hours
50 minutes
Finally - I put together the perfect ingredients for the perfect chili!  Spicy, tomatoey, and hearty. 
Ingredients
¾ lb ground beef (80/20 best)
3 links mild Italian sausage
1 small onion, chopped
2 C water
2 beef bouillon cubes*
1 (15 oz) can pinto beans, drained
1 (15 oz) can diced tomatoes with juice
1 (14.5 oz) Rotel tomatoes**
¾ C ketchup
1 can (6 oz) tomato paste
2 ½ tablespoon chili powder
1 tablespoon Worcestershire sauce
2 teaspoon minced garlic
1 tablespoon dried oregano
2 teaspoon ground cumin
1 teaspoon salt
1 teaspoon pepper
1 teaspoon paprika, plain or smoked (I use smoked)
Instructions
Heat a Dutch oven or large stew pot over medium heat. Add the ground beef and break up into small pieces. Remove the sausages from the casings and add to the beef. Stir until almost browned, 3-4 minutes. Drain off as much excess grease as you can.
Add the chopped onion and stir until slightly translucent and onion is fairly tender.
While the meat and onion are cooking, heat the 2 cups of water in the microwave for 1 minute, then add the bouillon cubes until dissolved. Pour the liquid into the pot.
Add the drained pinto beans, tomatoes, ketchup, and tomato paste. Stir in the chili powder, Worcestershire sauce, garlic, oregano, cumin, salt, pepper, and paprika.
Bring to a boil while stirring, then turn down heat to lowest Low, cover with a lid and simmer for 2 hours, stirring every 15 minutes or so to prevent sticking. At the end of 2 hours, add ½ to 1 cup more of water (according to how thick you want it), then simmer for ½ hour more. Taste and adjust seasonings if needed.
Serve with cheese, onions, sour cream, and saltines (or freshly baked cornbread). Store cooled leftovers in a tightly sealed container.
Notes
Tips and Stuff:
*If you don't have bouillon cubes handy, use 2 cups of beef stock or broth (I adore "Better than Bouillon" if you can find it).
**If you can't find Rotel tomatoes, use diced tomatoes and ¼ cup of chopped jalapenos (or green chiles).  I use Rotel medium and it's just right on the heat - use mild if you're not into spicy.
I rub the oregano ( use Mexican oregano) between my palms before adding to the chili, to bring out the aroma of that wonderful herb.
Adjust the seasonings to your tastes and add water if you want thinner chili.
Nutrition Information:
Yield:

6
Serving Size:

1 bowl
Amount Per Serving:
Calories:

412
Total Fat:

21g
Saturated Fat:

8g
Trans Fat:

0g
Unsaturated Fat:

13g
Cholesterol:

72mg
Sodium:

1358mg
Carbohydrates:

30g
Fiber:

6g
Sugar:

15g
Protein:

27g
Nutrition Values are Approximate