One more post before Christmas. You probably already have your Christmas goodies finished, but I wanted to get this one up in case you're needing one more!
This Peanut Brittle is the first Trisha Yearwood recipe I've tried and it came out so well.
I questioned the tablespoon each of vanilla, baking soda and salt. A tablespoon of salt! But I was determined to make it like Trish (she lets me call her Trish) wrote it and I'm glad I did.
This peanut brittle came out great! It's very buttery tasting and so flavorful. The best peanut brittle I've ever had.
You get to see our tiny little Christmas tree above. It's perfect for us two and storing it after Christmas is a breeze (gently put a kitchen trash bag over it and put it back in the store room!). I have two candles on either side of it and at night it lights up nicely.
Anyway, back to the peanut brittle. The recipe is easy, but is a commitment because of the stirring and watching the candy thermometer slowly go to 300 degrees. Be sure and pour it out quickly after you stir in the butter, salt, and soda. It stars thickening immediately.
If you don't get to make peanut brittle this Christmas, be sure and put it on your list for next year!
More Christmas candy that you need to make!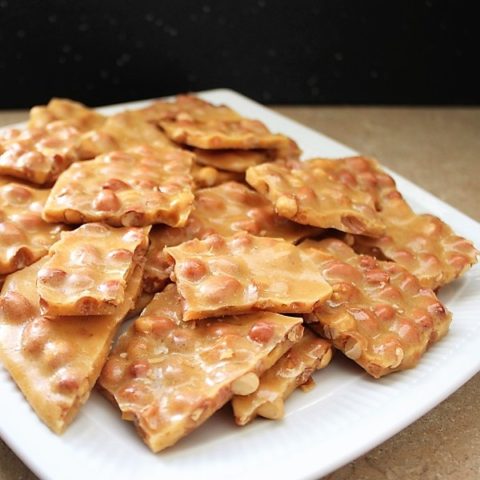 Trisha Yearwood's Peanut Brittle
Total Time:
2 hours
40 minutes
Great Peanut Brittle.  Crunchy with an abundance of peanuts and just right on the flavoring. Read instructions before starting - you need to have all your ingredients in place before you start.
Ingredients
1 tablespoon vanilla
1 tablespoon baking soda
1 tablespoon salt
¾ C  butter
3 C sugar
½ C water
1 C light corn syrup
3 C shelled raw peanuts
Instructions
Measure the vanilla into a small bowl and set aside. Combine the baking soda and salt in another small bowl and set aside. Butter two cookie sheets or a jelly roll pan thoroughly with ½ stick of butter. Set nearby for easy access. Cut the remaining butter into ¼ inch slices (for easier melting) and set aside.
Combine the sugar, ½ cup water and corn syrup in a dutch oven or very large saucepan. Bring to a boil on medium-low. Boil to 240° (or until syrup spins a thread when poured from a spoon). Stir in all of the nuts and continue cooking and stirring until golden brown (to 300°).
As soon as the thermometer hits 300°, remove the pan from the heat and immediately add the butter, vanilla and baking soda/salt mixture.
Stir quickly until butter is melted and immediately pour half of the mixture onto one cookie sheet and then the other half on the other cookie sheet. Spread evenly and thinly.
Cool for at least 2 hours until completely cooled, then break into pieces. Store in a tightly covered container.
Notes
Tips and Stuff:
Be sure and have your vanilla and baking soda/salt ready in small bowls, and butter cut and ready, because when you take the pan off the heat you have to quickly stir the rest of the ingredients into the peanut mixture.
Getting the peanut mixture up to 300° takes about 30 minutes of stirring and waiting.  Be patient!
I couldn't really see the mixture turn golden brown because there were so many bubbles in it, so just make sure you get it to 300°.
Nutrition Information:
Yield:

48
Serving Size:

1 piece
Amount Per Serving:
Calories:

99
Total Fat:

3g
Saturated Fat:

2g
Trans Fat:

0g
Unsaturated Fat:

1g
Cholesterol:

8mg
Sodium:

252mg
Carbohydrates:

18g
Fiber:

0g
Sugar:

18g
Protein:

0g