Let's talk about persimmons! When I was a kid, we grew all kinds of things in our backyard - figs, kumquats, and persimmons to name a few. In Houston, with that humidity and weather almost anything will grow.
The most common kinds of persimmons in the U.S. are the Fuyu and Hachiya. The Fuyu are flat, pretty much shaped like tomatoes and are sweet when just ripened. The Hachiya is bigger, more acorn-shaped, and is very astringent and bitter until it's so ripe that it's mushy. The texture is almost like pureed pumpkin pulp and can be interchanged with pumpkin in most recipes.
I had a few of each type, so decided to make persimmon cookies from a recipe my sister had gotten from a neighbor.
Wait, I said persimmon cookies. Well, the dough is incredibly sticky and there is no way to make successful cookies. I added some baking powder and it ended up as an awesome two-layer Persimmon Spice Cake instead!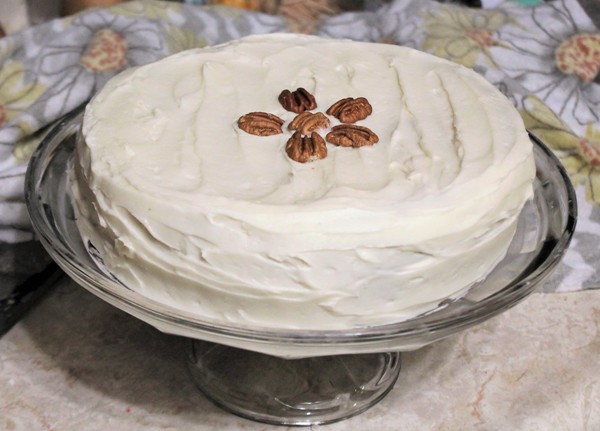 This Persimmon Spice Cake is perfect with cream cheese frosting and it's very reminiscent of a carrot cake. It's a dense, spicy cake and you can add almost anything to it - raisins would be great, or even pecans. (I put pecans on as a decoration, but there aren't any in the cake. I'm not Martha Stewart creative when it comes to decorating a cake).
We love this cake and will make it again when I can get good persimmons. It goes wonderfully with coffee or by itself. It may have been an accidental recipe, but it's now a new family favorite!
If you've never cooked or baked with persimmons, I urge you to do so. You can find them almost anywhere now.
The best bet for good ones will be Central Market or somewhere like Whole Foods. If you're lucky, maybe they'll have them at your local Farmer's Market!
Persimmon Spice Cake
Wonderful dense, cinnamon-spiced cake.
Ingredients
1 C persimmon pulp (Fuyu)
1 teaspoon baking soda
1 ½ C sugar
½ C shortening
½ C butter, softened
1 egg
½ teaspoon vanilla
2 C all-purpose flour
½ teaspoon baking powder
1 ½ teaspoon cinnamon
½ teaspoon salt
Frosting
8 oz cream cheese
½ C (1 stick) butter, softened
2 teaspoon vanilla
4 ½ C powdered sugar
1 -2 tablespoon milk or cream
Instructions
Preheat the oven to 350°. Prepare two 9" cake pans by spraying the bottom with cooking spray then putting rounds of parchment paper in each pan.
Peel the persimmons, then chop and slightly mush the pulp. There should be a few small chunks. Put into a mixing bowl, then sprinkle the baking soda over the pulp. Add the sugar, shortening, and butter and mix all together on medium until creamy, scraping down the sides as needed.
Slightly beat the egg and add it and the vanilla to the mixing bowl. Mix until combined.
Mix the flour, baking powder, cinnamon and salt together, then add to the creamy mixture a ½ cup at a time.
Spoon half of the mixture into each of the prepared cake pans and smooth down with the back of the spoon. The mixture won't go very high up the sides of the pans. Bake for 23-28 minutes, checking after 23 minutes until toothpick comes out clean.
Cool the cakes in the pans for about 20 minutes, then turn out onto a rack. Peel off the parchment paper and let the cakes cool completely before frosting.
To make frosting: Beat together the cream cheese, butter, and vanilla until light and fluffy. Gradually add 2 cups of the powdered sugar and beat until smooth. Add a tablespoon of the milk, then more of the powdered sugar until it's the consistency you like.
Spread just under half of the frosting on top of the bottom layer, then finish the top and sides. Decorate with pecans or whatever you'd like!
Notes
Tips and Stuff:
The original recipe had 1 ½ cup of nuts if you like it nutty.  Half a cup of raisins would be good in it, too.
The persimmons I had were ripe, but not mushy.  Remember if you're using the big acorn-shaped persimmons that they have to be almost like the feel of water balloons before you use them (very, very soft).  The small tomato-shaped persimmons are fine to use a little firm.
Nutrition Information:
Yield:

10
Serving Size:

1 slice
Amount Per Serving:
Calories:

720
Total Fat:

30g
Saturated Fat:

16g
Trans Fat:

0g
Unsaturated Fat:

12g
Cholesterol:

75mg
Sodium:

430mg
Carbohydrates:

111g
Fiber:

2g
Sugar:

88g
Protein:

5g
Nutrition Values are Approximate