I've been a little under the weather lately and haven't posted for awhile, but the August Daring Bakers' Challenge was due today and it looked like so much fun that I had to make it!
This was posted by Swathi at Zesty South Indian Kitchen and caught my eye because it's so unusual.
I thought Swathi have us try making an Indian dish (of which I am not a big fan), but she explains that this is "a traditional wedding pastry made in Transylvania (Romania)….wrapped around a wooden cylinder, rolled into sugar and slowly baked on the fire." What? Vampire pastry?? I'm in.
After getting over the disappointment that it's not actually a vampire pastry, the process began. There were nice, clear instructions and ingredients already on hand in the cabinet, so I set aside an afternoon to make this.
The dough is a bit sticky, but after "Pamming" my hands, was easy to manipulate. Here's a picture of the aluminum-foiled rolling pin and cylinders, as well as how I cut the dough before winding it around them.
Putting the aluminum foil on the rolling pin was probably the trickiest part about it. I only have one rolling pin, so cut down a paper towel cardboard center into two additional 11 cm. cylinders. That worked.
The dough is then wrapped around the cylinders, buttered, sugared yet again and set into the oven. The result is golden brown pastry, something in the vein of a churro – but not as rough-textured.
Now, a disclaimer. I made this Chimney Cake on the day I was getting sick, so have only tasted a bite . Bret, though, has been eating them with a big bowl of ice cream and has really been enjoying them.
Asking for a rousing review statement, he looked at me blankly and said "yeah, they're good." Huzzah!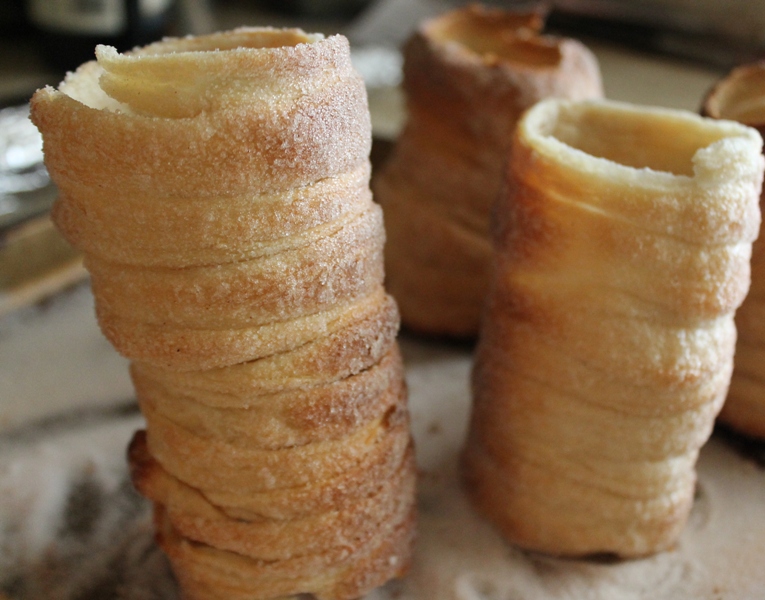 Chimney Cake - A Daring Baker's Recipe
Total Time:
1 hour
50 minutes
Crunchy, sweet pastries in a cute 'chimney' shape.
Ingredients
1 3/4 C. all-purpose flour        
2 1/4 tsp. (1 pkt.) active dry yeast
2 tbsp. sugar
1/8 tsp. salt
1 large egg, room temperature
3 tbsp. melted butter
1/2 C. milk, lukewarm temperature
For Preparing Cylinders:
Melted butter, sugar, cinnamon
Instructions
Prepare yeast: In a small bowl, add the warm the milk and 1/2 tsp. granulated sugar. Lightly stir in yeast and set aside while assembling the rest of the recipe (or 5-10 min.)
In a large bowl, combine flour, sugar and salt. To this add egg, milk, melted butter and the yeast mixture. I used my stand mixer and combined/mixed the mixture for about 5 minutes with the dough hook. The dough will be sticky, don't add any flour.
Transfer to a well-greased (or Pammed) bowl, cover, place in a semi-warm place and let rise for 60 minutes, until doubled in volume.
While the dough is rising, prepare the rolling pins (or other cylinders) by covering them with two-to-three layers of aluminum foil (including the rolling pin handles). Brush the cylinders with melted butter.
Preheat oven to 375 degrees.
Punch down the dough and divide into 4 equal parts about 4 oz each. On a well-floured surface spread one portion of the dough and shape into about 1/6" thick, 8" circle. Using a pizza cutter, cut the dough into a long ribbon of about 1/2" wide.
Wrap one end of the dough strip around the cylinders, tucking in the end so the dough doesn't unwind. Stretch it a bit as you wind it around the cylinder, so the baked result won't be real thick. Roll the cylinder lightly on the counter, just to
flatten/press it together.
Brush the wrapped dough with melted butter and roll in sugar/cinnamon (put the sugar mixture on a cookie sheet for easy rolling). Place in a cake pan, with the rolling pin ends propped on the sides to keep the dough in the air. If you're using paper towel cylinders, prop them end-down onto the cake pan.
Bake the chimney cakes for 11 minutes, turn them over halfway through baking and bake for another 10-11 minutes. Watch carefully - they will be golden brown.
After baked, brush with more butter then roll the finished cakes into sugar/cinnamon mixture. While warm, tap the rolling pin and cylinders lightly on a table top and pull the mold out carefully.
Enjoy with coffee for breakfast or filled with your favorite filling (ice cream, whipped cream, drizzle with chocolate, etc.)
Notes
Tips and Stuff:

The original recipe had added minced walnuts to the sugar mixture.  Just didn't have any, but would add a nice texture.

When wrapping the dough around the cylinder, tuck the ends into the preceding dough, not around the ends of the cylinders or the mold won't release after baked.

I had extra dough, so I rolled it cinnamon roll style and baked it along with the cylinders in the cake pan.  That would have been good with some berry jam between the layers.

Don't forget to turn the cylinders halfway through baking.
Nutrition Information:
Yield:

8
Serving Size:

1
Amount Per Serving:
Calories:

186
Total Fat:

7g
Saturated Fat:

4g
Trans Fat:

0g
Unsaturated Fat:

2g
Cholesterol:

40mg
Sodium:

99mg
Carbohydrates:

26g
Fiber:

1g
Sugar:

4g
Protein:

5g
Nutrition Values are Approximate