There are a few recipes that are very special to us and this is one of them.
Bret's mom (Ma) used to make this special (and very time-consuming) Incredible Empire Torte. At eight-layers, it's not only beautiful, but is also one of the best cakes I've ever had!

Ma retired from making these shortly after Bret and I were married and passed the torch on to me. One of my best memories was the Saturday spent at her house, carefully taking notes while she taught me every step of how to make it correctly. She's a precious woman.
The instructions are very detailed, but when followed correctly produce a lovely cake, or torte, with a mouth-watering frosting.
To begin with, you bake the dense, rough-crumbed cake on two cookie sheets and after cooled, cut it into eight similar rectangles. I say similar, because it's challenging to get them perfectly the same.
I use a ruler and sometimes end up with a few small pieces left over. Here's what one of the sheets looked like after cooled, still in the aluminum foil form and then after they were cut: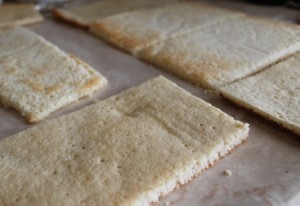 One-by-one they're carefully stacked with that incredible frosting between each layer, then the final coating slathered all around the sides and tops of the cake. It's a fight to see who gets to lick the frosting bowl, beater, spoon and whatever else it lands on.
Then, the final product. After being refrigerated for a couple of hours, which is necessary but tries your tastebuds's patience, the cake is cut (again, another fight - this one for the end piece because it has the most frosting) and enjoyed with a tall glass of cold milk.
The Incredible Empire Torte has no fat in it, so it comes out very textured, but a perfect combination with the creamy frosting.
A little tip: Sometimes if I don't have the time to make the intricate vanilla cake part, I cheat a little and use a vanilla cake mix. The cake turns out a little spongier, but almost as good (and it saves a TON of time).
Empire Torte
Total Time:
2 hours
50 minutes
Time-consuming, but perfect for a special occasion to wow guests or to make and devour at home.
Ingredients
Cake:
1 C sifted flour
1 teaspoon baking powder
¾ C sugar
4 egg whites
½ teaspoon salt
½ teaspoon cream of tartar
⅓ C sugar
4 egg yolks
¼ C water
1 teaspoon vanilla
1 teaspoon orange extract
Frosting:
1 ¼ C butter, , softened
2 ½ squares melted unsweetened chocolate, (or 10 squares of the new quarter ounce squares)
1 ¼ teaspoon vanilla
1 teaspoon maple flavoring
2 ½ C sifted powdered sugar
Instructions
Preheat oven to 375 degrees. Place 18x12 inch sheet of heavy-duty foil on baking sheet. Fold sides to form 14X10 inch pan. Grease or butter foil. Prepare a second pan the same way.
To make cake, sift flour, baking powder and sugar into large mixing bowl. In another bowl, beat egg whites, salt and cream of tartar until soft mounds form. Gradually add ⅓ C. sugar, beating until stiff peaks form. In a small bowl, combine egg yolks, water, vanilla and orange extract; add to dry ingredients.
Beat 1 minute at medium speed, then remove from mixer and gently fold beaten egg whites into batter mixture until just mixed in. Spread evenly in 2 foil pans. Bake in a 375 degree oven for 10-12 minutes, until lightly golden brown.
Cool cake for 10 minutes.
To make frosting, melt butter in a small pan over low heat. Turn off heat and pour into a mixing bowl.
Melt chocolate squares in the paper or bowl (in microwave), 30 to 45 seconds and stir. If necessary continue in 7 second increments until melted and smooth. Cool chocolate for a minute or two, then pour into butter. Add vanilla and maple flavoring. Beat until smooth. Gradually add powdered sugar ½ C at a time and mix until smooth and entirely combined.
While frosting is mixing, cut each cake into even quarters and carefully remove foil. Cover eight layers of cake tightly and separately with plastic wrap or frost immediately.
Spread 2 ½ to 3 tbsp. of frosting between each layer of cake and frost sides. Refrigerate cake for at least 2 hours. Use serrated knife or electric knife to cut ½ inch slices. Keep refrigerated.
Notes
Tips and Stuff:
Make sure you have no distractions while making this cake, and put aside a whole afternoon in which to do it.  Trust me. Read the recipe thoroughly and have ingredients on the counter when you begin.
When you start cutting the baked cake rectangles out of the aluminum foil, start with the pieces that may have browned and become crunchy on the ends. After you cut that off, use that rectangle to measure the rest. My last ones ended up about 8x4".
The frosting will take 20-30 minutes to thicken up using a stand mixer - don't be tempted to add more powdered sugar.  It won't be real thick like other cake frosting because it is so buttery and silky.  You'll see...
Keep refrigerated, keep refrigerated, keep refrigerated.  There's so much butter in the frosting that it will slide if you leave it out overnight!  I took it to a New Year's party and it sat out fine for that long, but keep refrigerated otherwise.
This sounds complicated, but is so satisfying both from a baker's point of view and an eating point of view.
Nutrition Information:
Yield:

12
Serving Size:

1 slice
Amount Per Serving:
Calories:

438
Total Fat:

24g
Saturated Fat:

15g
Trans Fat:

1g
Unsaturated Fat:

8g
Cholesterol:

112mg
Sodium:

313mg
Carbohydrates:

53g
Fiber:

1g
Sugar:

42g
Protein:

4g
Nutrition Values are Approximate