The Avid Baker's Group let us choose Ukrainian recipes as this month's baking challenge. It's a fun group and they come up with such great ideas.
These Cinnamon Sugar Scuffles are a well-known community recipe and this particular version is adapted just slightly from feistyfrugalandfabulous.com (what a fun name for a blog!).
This makes 48 little pastries and will be a great addition to an Easter brunch or breakfast, or just for snacking with a cup of coffee or hot tea.
Just stir the ingredients together in a bowl, cover the dough, and refrigerate overnight.
Even though they have yeast in them, you really don't knead the dough for very long and they don't rise much on baking.
The dough will be slightly sticky and also you'll see the little lumps of butter throughout it. That's OK - the butter will bake right in.
You'll want to give yourself some time the next day to divide the dough, pat it into 8" circles, cut into triangles and roll up.
The end result is a nice, slightly dense, but tender, couple of bites of tasty cinnamon-sugared pastry - almost a cakey-cookie texture.
They're quite delicious and I found I had to taste test two of them while they were warm and a couple more when they had cooled off. Can't have enough of that quality control! I think they're best the first day you bake them.
You'll enjoy them the next day too - just make sure and store them in an air-tight container.
I think you'll like these Ukrainian Cinnamon Sugar Scuffles. It's fun and interesting to explore other countries' recipes!
If You Like These, You May Also Enjoy: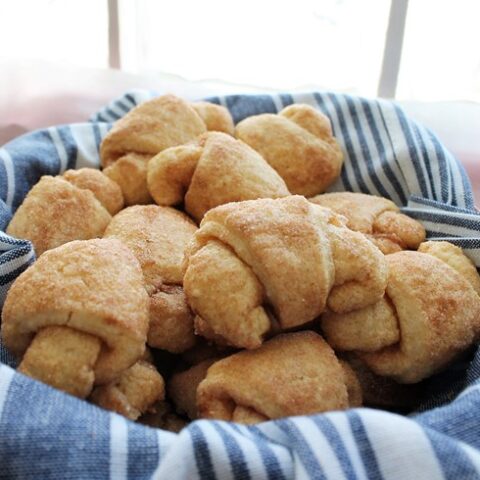 Ukrainian Cinnamon Sugar Scuffles
Total Time:
1 day
40 minutes
Little two-bite pastry twists coated with cinnamon-sugar.
Ingredients
1 packet (scant tablespoon) of activate dry yeast
¼ cup warm water (about 110° - very warm to the touch)
3 C all-purpose flour
3 tablespoon granulated sugar
½ teaspoon salt
1 C butter, room temperature
½ C milk, room temperature
2 eggs, beaten
1 C granulated sugar
1 tablespoon cinnamon
Instructions
Dissolve yeast in warm water in a small bowl and let stand for about 10 minutes while you prepare the rest of the dough ingredients.
In a large bowl, whisk together the flour, sugar, and salt.
Add the butter, cutting it into the flour with a fork or pastry cutter until there are small pea-sized bits dispersed evenly into the flour.
Add the milk, eggs, and yeast mixture to the dry ingredients and stir until completely combined. (The dough will be quite sticky.) Flour your hands and knead the dough for about 1 minute.
Cover the bowl and refrigerate overnight. The dough must be well-chilled before making the rolls.
Preheat the oven to 350° . Divide the dough into 6 even parts, keeping one part out and storing the rest in the refrigerator. Line a baking sheet with parchment paper.
Combine the sugar and cinnamon in a small bowl. Cover your counter with a sheet of parchment or waxed paper. Sprinkle a generous amount (about 3 tbsp) of cinnamon sugar on the paper. Roll the first ball of dough in the cinnamon sugar, then pat out into an 7 to 8-inch circle, about ¼-inch thick. Sprinkle the top with a little more cinnamon sugar.
With a pizza cutter or very sharp knife, cut the circle into 8 even triangles (tip: cut in half, fourths, then half the fourths into eight pieces).
Roll one of the triangles up from the bottom side inward toward the triangle tip, tucking in the side tips if you wish. Sprinkle the roll with a little more cinnamon-sugar and place on your baking sheet. Repeat with the rest of the seven triangles.
Bake for 15-18 minutes, until golden brown (mine didn't brown a lot). Remove immediately from the baking sheet and place on a rack to cool.
Repeat with remaining five portions of dough, refrigerating between bakes.
Store leftovers in an airtight container for 2 days. (The cinnamon-sugar soaks into the pastry after the first day and I found that by the 3rd day they were a little soggy - warmed them up and they were OK, though).
Notes
Don't worry about the sticky dough. After it's refrigerated overnight, it firms up enough to handle, and rolling it in the cinnamon-sugar before flattening into a circle helps, too.
Don't overbake them - they won't turn very brown, but you can't look at the bottoms and tell they're done by a dark golden brown color.
Nutrition Information:
Yield:

48
Serving Size:

1
Amount Per Serving:
Calories:

87
Total Fat:

4g
Saturated Fat:

3g
Trans Fat:

0g
Unsaturated Fat:

1g
Cholesterol:

18mg
Sodium:

59mg
Carbohydrates:

11g
Fiber:

0g
Sugar:

5g
Protein:

1g
Nutrition Values are Approximate