Yes, you're seeing double - it's a Frosting in the Cake Cake.
I almost renamed it Ugly Frosting Cake but that's not very appetizing. The cake is plain and you might overlook it at a pot-luck, but that would be a mistake.
This ultra-ultra moist and still somehow fluffy dessert will wow your family and friends. Promise.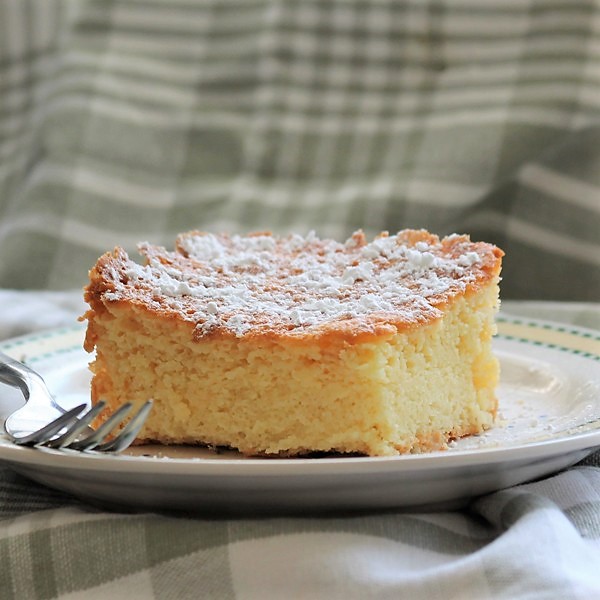 I visited my sister a couple of weeks ago and the conversation as usual came around to recipes. She has muscadine grapes on her property (not to mention blueberries, strawberries, and a newly-planted fig tree) and made some wonderful jelly with them.
We also chatted about a cake that I haven't made in years that's dumped into one bowl along with a can of frosting, then mixed all together and baked. So....it's a Frosting in the Cake Cake because the frosting is actually in it - not on top!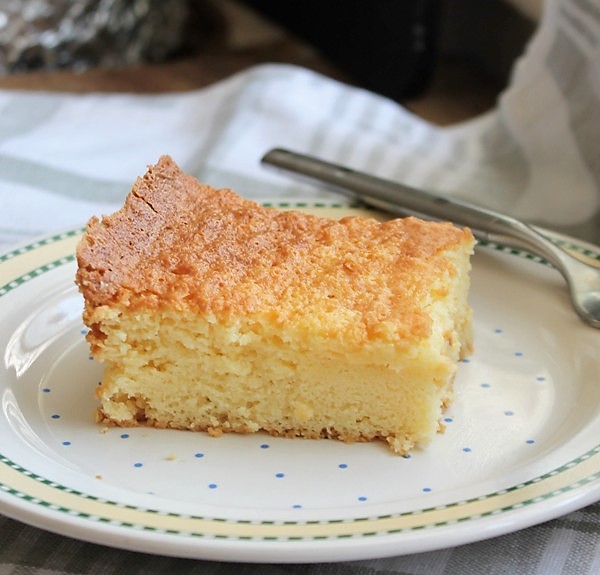 I get high and mighty about making cakes from scratch, but I make an exception with this one. The recipe came from a Taste of Home bulletin board over ten years ago that since has been shut down.
I don't know if the person who originally created it got in a hurry and decided to heck with it and dumped the frosting in the batter, but I'm glad they did. This is one of the best cakes I've ever tasted. No kidding.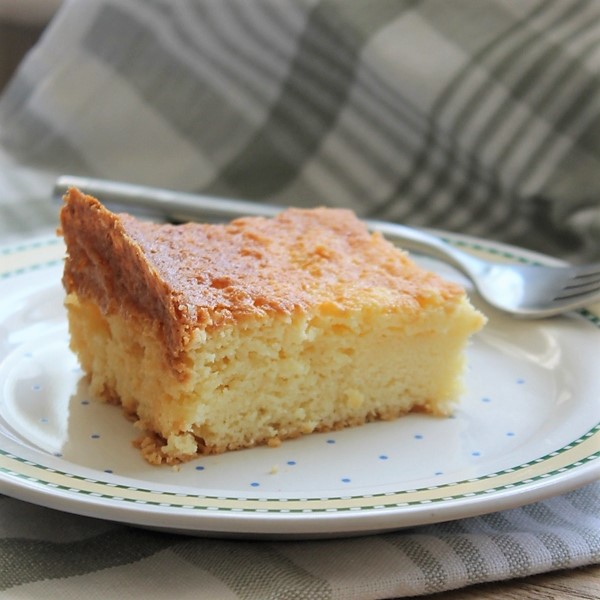 There's a very thin, almost chewy caramely layer on top of the cake. Be sure and get the corner piece to get the most of that.
I've found that a butter cake mix and a buttercream frosting is the best combination. Others have experimented with a strawberry cake mix/frosting combo and I once made a chocolate combo, but be sure and try the butter cake combo first.
The flavor is unbelievable - buttery, kind of vanilla-y, but not. It's hard to describe.
Oh, and if you want it prettier just sprinkle some powdered sugar on top. For heaven's sake don't frost it though!
Frosting in the Cake Cake
Wonderful flavor, ultra-ultra moist and yet still fluffy. One of the best cakes you'll ever have.
Ingredients
1 boxed butter cake mix
¾ C oil
1 C milk
4 eggs
1 can buttercream frosting
Instructions
Preheat oven to 350°. Spray and flour a 13x9" cake pan.
In a large stand mixer, combine all of the ingredients. Start mixer on low (it will slosh about a bit until blended), then turn it up a little to mix until lumps are gone (1-2 minutes).
Bake cake for 40 to 45 minutes until the top is a medium-dark caramel brown.
Let cool on a rack. Dust with powdered sugar if desired before serving.
Notes
Tips and Stuff:
Careful when you start the mixer - the milk will slosh around so make sure and start it on very low, then turn it up a little after mixed or you'll have milky batter all over your kitchen!
The brands I used this time are Duncan Hines Butter Cake mix with Pillsbury Butter Cream frosting.  It's perfect and soooooooo good!
Next time I might try a butter pecan cake mix with butter cream frosting.  Oh, and what about an orange cake mix with butter cream frosting.  The combinations are endless, but please try the butter cake mix and butter cream frosting first.
Nutrition Information:
Yield:

20 pieces
Serving Size:

1 piece
Amount Per Serving:
Calories:

115
Total Fat:

11g
Saturated Fat:

1g
Trans Fat:

0g
Unsaturated Fat:

9g
Cholesterol:

42mg
Sodium:

30mg
Carbohydrates:

4g
Fiber:

0g
Sugar:

2g
Protein:

2g
Nutrition Values are Approximate