Quick and Easy Spinach-Artichoke Calzones is a recipe that was deep down in that sack of recipes I cut out and saved over the years.
I finally pulled it out and revised it quite a bit. It started out as Roasted Chicken-Artichoke Calzones by Cooking Light, but I took out the chicken, changed and deleted a few more ingredients and it became an accidentally-vegetarian yummy meal.
These calzones are really quick to throw together. Basically all of the ingredients except for the egg wash are thrown together and mixed in a large bowl.
Then the mixture is divided between two big 'ol roll-out pie crusts (thank you Pillsbury), sealed up and baked. Uncomplicated ingredients with a delicious result.
The original recipe was made with pizza dough, so if you prefer more of an authentic calzone, you're more than welcome to use that. I just like the way the pie crust is flaky and slightly crunchy.
These ingredients go great together and the cheese binds it all together. It's got that tang from the marinated artichokes, a bit of garlic bite, and the savory spinach flavor. Just great for a quick weeknight or weekend meal. You can easily half this for two servings if you'd like.
This Quick and Easy Spinach-Artichoke Calzones recipe is flexible - if you want to add a few more vegetables or use a different cheese then go for it. (Make sure the vegetables are patted dry and chopped fairly small.)
Use your imagination and you'll create the perfect combination for you and your family.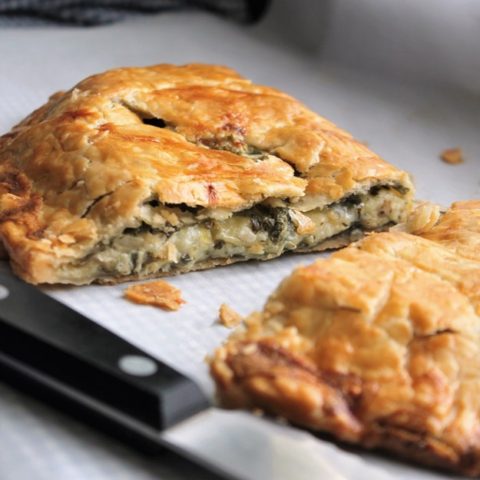 Quick and Easy Spinach-Artichoke Calzones
Tangy from the artichokes, savory from the spinach and full of melty cheese with a flaky crust.
Ingredients
1 12 oz. jar of marinated artichokes, drained, patted dry and finely chopped
¼ teaspoon salt
¼ teaspoon ground black pepper
1 garlic clove, minced
¼ teaspoon onion powder
4 C baby spinach, rinsed, patted dry and chopped
8 oz. bag of shredded 4-cheese Italian Cheese
1 box (2 crusts) rolled pie dough (I use Pillsbury), thawed.
1 egg, lightly beaten
Instructions
Preheat oven to 400°. Prepare baking sheet - cover with aluminum foil and spray with cooking spray.
In a large bowl combine the chopped artichokes, salt, pepper, garlic, onion powder, spinach, and cheese and stir until mixed together.
Unroll one of the thawed pie crusts and pile half of the mixture on one half of the dough, leaving about ½ inch around the edges. Fold the empty half of the dough over the filled half and pinch edges together well with fingers or fork. Make 4 to 5 slits on top of the dough. Brush the top and edges liberally with the egg wash and place on the baking sheet. Repeat with the 2nd pie crust.
Bake for about 30 minutes, until the crust is medium golden brown, turning the pan once during baking. Remove from oven and let sit for about 5 minutes before cutting. Cut into 4 equal parts and serve.
Notes
Tips and Stuff:
I like the pie crust because it comes out crispy and flaky, but you can use pizza dough if you'd rather make it a more traditional calzone.
Make sure artichokes and spinach are rinsed and patted completely dry before stirring together.  
Serve with fresh melon as a side.  Yum.
Nutrition Information:
Yield:

4
Serving Size:

1 serving
Amount Per Serving:
Calories:

468
Total Fat:

28g
Saturated Fat:

13g
Trans Fat:

0g
Unsaturated Fat:

12g
Cholesterol:

81mg
Sodium:

701mg
Carbohydrates:

42g
Fiber:

7g
Sugar:

1g
Protein:

15g
Nutrition Values are Approximate