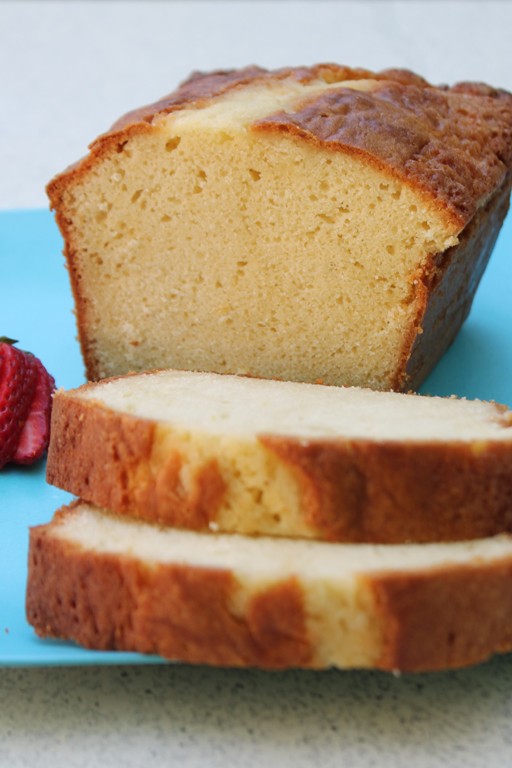 I don't get a chance to watch Food Network shows very often, but when I do I like to watch Ina Garten, Trisha Yearwood, or Alton Brown.
I've made several recipes by Ina Garten, including Irish Soda Bread, Warm Butternut Squash Salad, and Creamy Soft Homemade Caramels and they've all been wonderful.
A couple of days ago, Ina (sometimes she lets me call her Ina) presented this Honey Vanilla Pound Cake recipe that uses local honey and it looks so good that I had to make it immediately!
The result is a really good, solid pound cake with a slight lemony-honey flavor. I think her local honey was stronger and more flavorful than my store-bought brand because I didn't taste as much honey as she did.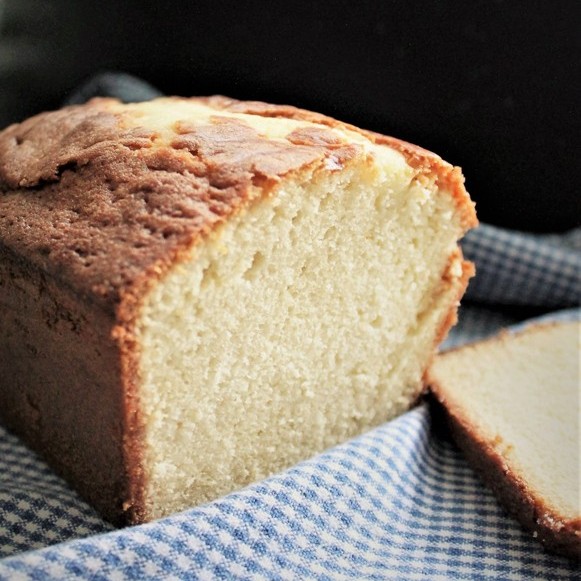 We tried it with homemade whipped cream, but found it was best warm right out of the oven, or slightly warmed (15-20 seconds in the microwave) and slathered with a little butter. It's great with coffee and we've been enjoying it for breakfast.
The only thing I would change in Ina Garten's Honey Vanilla Pound Cake is maybe add a little more honey because most of us will probably use store brand that's not as noticeable as the fresh-from-the-hive stuff. (Although I do have some rogue bees in my garage eaves. Maybe I'll check there for honey. Then again, maybe not.)
If you like Ina Garten's Honey Vanilla Pound Cake, you love my Mother's Loaf Cake!
Ina Garten's Honey Vanilla Pound Cake
Inactive Time:
15 minutes
Total Time:
1 hour
20 minutes
Tasty, solid pound cake with a light lemony-honey flavor.  Recipe is originally from Ina Garten - Food Network.
Ingredients
2 sticks butter, softened to cool room temperature
1 ¼ C sugar
4 eggs, room temperature
2 tablespoon honey
2 teaspoon vanilla
1 teaspoon lemon zest
2 C cake flour
1 teaspoon kosher salt (or ¾ teaspoon regular salt)
½ teaspoon baking powder
Instructions
Preheat oven to 350°. Butter and flour a 8 ½ x 4 ½ x 2 ½" loaf pan and line bottom with parchment paper.
Cream butter and sugar together until light and fluffy, scraping down mixing bowl a couple of times during mixing.
Put the eggs into a small bowl, along with the honey, vanilla, and lemon zest. Pour egg mixture in one egg at a time, thoroughly combining between each addition.
Sift together the cake flour, salt and baking powder. Put mixer on low and add ½ cup at a time. Mix just long enough until flour is incorporated (don't over mix). Remove bowl from mixer and gently fold batter, making sure there are no dry ingredients sitting on the bottom of the bowl.
Pour batter into the prepared loaf pan and bake for 40-50 minutes, checking with a toothpick at 40 minutes. It may not be done at that time and if not, tent aluminum foil over the loaf so it won't brown too much and check cake every five minutes after that. Don't over bake!
Cool in pan for about 15 minutes. Gently run a knife around the edges of the cake to loosen, then turn out onto a rack to cool.
Nutrition Information:
Yield:

10
Serving Size:

1 slice
Amount Per Serving:
Calories:

402
Total Fat:

20g
Saturated Fat:

12g
Trans Fat:

1g
Unsaturated Fat:

7g
Cholesterol:

123mg
Sodium:

432mg
Carbohydrates:

50g
Fiber:

1g
Sugar:

29g
Protein:

5g
Nutrition Values are Approximate