Everyone loves a festive cake and this Confetti Cake is definitely that! It's easier to make than you'd think.
Among this month's selections from The Perfect Cake by America's Test Kitchen (#atkcake) is this three-layer Confetti Cake and I knew it was the one to make! It's so colorful and festive, with little sprinkles inside and out. A perfect celebration cake.
I chose this three-layer cake because I wanted to practice my poor-to-nonexistent cake decorating skills. One day I'll get that absolutely smooth finish so many other bakers get. This time, not so much.
The first hurdle in preparing for the bake was finding out that of my three 8-inch cake pans, one is actually only 71/2 inches! That's what I get for buying a cheapo cake pan at the grocery store. I don't recommend that.
No problem. I baked two of the cakes and then after they were turned out, baked the third. Only I didn't get quite as much batter in the third so it was a little shorter and a bit lopsided. Again - no problem. I filled in the lopsided part with more frosting.
Everything considered, it came out fairly straight. (Now you're looking back at the cut-cake photo above to see which layer was lopsided. It's the bottom layer...)
The cake is unusual in that it uses 6 egg whites and no yolks. (I'll be using those yolks in an upcoming homemade ice cream recipe...stay tuned). The texture is soft and spongy and the taste is quite delicious.
The buttercream frosting from the book is almost too buttery for me (if that's possible), but it complimented the cake quite nicely. Be sure and mix the frosting until it's nice and fluffy.
So, How Do I Make a Confetti Cake?
Make a fantastic white/vanilla cake and stir in processed (in the food processor) rainbow-colored sprinkles. You'll want them processed so you don't have big, smeary color blobs in your cake. If you're short on time, use a boxed cake.
Make your favorite vanilla buttercream frosting and frost the cake, smoothing the sides and top.
Press in a layer of whole sprinkles about 1" high around the bottom of the cake. Add some on top, too, if you'd like.
Celebrate and enjoy!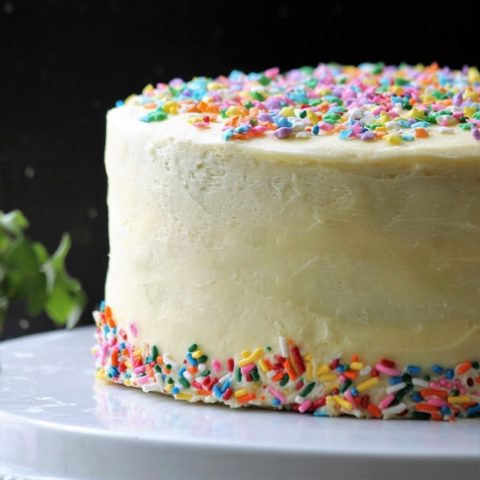 How to Make a Confetti Cake
Total Time:
2 hours
45 minutes
Pretty and delicious celebration cake!
Ingredients
For The Cake:
1 C whole milk, room temperature
6 large egg whites, room temperature
1 teaspoon vanilla extract
2 ¼ C (9 oz) cake flour
1 ¾ C (12 ¼ oz) sugar
4 teaspoon baking power
¾ teaspoon salt
12 tablespoon butter, cut into 12 pieces and softened
¾ C rainbow sprinkles
For the Frosting:
1 lb (4 sticks) butter, each stick cut into quarters and softened
¼ C plus 2 tablespoon heavy cream
1 tablespoon plus ½ teaspoon vanilla extract
⅛ teaspoon salt
5 C powdered sugar
4-6 drops yellow food coloring
Instructions
Preheat the oven to 350°. Spray three 8" round cake pans, line the bottom of each pan with parchment paper. Spray the parchment paper and lightly flour the pans.
In a food processor, pulse ½ cup of sprinkles until coarsely ground, 8 to 10 pulses. Pour into a small bowl and set aside.
In a medium bowl, whisk the milk, egg whites, and vanilla together.
In a stand mixer bowl, mix the flour, sugar, baking powder, and salt on low speed until combined. Add the butter, 1 piece at a time until only pea-sized pieces remain, about 1 minute. Add all but ½ cup of the milk mixture and increase mixer speed to medium. Beat until light and fluffy, about 1 minute. Reduce the mixer speed to medium-low and add the remaining ½ cup of the milk mixture. Beat until fully incorporated, about 30 seconds (batter may look a little curdled - that's OK, it'll smooth out later). Remove the bowl from the stand and stir a couple of times by hand. Stir in the ground sprinkles.
Divide the batter evenly between the prepared pans and smooth the tops with the back of a large spoon. Bake until a toothpick comes out with just a few clinging crumbs (don't over bake), about 20-25 minutes, rotating pans halfway through baking. Let the cakes cool in pans on a wire rack for about 10 minutes. Remove the cakes from the pans, discarding the parchment. Let cool completely on the wire rack (about 2 hours until room temperature to touch).
Make the Frosting: In a stand mixer, beat butter, cream, vanilla, and salt on medium-high speed until smooth, about 1 minute. Reduce the speed to medium-low and slowly add the powdered sugar. Add additional cream by the teaspoon to get desired spreading texture. Add a couple of drops of yellow food coloring into the frosting. Beat until ingredients are incorporated and smooth, 3-4 minutes.
Increase the mixer speed to medium-high and beat until the frosting is light and fluffy, 4-5 minutes. If you make this early and refrigerate it to frost the cake later, let the frosting come to room temperature and then rewhip for a couple of minutes until frosting is fluffy again.
Place 1 cake layer on your cake platter and spread about ¾ cup of frosting evenly on top, right to the edge of the cake. Repeat with the second layer and ¾ cup of frosting, pressing down lightly to adhere. Put the third layer on top and press down lightly. Use the remaining frosting to evenly cover the top and sides of the cake. Press the remaining sprinkles around the bottom of the cake.
Refrigerate leftovers. Before serving refrigerated cake, bring cake to room temperature to soften the butter frosting.
Notes
Tips and Stuff:
It's very important that milk and egg whites are room temperature before adding.
The frosting is very buttery. If you refrigerate it, make totally sure you bring it back to room temperature before serving.
I added sprinkles to the top of my cake because it looked kind of naked without them, I thought. Knock yourself out and put them wherever you'd like.
Nutrition Information:
Yield:

12
Serving Size:

1
Amount Per Serving:
Calories:

468
Total Fat:

17g
Saturated Fat:

9g
Trans Fat:

1g
Unsaturated Fat:

7g
Cholesterol:

35mg
Sodium:

298mg
Carbohydrates:

76g
Fiber:

1g
Sugar:

55g
Protein:

5g