I'm in a cooking club and one of this month's cookbooks to choose a recipe from is Half-Baked Harvest by Tieghan Gerard.
It was published in 2017 and there are so many wonderful recipes I want to make from it.
The first one, though, has to be this Soufflé Omelet with Spinach and Brie. Don't be intimidated by the word "omelet" - it's easier to make than you'd think.
The original has an addition of artichokes in it, but I chose to make the omelet with just the spinach and Brie because I wanted a lighter lunch. It's perfect this way and have noted the slight adaptations in the recipe below. If you want to try it with artichokes, knock yourself out!
Here's a photo of it after I snarfed half of it down.
I've never made a real, live omelet before. Meaning, in the past I've slopped some eggs into a pan, sprinkled them with cheddar cheese and flopped it over. Acceptable, but not really an omelet.
This omelet is puffy, almost like a Dutch baby pancake, and because of that, the honey butter and blueberries are perfect with it. The spinach, melted brie and that sauce are such a delicious, unbelievable combination.
Surprisingly it's easy to put together and besides the Brie, I had all of the ingredients on hand. (Confession: it's the first time I've ever bought Brie. I know, right?)
If you have a family brunch or are just looking for an outstanding dish for breakfast or lunch for yourself, do try this Soufflé Omelet with Spinach and Brie. You'll definitely be glad you did!
I think I'll make another one tomorrow. And maybe the day after that. Can't let that Brie go to waste.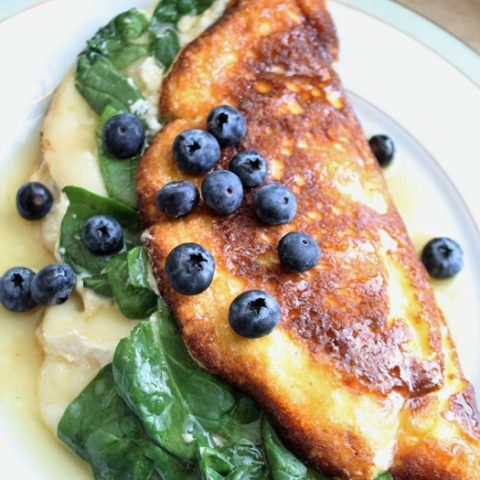 Soufflé Omelet with Spinach and Brie
Fluffy omelet stuffed with baby spinach and melted brie.  Topped with a honey butter sauce and sprinkled with fresh blueberries.
Ingredients
3 large eggs, separated
¼ C whole milk, heavy cream or a combination of both
kosher salt and freshly ground pepper
3 tablespoon butter
Handful of baby spinach
2 oz Brie cheese, thinly sliced (rind on or off)
¼ C honey
2 tablespoon fresh blueberries
Instructions
Separate the egg whites and yolks into two medium bowls.
In the egg yolks, whisk together the yolks, milk, and a pinch each of the salt and pepper until just combined.
Use a handheld mixer to beat the egg whites until they are stiff peak (about 1 ½ minutes). Using a spatula, gently fold the egg whites into the yolk mixture until just combined - do not over fold - you'll still be able to see some of the egg whites and that's OK.
In a 10-12 inch non-stick skillet (I used 10 inch and it was a thick omelet), melt 1 tablespoon of the butter over medium heat. Add the egg mixture and smooth it evenly and gently to fill the pan.
Cook without moving it or stirring until the middle just starts to set, about 3-4 minutes.
Add the spinach and Brie to one half of the omelet, cover the skillet and cook for 2-3 minutes until the cheese just begins to melt. Carefully (I used a spatula on either side) fold the empty side over the filled side to enclose. Cook for 1 minute.
Remove the pan from the heat and slide the omelet onto a plate.
In a small saucepan, melt the remaining 2 tablespoons of butter and add the honey. Stir until melted and combined. Remove from heat and stir in a pinch of kosher salt.
Drizzle the omelet with as much of the sauce as you want (to taste) and top with the blueberries. Serve immediately.
Notes
Tips and Stuff:
I used about a tablespoon of heavy cream along with 2% milk to fill out the fourth cup.  
The original recipe also includes artichokes, but I thought it would be too much for a light lunch.  The way I made it was perfection!
Just a note on putting the ingredients on the omelet.  Move them more to the center and leave about an inch on the outside so the ingredients won't squish out when you fold the omelet over.
I used the rind on Brie, but if you prefer, take it off.
Hold the pan down almost touching your plate to slide it off.
I only used about half of the honey butter sauce because it would've made it too rich for me.
Nutrition Information:
Yield:

2
Serving Size:

1
Amount Per Serving:
Calories:

564
Total Fat:

39g
Saturated Fat:

22g
Trans Fat:

1g
Unsaturated Fat:

14g
Cholesterol:

373mg
Sodium:

611mg
Carbohydrates:

40g
Fiber:

1g
Sugar:

38g
Protein:

18g
Nutrition Values are Approximate