When Bret and I were dating (about 26 years ago!), we often went to a little hole-in-the-wall Italian restaurant called Pappa's. A 90-year-old Italian fellow called Pappa owned it and the menu was full of authentic Italian recipes.
The dish that sticks in my mind is the braciole (bra-cho-le) - a flattened piece of beef filled with a bread, cheese, raisin, pine nut stuffing, rolled up and braised for hours in a homemade red sauce. It was heaven.
Oh, and if Pappa liked you he would give you a complimentary glass of wine and tell the accordion player to serenade you. He liked us 🙂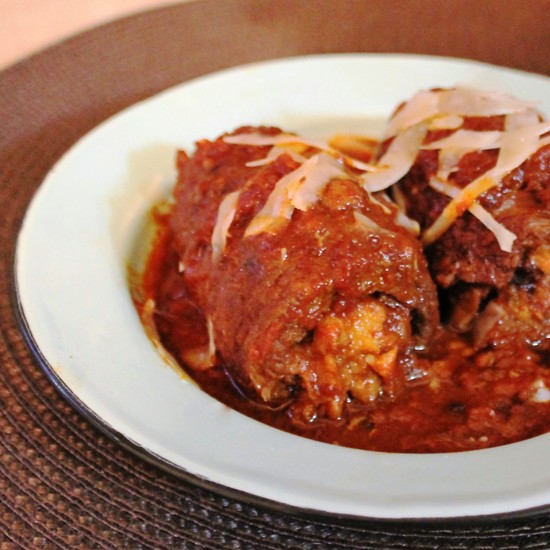 Unfortunately the restaurant closed shortly after we married and I haven't had braciole since. Until now!
I finally ordered a Lidia Bastianich cookbook - she's the absolute Queen of Italian cooking - and she had this Braised Beef Rolls (Braciole di Manzo) recipe waiting just for me.
When you make this for dinner, start at about 2 or 2:30 p.m. It's an investment in time, but is worth the work and time. When you dip it out of the Dutch oven, the beef is tender, oozing with cheesy stuffing and smothered in a hearty, thick tomato sauce.
You simmer these Braised Beef Rolls on low for three or so hours. Since it simmers so long, you do need to check it two or three times an hour to make sure the liquid covers the braciole and stir to make sure the sauce doesn't stick and burn.
I'm sure I must have some Italian in me somewhere - I felt so authentically Italian while chopping and stirring.
I halved the beef (the original calls for 12 slices) and am posting the recipe with my changes. I'll note Lidia's original in the notes section.
You can be fairly flexible with this recipe and it will still come out marvelous. We enjoyed it immensely with a side of mashed potatoes and garlic bread. I'll be making this again on another cold, cozy Sunday afternoon. Mangia tutti!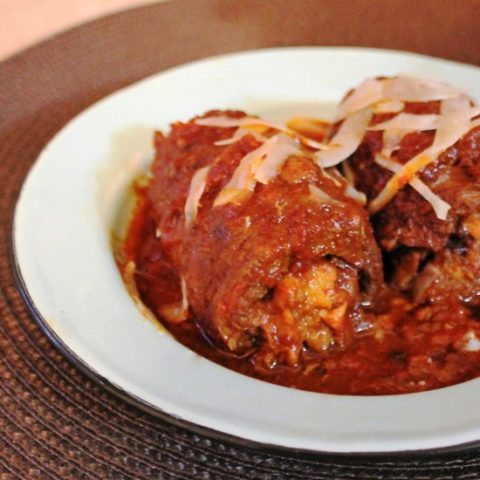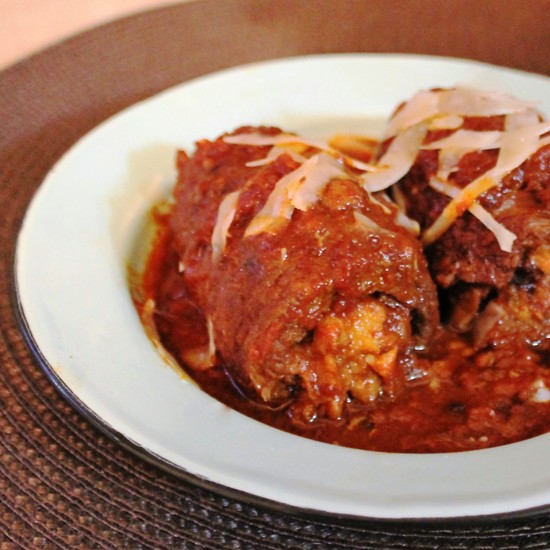 Braised Beef Rolls (Braciole di Manzo)
Cook Time:
3 hours
30 minutes
Tender beef filled with a flavorful stuffing and braised in homemade tomato sauce for hours. 
Ingredients
For the Braciole
1 C milk
2 C ½" bread cubes, cut from day-old Italian bread, crust removed
1 hard-cooked egg, peeled and coarsely chopped
2 tablespoon chopped fresh Italian Parsley
½ C freshly grated Grana Padano or Parmigiano-Reggiano cheese
¼ C raisins
1 clove garlic, finely chopped
1 ½ lb beef bottom round, cut into 6 slices, each about ½" thick
6 slices Italian prosciutto
¼ lb provola or provolone cheese, cut into ¼ x ¼ x1 " sticks
Salt and freshly ground black pepper
For the Sauce
32 oz can Italian plum tomatoes (preferably San Marzano)
2 ½ tablespoon extra-virgin olive oil
1 medium onion, chopped
2 cloves garlic, finely chopped
½ C dry red wine (or beef stock)
3 tablespoon tomato paste
2 fresh or dried bay leaves
½ teaspoon red pepper flakes
Salt and freshly ground black pepper
Instructions
To make the stuffing: Place the bread cubes and milk into a medium bowl and stir for full coverage. Let soak until bread is very soft (at least 20 minutes).
Drain the bread, squeeze out the excess milk, and return bread to the bowl. Stir in the chopped egg, parsley, grated cheese, raisins and garlic. Lightly salt and pepper. Mix well and set aside.
For the beef rolls: With the toothed side of a heavy meat mallet, pound each slice of beef round to a thickness of about ¼" and about 5 to 6" wide, 6-7" long.
Top each with a slice of the prosciutto and tap with fingertips to lightly adhere to the beef. Spread 2 to 3 tablespoons of the stuffing over the beef slice, leaving a 1" border around the edges.
Place one stick of the provolone across the short end on top of the stuffing and fold the short end over the top of it. Fold the side borders in to overlap the edges of the stuffing, then roll the beef into as compact of a tube as possible. Secure the end of flap with one or two toothpicks. Repeat with remaining beef and stuffing. Lightly salt and pepper the rolls.
Empty the tomatoes into a medium bowl and squeeze them with your hands until they are coarsely crushed, removing the core and ends if there are any.
Heat the olive oil in a large, heavy casserole (I used a dutch oven) over medium heat. When the oil is hot, stir in the onions and garlic and cook until the onions are wilted, about 5 minutes. Add the braciole into a single layer and cook, turning the braciole every 2-3 minutes until all sides are lightly browned, about 7 minutes. Adjust the heat to prevent the beef from scorching.
Add the wine to the pot and bring to a boil. Cook until most of it has evaporated. Stir in the tomatoes and bring to a boil. Add tomato paste and bay leaves and stir until the paste is dissolved. Season with the red pepper flakes and lightly salt.
Adjust the heat to very low or simmer setting until the liquid is at a low simmer, adding water as necessary to keep the braciole completely submerged. Allow to simmer uncovered until the beef is tender, about 3 hours, checking, stirring, and turning every 15-20 minutes and adding liquid to cover braciole if needed (use very hot tap water or pasta water).
Carefully remove the toothpicks before serving (they're hot!). Lidia says the braciole can be prepared up to 2 days in advance, then warmed over low heat until heated through.
Notes
Tips and Stuff:
Lidia's original recipe includes ¼ cup toasted pine nuts in the stuffing.
I said I halved the recipe, but I made the original stuffing amount (although hers had 2 boiled eggs versus the 1 I used) and also made the entire amount of tomato sauce.  Pretty much I just halved the meat amount.
I used sliced provolone and layered it on top of the prosciutto because my sweet husband grocery buyer misunderstood my request for a slab of provolone.  It worked fine.
The original sauce called for 2 small onions (8 oz.), but I only used ½ of a medium.
BIG NOTE:  My beef wasn't wide enough to tuck the sides in, so I just rolled the roll as tightly as possible.  The stuffing didn't come out!
Be sure and turn and stir the braciole occasionally.  My sauce stuck and burned a little because I had the heat a little too high and I didn't turn or stir during the braising.  You're supposed to be able to leave a braise all day long, but trust me - check it occasionally.
Nutrition Information:
Yield:

6
Serving Size:

1 roll
Amount Per Serving:
Calories:

748
Total Fat:

44g
Saturated Fat:

18g
Trans Fat:

0g
Unsaturated Fat:

22g
Cholesterol:

188mg
Sodium:

1664mg
Carbohydrates:

26g
Fiber:

4g
Sugar:

12g
Protein:

56g
Nutrition Values are Approximate