I was looking for something to make that was snack worthy - crunchy and tasty finger food. This Glazed Lemon-Almond Biscotti is crunchy and tasty, so biscotti it is!
Biscotti is an Italian biscuit, also called cantuccini, that is traditionally almond flavored and is dunked in a hot drink, like hot tea or coffee.
I've found some biscotti to be tooth-breakingly hard, which isn't very pleasant, but these have a great texture. Crunchy, but in a fresh and good way.
I previously made Chocolate Chip Mandelbrot, which seems to me to be a little softer in texture. If you don't like that totally crunchy biscotti bite, you might try those and compare.
Those almond and lemon flavors go beautifully together. You can adjust either to your tastes - I tend to go overboard with lemon, but it's one of my favorite flavors.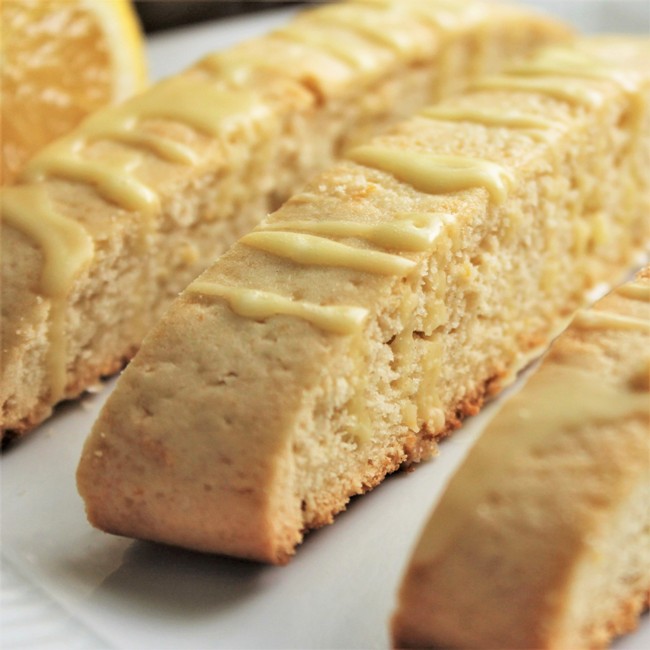 This biscuit takes a little time because you bake it, let it cool, then bake it again, so plan on an hour and a half to make them.
You'll enjoy Glazed Lemon-Almond Biscotti for breakfast or a snack. Tie a pretty ribbon around a bundle of these, put in a cute basket with flavored coffees and give them to special friends.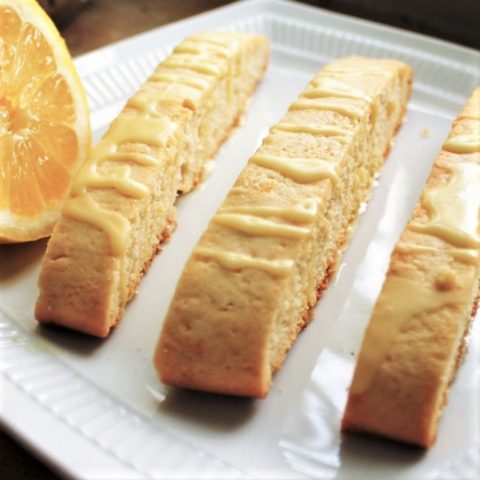 Glazed Lemon-Almond Biscotti
Inactive Time:
30 minutes
Total Time:
1 hour
45 minutes
Crunchy, lemony and tasty biscotti!
Ingredients
Biscotti
6 tablespoon butter, room temperature
⅔ C sugar
¼ teaspoon salt
1 ¼ teaspoon almond extract
Grated rind of 1 medium lemon
1 ½ teaspoon baking powder
2 tablespoon freshly squeezed lemon juice
2 large eggs
2 C all-purpose flour
Glaze
½ C confectioners sugar
1 tablespoon freshly squeezed lemon juice
2-3 teaspoon milk
Instructions
Preheat the oven to 350°. Line a large baking sheet with parchment paper (or lightly grease).
In a medium-sized bowl, beat the butter, sugar, salt, almond extract, lemon rind, and baking powder until the mixture is smooth and creamy. Scrape down the sides as needed. Beat in the lemon juice and eggs; the batter may look slightly curdled - that's okay. At low speed, add the flour, mixing until smooth.
The dough will be very sticky and loose. Scrape the dough out of the bowl and onto the prepared baking sheet. Lightly wet your hands and shape the dough into a log about 13" long x 3" wide and ¾" thick. Straighten the log up and smooth its top and sides (again with lightly wet hands).
Bake the dough for 25 minutes. Remove it from the oven and allow it to cool on the pan for about 30 minutes. Reduce oven heat to 325°.
Using a spray bottle filled with room-temperature water, lightly but thoroughly spritz the log, making sure to cover the sides as well as the top. This will soften the crust just a little bit and make slicing the biscotti much easier.
Wait about 5 minutes, then use a serrated knife to cut the log crosswise into ½" slices. As you're slicing, be sure to cut straight down, perpendicular to the pan so it will be even all the way through.
Slightly separate out the cut biscotti (about ½" between each) and return them to the oven. Bake for 30 minutes, until they feel fairly dry and begin to turn golden brown around the edges. Remove from the oven and transfer to a rack to cool.
To make the glaze, mix the confectioner's sugar, lemon juice and milk to the desired consistency and drizzle over completely cooled biscotti.
Store the biscotti at room temperature, well wrapped for a couple of weeks. Freezing is OK, too.
Notes
Tips and Stuff:
The dough, as noted, is very sticky - almost a batter.  But if you wet your hands, you can mold it into shape.
Mine were done at 30 minutes.  Don't let them get too browned or they'll be hard.
Nutrition Information:
Yield:

16
Serving Size:

1 cookie
Amount Per Serving:
Calories:

168
Total Fat:

5g
Saturated Fat:

3g
Trans Fat:

0g
Unsaturated Fat:

2g
Cholesterol:

36mg
Sodium:

130mg
Carbohydrates:

27g
Fiber:

1g
Sugar:

14g
Protein:

3g
Nutrition Values are Approximate