When we make brisket, we have to be very imaginative in creating dishes to use it up. This Brisket and Bacon hash is a great way to do that.
By the way, the best way to cook brisket is to get the untrimmed brisket, turn the oven to about 250 degrees, plop it in a roasting pan fat side up and let it cook overnight - 8-10 hours, until a big fork slides in and out easily. No salt, no seasoning - nothing - and it comes out perfect every time!
This time I was determined to do something a little different with the leftover brisket and remembered my Mom occasionally making a hash with diced potatoes and leftover roast beef. She never showed me how to make it (I was just a kid interested in Barbie dolls and, later, boys), so I set out to figure it out.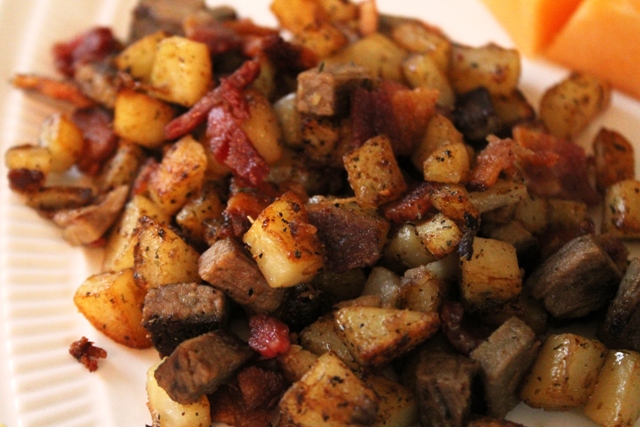 I also had some leftover bacon, so what better to cook the potatoes in than a little bacon fat? No worry, I drained most of it out.
I like the potatoes and brisket chopped pretty small. They not only cook better, but have a better texture when finished.
I added a little beef broth to keep the mixture moist, threw in that chopped up bacon and we ended up with a filling, delicious hash! Comfort food at it's best.

Bret put a little ketchup on his and it was actually not bad that way.
I don't like to cover up the bacon flavor, though, so just put a little salt and pepper and enjoyed it immensely.
If you are looking for a quick and flavorful dinner, try this Brisket and Bacon Hash. I think you'll like it!
Brisket and Bacon Hash
Fairly easy to throw together and creates a filling and delicious dinner.
Ingredients
3 slices bacon
2 medium potatoes, chopped
2-3 tablespoon chopped onion
1 ½ cup chopped leftover brisket or roast
salt, pepper, garlic salt
¾ C beef broth
Instructions
In a large skillet, fry the bacon until fairly crisp. Set aside to drain.
Pour out all but about 2 tbsp. of the bacon grease and turn skillet on medium-high. Toss in the potatoes and cook until lightly browned and fairly soft - this will take a few minutes.
Add the onion and stir until transparent. Add the chopped brisket, and salt, pepper, and garlic salt (or powder) to taste.
Pour in the beef broth and let simmer until the broth is pretty much cooked off. Chop up the cooked bacon and stir into the potato/brisket mixture. Serve warm.
Notes
I don't use the onion because Mr. Bret doesn't care for it, but I recommend using it to complete the recipe. Adjust the seasoning to your taste.  
If your bacon is salty, ease up on the salt and use garlic powder instead of garlic salt.
I served it with a side of cantaloupe and the combination of sweet and salty is perfect.  
You could leave the meat out, use vegetable broth, and it would make a great side dish.
Nutrition Information:
Yield:

4
Serving Size:

1 serving
Amount Per Serving:
Calories:

445
Total Fat:

23g
Saturated Fat:

9g
Trans Fat:

0g
Unsaturated Fat:

11g
Cholesterol:

124mg
Sodium:

618mg
Carbohydrates:

21g
Fiber:

2g
Sugar:

2g
Protein:

37g
Nutrition Values are Approximate