It's finally almost cold here in North Texas and time to pull out more of those soup and stew recipes.
OK, I admit it - it's mid-January and 60 degrees outside. Doesn't matter because it's still Winter and Winter means it's time to cook soup!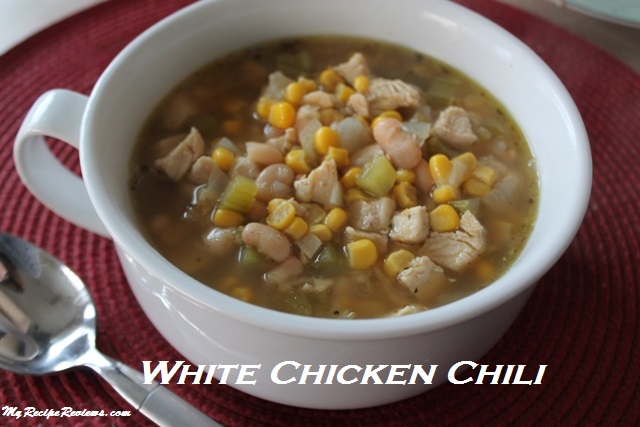 This easy White Chicken Chili has been in my recipe file for a long time and I like to make it for small gatherings or to take to friends.
I guess it's called chili because it has cumin and green chiles in it, but it's really not very spicy. (And any self-respecting Texan will tell you, "No Beans In Chili!")
Off the chili bean controversy and on to telling you that this is a flavorful little soup with lots of vegetables and good stuff. You can leave the chicken out if you'd like, or use turkey instead. You can also kick it up by adding more chiles if you want it a little spicier.
I like the recipe as is, though, with a little cornbread muffin on the side. Here's a close-up so you can see all the good stuff in it: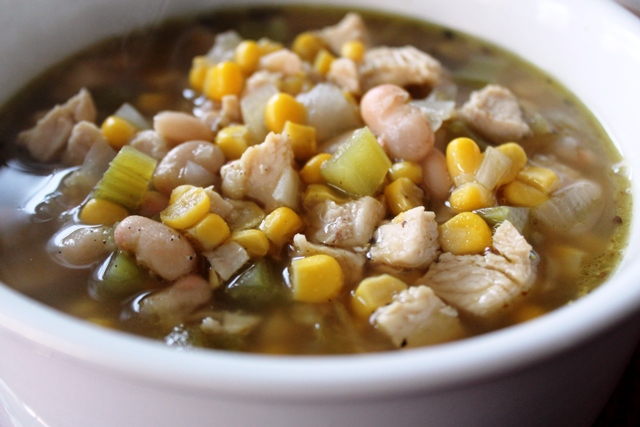 White Chicken Chili would be a good vegetarian soup if you not only leave the chicken out, but also use vegetable broth instead of chicken. It's pretty versatile and always good!
White Turkey Chili
Full of good stuff and a nice little comfort soup.
Ingredients
1 ½ teaspoon vegetable oil
⅓ C chopped onion
1 celery rib, , chopped
1 ¾ C chicken broth
2 C cubed cooked chicken breast
1 can, (15.25 oz.) Great Northern Beans, rinsed and drained
1 can, (11 oz.) white or shoepeg corn, drained
2 tablespoon chopped green chiles
1 teaspoon ground cumin
½ teaspoon salt
¼ teaspoon ground black pepper
½ teaspoon crushed dried oregano
Instructions
In a large saucepan or dutch oven, saute the onion and celery in the oil until tender. Add the remaining ingredients and stir. Bring to a boil, then reduce heat. Cover and simmer for 15-20 minutes. If serving later, let it cool completely before storing in the refrigerator.
Notes
Tips and Stuff: 
I went ahead and used half an onion in the pictured soup.  
I couldn't find white or shoe peg corn this particular day, so I used a regular-sized can of yellow corn.
Serve with saltines or even better, warm corn muffins.
Nutrition Information:
Yield:

4
Serving Size:

¼ of recipe
Amount Per Serving:
Calories:

229
Total Fat:

5g
Saturated Fat:

1g
Trans Fat:

0g
Unsaturated Fat:

3g
Cholesterol:

62mg
Sodium:

758mg
Carbohydrates:

18g
Fiber:

4g
Sugar:

3g
Protein:

28g