Years ago we had a little Mexican restaurant in town that served the best shrimp enchiladas I've ever had. It may have been all the butter they sauteed them in, but whatever it was, they were perfection!
We've been on a quest to find either a good recipe or another restaurant that makes them that well, since the other little restaurant has gone out of business.
This recipe for Shrimp and Spinach Enchiladas with Jalapeno Cream Sauce is different, but just as delicious. The enchiladas taste decadent without having a bunch of cream and butter in them. They're not quite healthy because of all the cheese, but at least I'm getting a green vegetable in there.
I think this has booted the Chicken in Basil Cream as my favorite recipe on the site!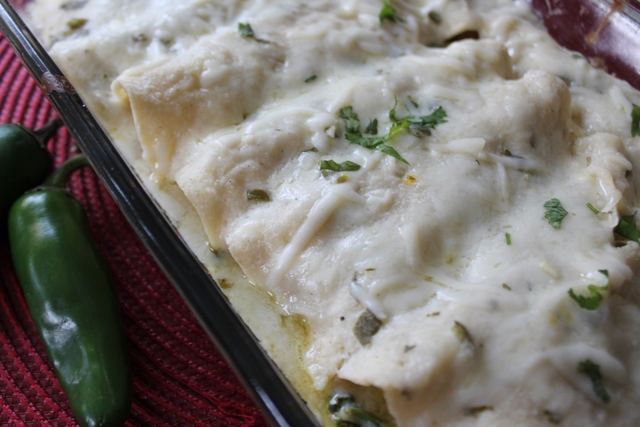 That jalapeno sauce is great - so creamy and rich! I had gigantic jalapenos (no kidding, look at the photo above), so only used one in the sauce, but make it to your liking. If you hate cilantro, leave it out. If you want more kick to the filling, add more cayenne.
These are delicious as-is, but the ingredients can be changed up quite a bit to your family's liking. Even substituting chicken for the shrimp would work wonderfully!
You do need to set aside time for prep work (peeling, chopping, etc.). From peeling the shrimp to taking them out of the oven was a good 1 ½ hours. (Way worth it, though.)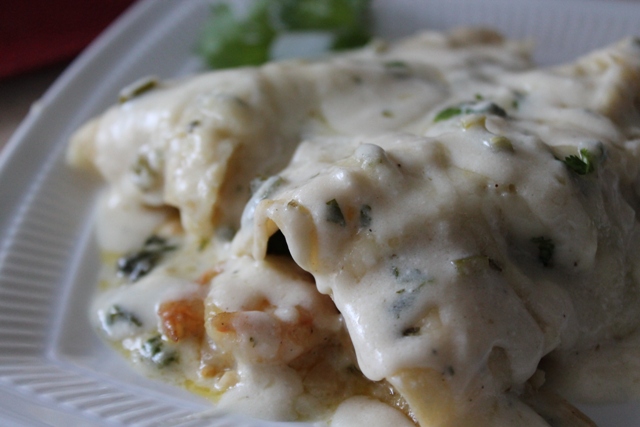 The shrimp filling is wonderful and I loved the addition of spinach. I'll probably put another three or four cups of it next time (or heck, the whole bag) and make them just spinach enchiladas.
However you make with these creamy, delicious Shrimp and Spinach Enchiladas with Jalapeno Cream Sauce, definitely make them soon!
Shrimp and Spinach Enchiladas with Jalapeno Cream Sauce
Total Time:
1 hour
30 minutes
Wonderful cream sauce over delicious shrimp and spinach enchiladas.
Ingredients
1 lb medium shrimp, peeled and deveined
2 tablespoon olive oil, divided
Salt and pepper
2 cloves minced garlic
1 teaspoon onion powder
4 C baby spinach
½ teaspoon cumin
¼ teaspoon oregano
⅛ teaspoon cayenne pepper
10-12 6-inch corn tortillas
2 ¼ C Monterey Jack cheese, divided
Sauce:
2 tablespoon butter
3 tablespoon all-purpose flour
1 ¾ C chicken broth
¾ C sour cream
1 to 2 jalapenos, seeded and minced
½ teaspoon garlic powder
Salt and pepper
¼ C chopped fresh cilantro
Instructions
Preheat the oven to 400 degrees. Line baking sheet with parchment paper and spray a 9x13" baking dish with Pam. Set pans aside.
Place shrimp onto the baking sheet, add 1 tbsp. of olive oil, salt and pepper to taste and toss the shrimp until coated. Place into the oven and roast for about 6 minutes – until firm and just pink. Remove from oven and let cool. Dice the shrimp into bite-sized pieces.
Reduce oven to 375 degrees.
Heat the remaining tablespoon of olive oil in a large skillet. Add garlic and onion powder and stir for 1-2 minutes until lightly browned.
Add the cumin, spinach, oregano and cayenne. Stir the ingredients until combined and the spinach just begins to wilt. Remove from heat and add the shrimp and 2 C. of the Monterey Jack cheese. Stir to combine and until the cheese starts melting.
To make the sauce, melt the butter in a large saucepan. Whisk in flour until lightly browned, about 1-2 minutes. Whisk in the chicken stock and bring the mixture to a low boil, whisking constantly. Stir in the sour cream and whisk well. Add the jalapenos and garlic powder and simmer until the sauce has thickened, about 4-5 minutes. Season with salt and pepper to taste.
Remove from heat and stir in the cilantro.
Pour ¼ C of the jalapeno sauce evenly into the bottom of the prepared dish. To assemble the enchiladas, lay a tortilla on a flat surface and spoon about 3 heaping tablespoons of filling down the middle. Roll up and place seam down into the dish. Repeat with the remaining tortillas until you run out of filling.
Pour a little more than half of the jalapeno cream evenly over the tortillas. Put in the oven and bake until lightly golden and bubbly, about 20-25 minutes. Remove and sprinkle evenly with the remaining ¼ cup of cheese and pour the remaining jalapeno cream sauce over the top. Garnish with cilantro and serve immediately.
Notes
Tips and Stuff:
Read through the recipe carefully before beginning and get ingredients together.  Have shrimp, peppers, cilantro, etc., prepared and ready to add. It really makes the recipe go more smoothly.
I don't usually add sour cream to a boiling mixture, but it works in this one.  Just make sure to whisk briskly to combine after adding it so it won't separate.
After the enchiladas finished baking, I warmed the remaining jalapeno sauce up a little so it wouldn't be cool when poured on top.
Nutrition Information:
Yield:

12 enchiladas
Serving Size:

2 enchiladas
Amount Per Serving:
Calories:

261
Total Fat:

15g
Saturated Fat:

8g
Trans Fat:

0g
Unsaturated Fat:

6g
Cholesterol:

114mg
Sodium:

719mg
Carbohydrates:

15g
Fiber:

2g
Sugar:

1g
Protein:

17g
Nutrition Values are Approximate