Over the years, I've experimented with many, many peanut butter pies since it's one of Bret's favorite desserts. Two very different ones took top honors – one being this easy recipe with a creamy cream cheese peanut butter filling and fudgy bottom layer, and the second being a simple chocolate pie layered with a wonderful peanut butter crumble. Both are great in their own way!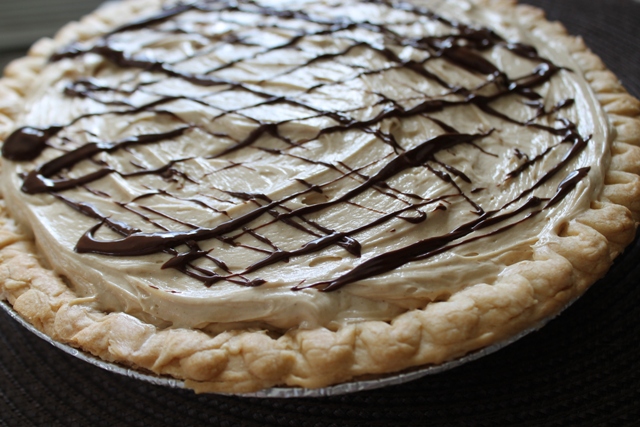 I made this one to take to the Super Bowl game watching party at my sister-in-law's and it was well-received with thumbs up all around. Bret said I could increase the fudge layer, but I thought the proportions were spot on.
I didn't get a very good photo of it because we had pretty well massacred it by noon the next day, but you can see the different layers: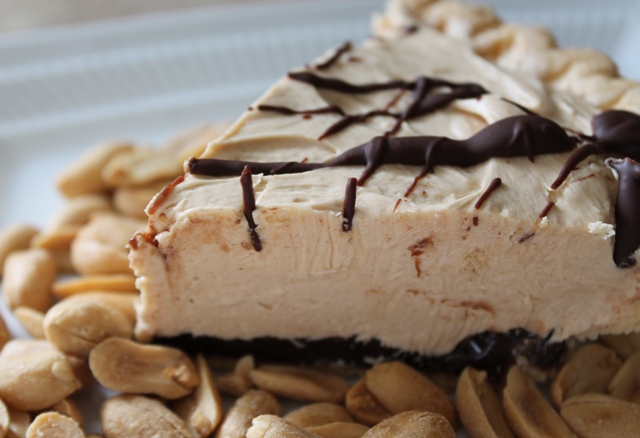 After the wonderful appetizers, ribs and soup at the get together, it was tough to stuff a piece of this one in, but somehow I managed it. Now I remember why I don't make it very often – it's hard to put the fork down!
Oh, and I'll post the second peanut butter pie later this year after we recover from this one…..

Fudgy Peanut Butter Pie
****Excellent.  Creamy with just enough peanut butter and a nice fudge layer on bottom! Mmmmm.
1 cooked pie shell, cooled
8 oz. cream cheese, softened
1 C. smooth peanut butter
1 C. powdered sugar
8 oz. cool whip
3/4 C. hot fudge sauce
3 tbsp. semisweet chocolate chips, melted
In a medium bowl, mix the cream cheese, peanut butter and powdered sugar together until smooth.  Add the cool whip and mix until well-blended.
Spoon the hot fudge sauce into the bottom of the cooled pie shell.  Pour the peanut butter mixture carefully onto top the chocolate and smooth out the top with a spoon.
Melt the chocolate chips and drizzle over the top of the pie.  Refrigerate at least 4 hours before serving.
Tips and Stuff:
You could lighten this up with Neufchatel cream cheese and Cool Whip lite and it would still taste very good.
I use the thick hot fudge sauce (Smucker's), not the thin syrupy kind.
Sprinkle chopped peanuts on top for a little extra "pretty."