This Chewy Crunchy Ritz Cracker Pie is another of my mom's recipes from way back that we loved as kids. Using Ritz crackers in a pie sounds strange, but when combined with pecans, egg whites, sugar and a little vanilla it becomes a crunchy, chewy and delicious dessert.
It's very sweet, but besides the sugar it doesn't have a bunch of bad-for-you ingredients. A dollop of Cool Whip or your favorite homemade whipped cream will balance that sweetness, so don't forget to add it.
This recipe also gave me the opportunity to use some more of those wonderful Texas pecans!
The texture is almost a meringue, but the crackers and pecans give the pie a great flavor. Hard to describe - definitely delicious. What a treat!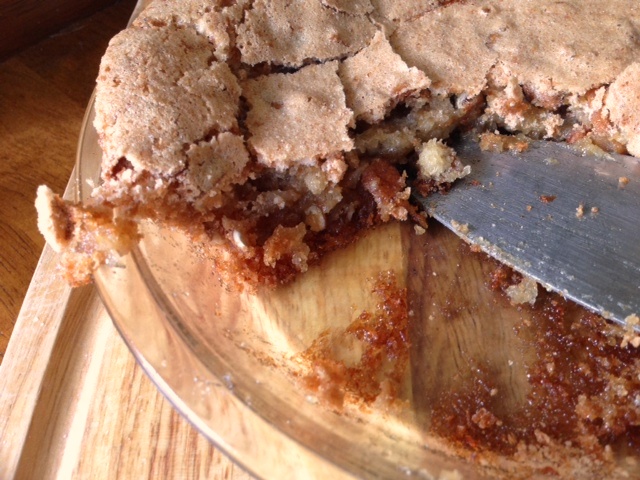 Chewy Crunchy Ritz Cracker Pie is a great pie for any day of the week or for special occasions. People won't believe the ingredients, but they'll ask for the recipe!
We lost Mother in January of 2009, and using her old recipes makes me smile, tear up a little, and think about how special she was. I really miss her and think of her every day.
Ritz Cracker Pie
Chewy and sweet with a crunchy meringue-like topping from the egg whites.
Ingredients
3 egg whites, beaten until stiff
1 C. sugar
1 tsp. vanilla
20 crushed Ritz crackers
½-1 C. chopped pecans
Whipped Cream
Instructions
Preheat oven to 350°.
Beat egg whites until stiff.
Gradually add sugar to beaten egg whites - mix on low until combined. Stir in vanilla. Gently fold in crackers and nuts.
Spread into a well-greased pie pan and cook at 350 degrees for 30 minutes. Top slices with whipped cream when served.
Notes
Tips and Stuff:
Make sure the egg whites are stiff before slowly adding sugar. Just mix until combined or your egg whites will deflate; remove from mixer after sugar is mixed in, then go ahead with the vanilla.
I put the crackers in a sandwich bag and crushed with my fingers. You want a little texture, so don't pulverize it into cracker flour!
I only used ½ C chopped nuts and the texture was great.
Carefully fold in the crackers and nuts with about 10 stirs of a rubber spoon – you need to retain the lightness of the batter. It will pour, but should be fairly fluffy.
Nutrition Information:
Yield:

8
Serving Size:

1 slice
Amount Per Serving:
Calories:

195
Total Fat:

7g
Saturated Fat:

1g
Trans Fat:

0g
Unsaturated Fat:

6g
Cholesterol:

1mg
Sodium:

94mg
Carbohydrates:

32g
Fiber:

1g
Sugar:

26g
Protein:

3g
Nutrition Values are Approximate