It's interesting how a recipe evolves in our house.  We don't start out to create one, but as they say "invention is the mother of necessity."  Actually that was said by Plato, but that's another story.  Anyway, we had Eckrich Link Sausage leftover from another recipe and had the "necessity" to use it.
I came home one day and Bret had diced the sausage and added it to a can of black eyed peas, which we always have in the cupboard.  It was pretty darn good, so I started playing with the combination and found that keeping it simple was the best way to go.  I almost called it a stew because it can be – depending on how much water you put into it.  Bret prefers the chunky stuff and I prefer the soup part, and that's how the final version of this came about!  We always make quick corn muffins as a companion to it and often serve it with a side of fruit to round it out.  Now that it's getting colder outside we'll have this often to warm us up.   It's easy to make, actually fairly healthy (except for the warm muffins slathered in butter…), and a staple in my recipe book.  Enjoy!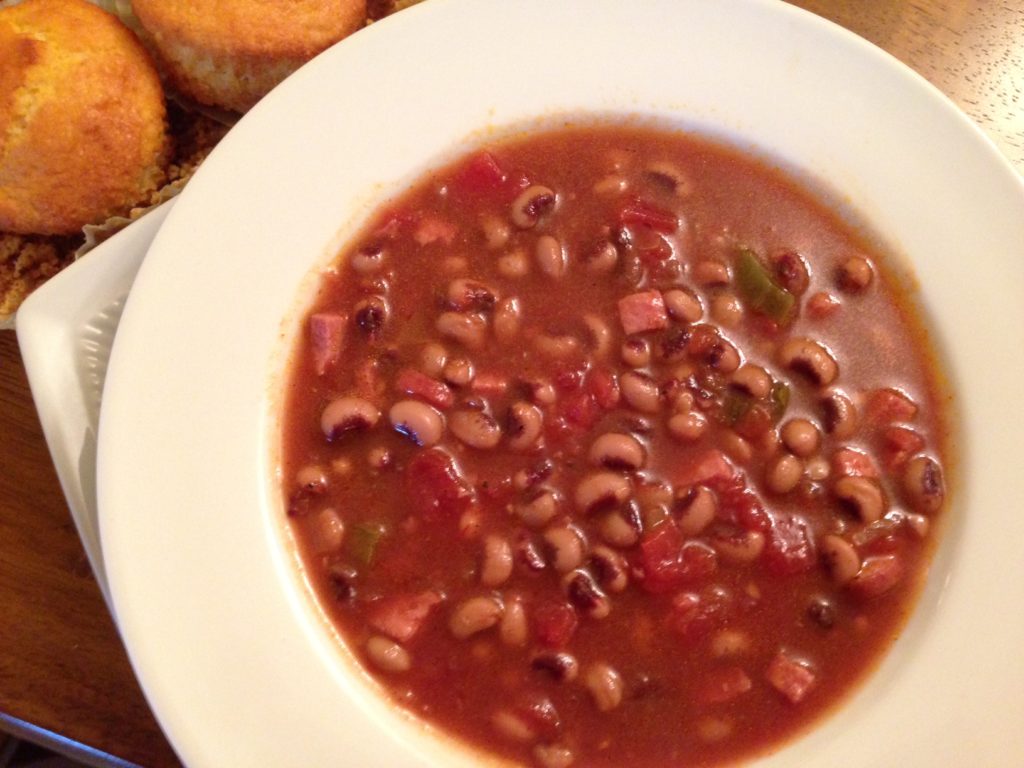 Black Eyed Pea Soup
****We love this hearty soup when the weather turns cold. The combination of vegetables and spices is just right!
Ingredients
2

tsp

olive oil

1

link

(about 6.5 oz) smoked turkey sausage, diced

2

cans black eyed peas

1

can Rotel tomatoes

1/2

tsp

onion powder

1/2

tsp

garlic powder

1/2

C

medium salsa

1

tbsp

chopped pickled jalapenos

(optional)

1/4

to 1/2 tsp salt

1/2

tsp

pepper

Water
Instructions
In a large pot or dutch oven, sauté the diced sausage in the olive oil for 2 to 3 minutes on medium heat, stirring occasionally. Add the black eyed peas, including liquid, and the can of Rotel, including liquid. Stir in the onion and garlic powders, salsa, jalapenos (optional), salt and pepper. Add one black eyed pea can (about 2 Cups) of water and stir.

Bring to a boil on medium high heat, then turn to medium low and simmer for about 20 minutes until flavors are blended. Serve with cornbread.
Recipe Notes
Tips and Stuff:
We like the soup spicy, so we use medium Rotel along with the jalapenos - you can use a mild salsa and no jalapenos if you prefer it milder.
Sometimes I pick up the black eyed peas with bacon or onion and that adds a nice flavor to the soup.
If I don't have a can of Rotel tomatoes, I use petite diced tomatoes and a can of green chiles. This lasts quite a while in the refrigerator and tastes better every day.