Updated: April 2021
This Guilt-Free Quesadillas recipe comes from my beautiful niece, Lisa. She's in tip-top shape for the Air Force and knows a thing or two about healthy eats.
Lisa says "Here is my guilt-free quesadilla recipe. When I'm eating super healthy and working out a lot, this is one of my go-to's.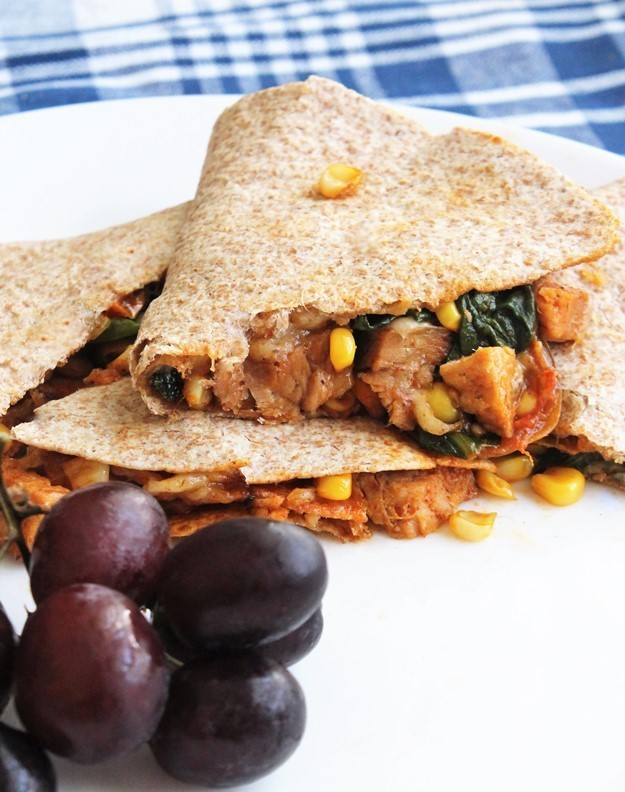 Very flexible (ingredients) and completely satisfies the craving for Mexican. A single serving is one quesadilla but to be honest, sometimes I have two when I'm extra hungry!"
The first step to making this quick meal is to sautee the vegetables and protein together in a touch of olive oil. I chose corn, fresh spinach, dark cherry tomatoes, along with leftover chopped roasted pork.
The second step is filling your wheat tortillas with that delicious filling.
Don't be stingy - fill 'em up! You'll want to leave a little space around the edges so they'll seal up a little when heated. These are 8" tortillas. You'll have enough filling for four 6" tortillas if you'd rather use that size.
Sprinkle a little cheese of your choice - I use shredded colby-jack. Lisa uses shredded cheddar.
That homemade quesadilla filling is as good as it looks! Savory and delicious with a few great spices and topped off with the cheese that brings it all together.
The final step is to fold those beauties over, then bake them for 8 to 10 minutes. Bake until the cheese is melted and the sides are lightly browned.
Get the pizza cutter out and cut each tortilla into three equal triangles. Serve with your favorite toppings - salsa, sour cream, or maybe a little fresh guacamole.
Guilt-Free Quesadillas are versatile, quick, and great for a weeknight meal or snack. Use whatever vegetables you'd like or have on hand. They're filling and delicious.
Thanks to my lovely niece Lisa for this great recipe!
Guilt-Free Quesadillas
A recipe from my niece, pretty Lisa. Guilt-free and delicious. Use whatever cheese and/or vegetables you have!
Ingredients
½ to ¾ lb. leftover roast chicken or pork -  shredded or chopped
Veggies – such as fresh corn, green peppers, cherry tomatoes or raw spinach.
2, 8" tortillas or 4, 6" tortillas– whole wheat or veggie
½ C Shredded cheese - cheddar, colby jack
Spices: salt, pepper, paprika, chili powder, cumin and oregano
Salsa or sour cream for topping
Instructions
1. Preheat oven to 375 degrees. Line a baking sheet with aluminum foil and spray with cooking spray.
2. Put about 2 teaspoons of olive oil in a large skillet on medium heat. Add cooked meat of your choice and veggies.
3. Sprinkle in a couple of generous pinches of each spice to taste. Sautee until everything is heated through and the spinach is soft.
4. Spoon the chicken mixture onto tortillas on one side (see picture above), leaving a little space around the edges.
5. Add a small sprinkling of shredded cheese over the top of the filling.
6. Fold over the tortilla and place on the prepared cookie sheet.
7. Bake for 8-10 minutes until the edges of the tortilla start turning golden brown. Remove from oven and plate, cutting each into 3 pieces. Serve with salsa or sour cream as desired.
Notes
Use a pizza cutter to easily cut the quesadillas.
This will make 4, 6" folded quesadillas or 2, 8" folded quesadillas.
I used corn, spinach, and cherry tomatoes with colby jack cheese. Excellent combination!
I used smoked paprika and it gives the quesadillas an extra flavor boost!
Nutrition Information:
Yield:

12
Serving Size:

1 slice
Amount Per Serving:
Calories:

340
Total Fat:

10g
Saturated Fat:

3g
Trans Fat:

0g
Unsaturated Fat:

6g
Cholesterol:

24mg
Sodium:

420mg
Carbohydrates:

48g
Fiber:

5g
Sugar:

2g
Protein:

15g
Nutrition Values are Approximate