This month's Cake Slice Baker choices from the cookbook Gâteau include this Bacon, Caramelized Onion and Gruyère Loaf.
Not a cake, but it's referred to as a cake a couple of times in the cake book, so...there. I picked it for this month's post.
Why, instead of a sweet cake? Because, well, bacon, cheese and caramelized onion. Oh, and it's made with buttermilk. That means a wonderfully incredible texture.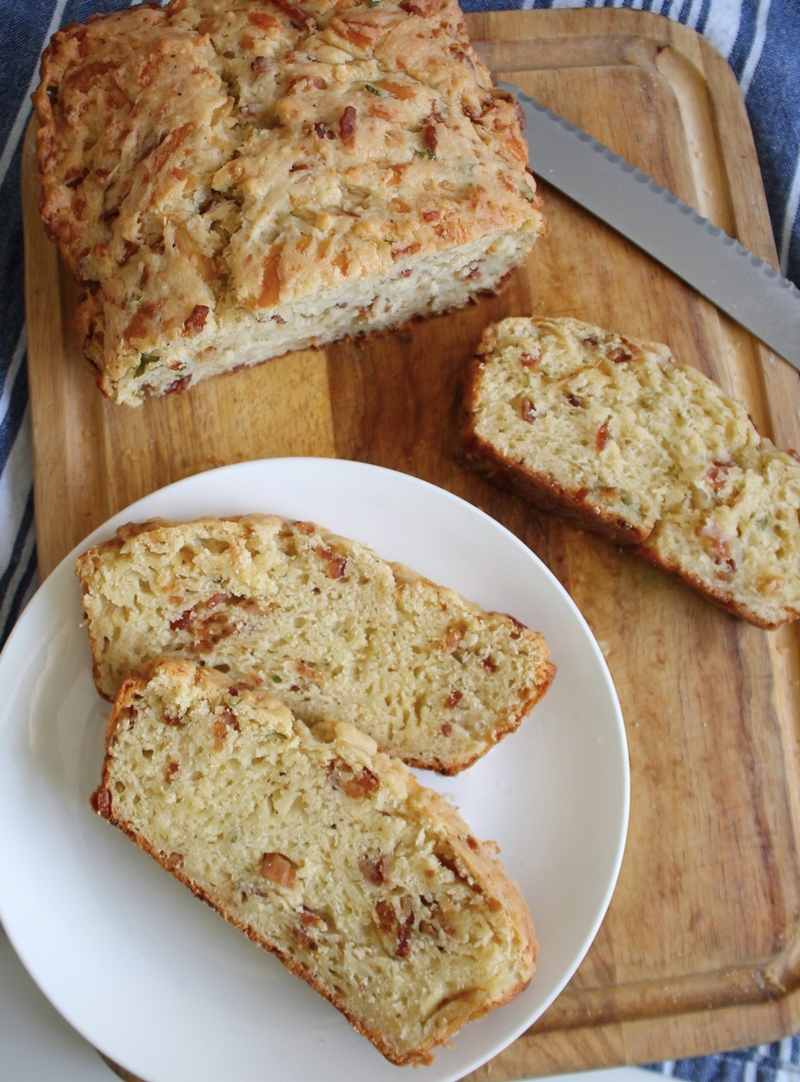 There were a couple of glitches while I was making it.
The recipe never said when to add the onions to the batter, so I took my best guess.
Also, I didn't know whether to pour all of the liquid/bacon grease that was left after sauteeing the onions, so I added about a tablespoon to the batter just in case. Good decision.
The batter is very thick, so don't be concerned about that. Be gentle when folding everything in, though, as you don't want the loaf to be tough.
I found the recipe to be pretty flexible, considering, and it came out just right.
This Bacon, Caramelized Onion and Gruyère Loaf isn't a tall loaf. It's the perfect snacking height, though, when made in a 9x5" pan.
I baked mine in a floppy silicone pan and it baked up a little lopsided. Those silicone pans tend to bend outward if you have a heavier batter. Next time I'll use a metal or glass pan.
I wish I could describe the wonderful bacon/onion aroma while this was baking. Oh my. It's amazing and so good. So, so good.
You can use other kind of cheeses if you don't want to use or can't find good Gruyère. A sharp cheddar would be good or any kind of semi-firm cheese.
What are Lardons and How Do You Make Them?
The recipe calls for 'lardons.' Lardons are thinly sliced strips of bacon, very slowly sauteed on low heat until the bacon is chewy-crisp and the fat is rendered out. Perfect for this recipe, so take your time rendering that bacon.
I love this bread. Yes, I called it bread, not cake. It's one of my new favorites and it will be made often.
It was hard to stop nibbling on while I was taking photos. Savory, thick, bacon-filled delicious cheesy bread with bits of caramelized onion all the way through. I highly recommend this one!
Be sure and visit the other Cake Slice Baker's choices (listed below the recipe.)
If you'd like another amazing homemade bread, try the Cook's Country Spicy Cheese Bread on my site. It's great.
Bacon, Caramelized Onion and Gruyère Loaf
Delicious bacon, onion and cheese bread - great texture.
Ingredients
5 tablespoons butter
½ pound (227 g) bacon, cut into lardons
1 medium yellow onion, thinly sliced
2 large eggs, room temperature
1 cup whole buttermilk, room temperature
1 tablespoon extra-virgin olive oil
2 ½ C (300 g) all-purpose flour*
1 ½ teaspoons baking powder
½ teaspoon baking soda
½ teaspoon fine sea salt
½ teaspoon black pepper
½ pound (227 gm) grated Gruyère (or cheddar), about 2 cups
3 tablespoons minced flat-leaf parsley
Instructions
Preheat oven to 350°. Spray a 9x5" loaf pan and dust it with flour.
Melt the butter and set aside to cool while preparing the rest of the ingredients.
In a large skillet, over low heat, cook the sliced bacon until they've rendered their fat and are golden brown. Remove with a slotted spoon and set aside.
Remove all but 2 tablespoons of fat from the skillet (if there's not about 2 tablespoons of fat, add a little butter). Add the onion to the skillet and saute over low heat until just golden, stirring occasionally. Turn off heat and set aside.
In a small mixing bowl, whisk the eggs, buttermilk and oil. Continue to whisk as you slowly pour in the cooled melted butter.
In a larger mixing bowl, whisk the flour, baking powder, baking soda, salt and pepper. Stir in the cheese, bacon and parsley. Add the egg mixture and the sauteed onions to the dry ingredients and fold together with a rubber spatula until no streaks of flour remain. The batter will be thick.
Pour the batter into the prepared pan and bake for 45-50 minutes, or until a knife inserted into the center of the loaf comes out almost clean.
After baked, let the loaf cool for about 10 minutes, then turn out onto a rack to cool completely. It's best after letting it sit for an hour or two. Keep wrapped in plastic during the day, but refrigerate overnight. Let come to room temperature before serving leftovers. Best for the first two days.
Notes
*I only used about 2 ⅓ cups of flour, plus a tablespoon, as that's what 300 grams measured out to.
How to make lardons - slice the bacon vertically in about ⅛" pieces (easiest is to keep the bacon stacked while you do it). Do it carefully and slowly, as the knife and your hands will get slippery. Cook them over very low heat to render the fat while you're preparing the rest of the loaf ingredients.
She recommends different kinds of cheeses - I think sharp cheddar and/or mozzarella would be good in this too.
Couldn't find flat-leaf parsley, so used curly. It works fine.
Best used the first couple of days. Freeze if longer than that.
Nutrition Information:
Yield:

10
Serving Size:

1
Amount Per Serving:
Calories:

310
Total Fat:

17g
Saturated Fat:

9g
Trans Fat:

0g
Unsaturated Fat:

7g
Cholesterol:

82mg
Sodium:

500mg
Carbohydrates:

26g
Fiber:

1g
Sugar:

2g
Protein:

13g
Nutrition Values are Approximate
Each month The Cake Slice Bakers are offered a selection of cakes from the current book we are baking through. This year it is Gâteau: The Surprising Simplicity of French Cakes by Aleksandra Crapanzano. We each choose one cake to bake, and then on the 20th - never before - we all post about our cake on our blogs. There are a few rules that we follow, but the most important ones are to have fun and enjoy baking & eating cakes!
Follow our Facebook, Instagram, and Pinterest pages where you can find all of our cakes, as well as inspiration for many other cakes. You can also click on the links below to take you to each of our cakes. If you have a blog and are interested in joining The Cake Slice Bakers and baking along with us, please send an email to thecakeslicebakers at gmail dot com for more details.
The Cake Slice Bakers also have a new Facebook group called The Cake Slice Bakers and Friends. This group is perfect for those who do not have a blog but want to join in the fun and bake through this book.
It is a new year and a new book - Gâteau: The Surprising Simplicity of French Cakes - and our choices for July 2023 were ~
Caramelized Pineapple Tropical Loaf
Raspberry Clafoutis
Alsatian Bacon, Caramelized Onion and Gruyère Loaf