It's February and already time for another Cake Slice Baker's monthly cake selection from this year's cookbook - Zoe Bakes Cakes.
This month I chose the Chocolate Devil's Food Cake and made them into cupcakes with Zoe's Cream Cheese Frosting.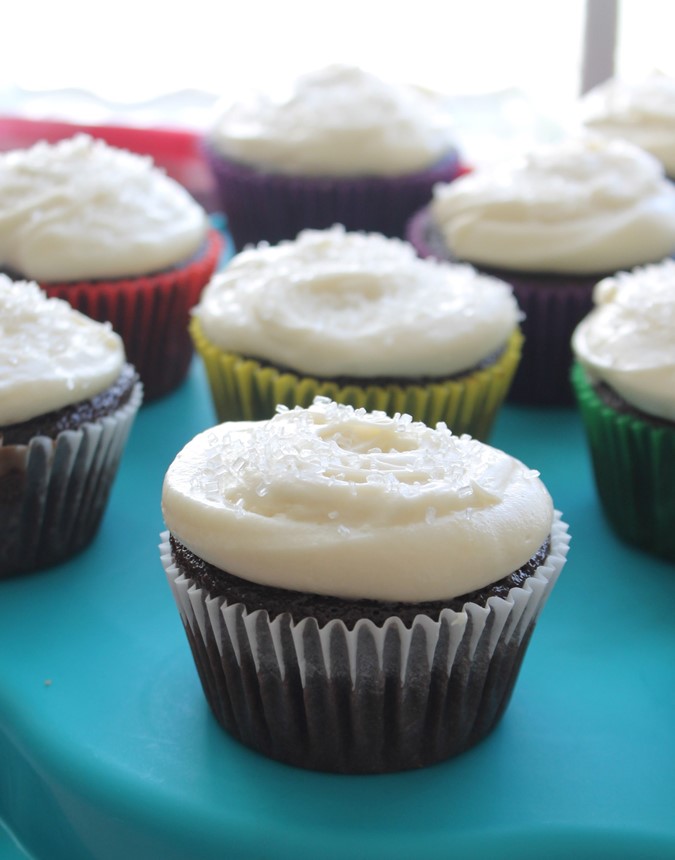 This recipe made tons o' cupcakes - about 28 of them - and since it would take us months to eat that many cupcakes, I sent a dozen to my sister-in-law and will freeze most of the rest of them. That's a lot of cupcakes!
Zoe says in the intro that this is the best chocolate cake she's ever made. This cake is good, but I'm not sure it ranks tops for me. Update: several of the other Cake Slice Bakers made this and found it "outstanding." Let me know what you think!
The couple of tablespoons of brandy really stands out, but in a good way. The texture was soft and good, but to me, it was missing a lot of chocolate flavor. (Note: the recipe calls for Dutch-processed cocoa and that may give it a more chocolate flavor - I used Hershey's).
Cream Cheese was one of the frostings recommended (as well a chocolate frosting in the book), so for something different, I made that.
I halved the frosting recipe because it makes enough for a three layer cake or two 13x9" cakes. There was still a ton leftover even though I was very generous piling it on the cupcakes.
The texture of the frosting wasn't what I was expecting. It was a little gluey and surprisingly was not very sweet.
I ended up sprinkling sparkling sugar crystals on top of the frosting to make it a little sweeter. And it made them a little prettier, too!
Would I make Zoe's Chocolate Devil's Food Cupcakes with Cream Cheese frosting again? Probably not. There are too many other chocolate cake recipes that are better (I'll list a few of them below).
Am I sorry I made them? No. I learn something every time I bake. And I got to eat cupcakes!
Try These Great Chocolate Cake Recipes!
Devil's Food Cupcakes with Cream Cheese Frosting
Tender chocolate cake with a shot of brandy. Use your favorite cream cheese frosting.
Ingredients
2 ⅓ Cups All Purpose Flour (280 g)
2 Cups granulated sugar (400 g)
⅔ Cup cocoa powder (50 g)
1 teaspoon baking soda
1 teaspoon salt
1 ¼ Cups hot, strong coffee (300 ml)
2 tablespoon rum or brandy
2 eggs, room temperature
1 Cup buttermilk (240ml)
½ Cup vegetable or canola oil (120 ml)
1 teaspoon vanilla extract
For the Frosting:
¾ lb cream cheese, room temperature (240 g)
¾ Cups butter, room temperature (115 g)
1 ½ teaspoon vanilla extract
1 teaspoon freshly squeezed lemon juice
2 ¾ Cups powdered sugar (300 g)
Instructions
Preheat the oven to 350°F/175C°. Place cupcake papers in two cupcake tins.
In a large bowl, whisk together the flour, sugar, cocoa powder, baking soda and salt.
In a small bowl, stir the coffee and brandy (I used brandy - use what you have or leave it out if you wish).
In a separate smaller bowl, whisk together the eggs, buttermilk, oil, and vanilla until combined.
Pour the egg mixture and half of the coffee mixture to the dry ingredients and stir with a spatula/spoon just until smooth. Add the remaining coffee mixture and whisk until completely blended in and smooth. The batter will be rather thin.
Pour the batter into the cupcake papers, about ⅔rds of the way full. Tap the tin gently on the counter to release air bubbles. (Not too hard or the cups will tilt.)
Bake for 20 minutes, turning the cupcake tin halfway through baking. Remove from the oven and bake the next batch (not recommended to bake both tins at the same time). Leave the cupcakes in the tins for 5 or 6 minutes until slightly cooled, then cool completely on a wire rack.
For the frosting: In a stand mixer bowl with the paddle attachment, beat the room temperature cream cheese on low speed until it's smooth, scraping down the bowl as needed.
Add the butter to the cream cheese and continue mixing until smooth, scraping when needed. Mix in the vanilla and lemon juice.
Turn the mixer to low and slowly add the powdered sugar and continue mixing until smooth. If the frosting is too thin to spread, you may want to refrigerate it until firmer.
Generously frost the cupcakes (2 to 3 tablespoon each). Store leftovers in the refrigerator (or give some to your neighbors!).
Notes
The original cake recipe calls for Dutch-processed cocoa powder. I used Hersheys regular cocoa.
The original frosting recipe calls for unsalted butter. I used salted.
The original frosting recipe has some optional ingredients: ⅛ teaspoon lemon extract; 2 tablespoon Lyle's golden syrup.
The recipe card above has halved the frosting recipe measurements and l still had some left over after 28 cupcakes. Even if you make this in two 8" cake pans, you'll have more than enough with the recipe as noted.
Nutrition Information:
Yield:

28
Serving Size:

1 cupcake
Amount Per Serving:
Calories:

251
Total Fat:

10g
Saturated Fat:

6g
Trans Fat:

0g
Unsaturated Fat:

3g
Cholesterol:

39mg
Sodium:

229mg
Carbohydrates:

36g
Fiber:

1g
Sugar:

26g
Protein:

3g
Nutrition Values are Approximate
Each month The Cake Slice Bakers are offered a selection of cakes from the current book we are baking through. This year it is Zoë Bakes Cakes by Zoē François. We each choose one cake to bake, and then on the 20th - never before - we all post about our cake on our blogs. There are a few rules that we follow, but the most important ones are to have fun and enjoy baking & eating cakes!
Follow our Facebook, Instagram, and Pinterest pages where you can find all of our cakes, as well as inspiration for many other cakes. You can also click on the links below to take you to each of our cakes. If you have a blog and are interested in joining The Cake Slice Bakers and baking along with us, please send an email to thecakeslicebakers at gmail dot com for more details.
The Cake Slice Bakers also have a new Facebook group called The Cake Slice Bakers and Friends. This group is perfect for those who do not have a blog but want to join in the fun and bake through this book.
It is a new year and a new book - Zoë Bakes Cakes - and our choices for February 2022 were ~
Chocolate Devils Food Cake
Black Forest Cake
Karen's Kitchen Stories

Raspberry Charlotte Royale
Note: No group members choose this cake to bake