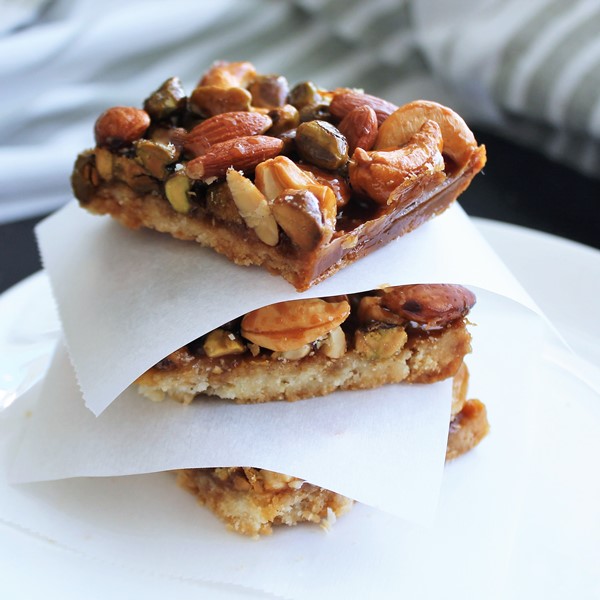 New holiday recipes are so much fun to test out and experiment with. Every year I try to include at least one new candy or cookie on the friends and neighbors' Christmas trays.
I'm starting testing this year with these Honey Nut Bars that have been in my little "To Try" packet for years. So many recipes, so little time.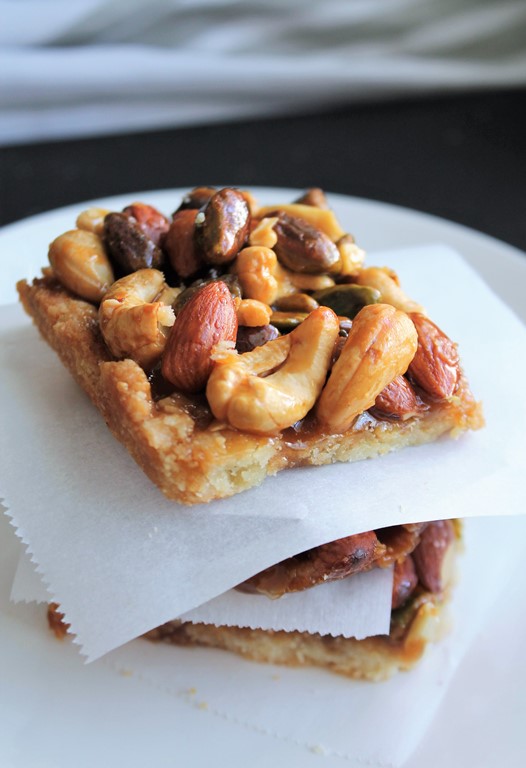 Honey is a tricky ingredient in baking. You have to be absolutely determined to get the best honey you can find. This is a good opportunity to try your local honey products.
Did you know that local honey is supposedly more healthy for you than others? Since local bees make it, they bring back pollen from local plants. There aren't conclusive official tests, but some people swear their allergies are better after consuming local honey.
Also, local honey isn't filtered and is usually unprocessed, unlike store brands. Pure honey is supposed to be better for your health.
Be sure you do like honey because these Honey Nut Bars are loaded with it and you can really taste the honey in every bite!
I halved the original recipe, so if you feel you need more bars, just double everything. I've included the halved measurements in the Tips and Stuff section of the recipe below. You'll want to cut these in small squares, as the honey really makes them sweet and rich.
There's a nice shortbready base that's loaded with a honey-butter caramel sauce and nuts galore. I used salted-roasted almonds, cashews and pistachios - three of my favorites. Walnuts would be good too, and the original recipe calls for hazelnuts.
Hazelnuts and I have a unsavory/unpleasant past history together, so I don't put them in anything. Use what you'd like, though.
I'm not sure these bars are right for my delivered, wrapped Christmas trays, but I can see them on a pretty holiday tray. They'd be nice (and unique) on a holiday or potluck party table for sure.
Honey Nut Bars
Total Time:
1 hour
5 minutes
Definite honey flavor in a sweet bar topped with butter-honey-caramel sauced nuts. Cut small pieces!
Ingredients
For the Base:
1 tablespoon plus ¾ C cold butter, divided and chopped
2 ⅓ C all-purpose flour
½ C sugar
½ teaspoon baking powder
½ teaspoon salt
1 egg, lightly beaten
For the Topping:
⅔ C honey
½ C packed brown sugar
¼ teaspoon salt
6 tablespoon butter, cubed
2 tablespoon heavy whipping cream
¾ C roasted, salted cashews
½ C roasted, salted almonds
¾ C pistachios
Instructions
Preheat oven to 375°. Line an 13x9" pan with aluminum foil, hanging the ends over the edges to lift out after baked. Grease the aluminum foil liberally with 1 tablespoon butter - sides and bottom.
In a large bowl, combine the flour, sugar, baking powder and salt and whisk together. Cut in the remaining 6 tablespoon butter with your fingers and combine until you have coarse crumbs and the butter is distributed. Stir in the egg and combine completely. Firmly press into the prepared pan (layer will be rather thin).
Bake the base for 15-18 minutes until the edges are light golden brown. Set on a wire rack and prepare the topping.
For the topping, in a large heavy-bottomed saucepan, combine the honey, brown sugar and salt. Bring to a low boil over medium heat, stirring occasionally until sugar is dissolved. Boil for 1 to 1 ½ minutes without stirring. Stir in the butter and cream (may boil up a little, be careful) and return to a low boil. Cook and stir on medium-low for 1 minute, until smooth and cream is completely incorporated. Remove pan from heat and stir in the nuts. Stir to coat all of the nuts evenly.
Pour the cooked mixture into the pan, spreading out evenly to the edges.
Bake for about 15 minutes, until the topping is bubbly. Remove to a rack and cool completely.
Lift out the bars carefully (they'll be bendy) by the aluminum foil, then slowly peel off the foil (it may stick a bit) and discard. Cut into small bars (about 1 ½").
Notes
Tips and Stuff:
Here are half the ingredients, except for the nuts  (make in an 8x8" pan):
For the Base:
½ tbsp, plus 6 tablespoon cold butter, divided and chopped
1 C, plus 2 tbsp, plus 2 teaspoon of all-purpose flour
¼ C sugar
¼ teaspoon baking powder
¼ teaspoon salt
½ egg (1 ½ tbsp) , lightly beaten
Topping:
⅓ C honey
¼ C packed brown sugar
⅛ teaspoon salt
3 tablespoon butter, cubed
1 tablespoon plus 1 teaspoon heavy cream
½ C cashews
¼ C almonds
6 tablespoon pistachios
Follow instructions as written.
Nutrition Information:
Yield:

20
Serving Size:

1 bar
Amount Per Serving:
Calories:

259
Total Fat:

14g
Saturated Fat:

7g
Trans Fat:

0g
Unsaturated Fat:

6g
Cholesterol:

38mg
Sodium:

217mg
Carbohydrates:

32g
Fiber:

1g
Sugar:

19g
Protein:

3g
Nutrition Values are Approximate