Chrissy Teigen's Cool Ranch Taco Salad is another winner recipe from her 2019 Cravings: Hungry for More cookbook.
I've made five recipes from it and have enjoyed them all. Her Creamy Tomato Soup with Peppery Parmesan Crisps is really terrific, as well as Taters, Shrooms and Peas with Parmesan. This taco salad is also really amazing!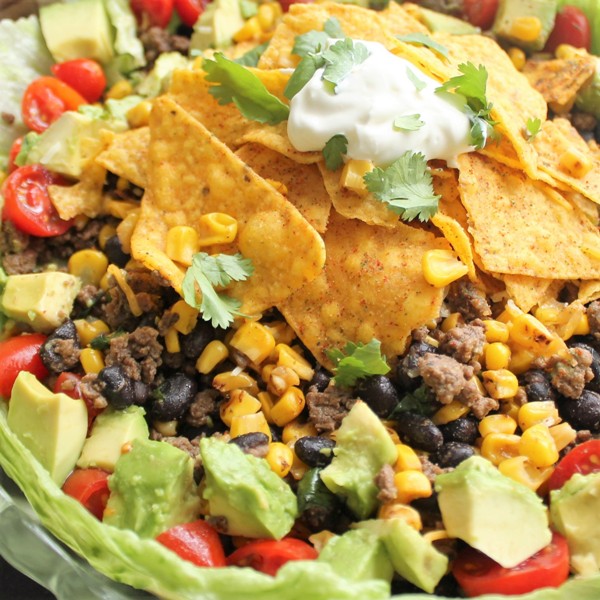 The dressing in this recipe is so tasty and goes great with the salad. It's almost like a French dressing, but tangier and a little sweet.
That dressing drizzled on the well-spiced ground beef, roasted corn, black beans, avocado, and tomato is perfect. Toss some spicy Cool Ranch chips on top, cilantro and sour cream, and you have a terrific, very filling meal.
Oh yeah, it does have lettuce in it, too. It's important to the texture to have it in there, but the star has to be the beef filling and that wonderful dressing. Everything blends together so well.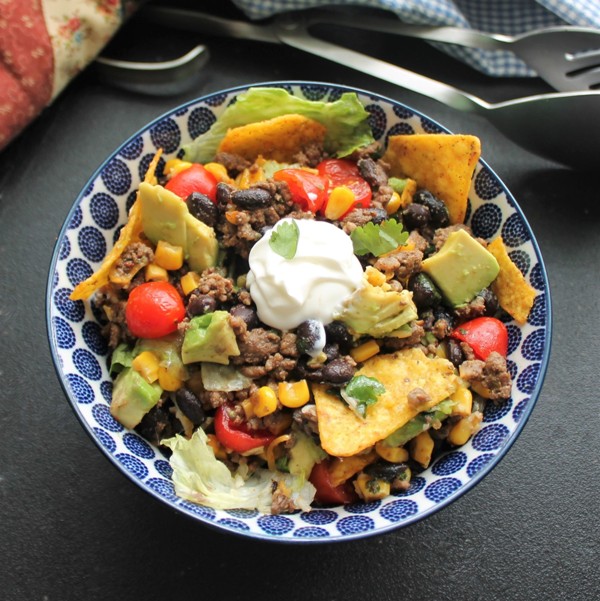 In college we used to make a taco salad somewhat similar to this (but with cheaper college-budget ingredients) and we'd pour Catalina dressing on it. We were in heaven!
I made a few little changes to the recipe (no onion for his majesty, no black olives for me). It's quite versatile, so use what you want. I didn't have fresh corn, so drained and patted dry a can of corn before charring it. It works fine.
If you don't have or can't find a good avocado, leave it out. I didn't think it added that much to the salad with all of that other savory, delicious stuff in it.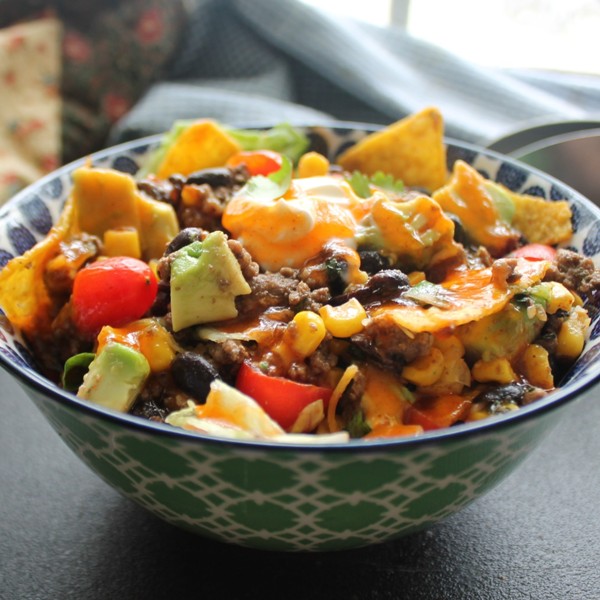 I'm so glad to have found Chrissy Teigen's Cool Ranch Taco Salad. I've also made the Cheesy Chicken Milanese and Shake & Bake Chicken with Hot Honey. I didn't post them because they weren't pretty enough to photograph, but are both very tasty.
I highly recommend her Cravings cookbooks (two of them). Her recipes aren't light by any means, but very do-able and straightforward. I look so forward to trying some more of her recipes!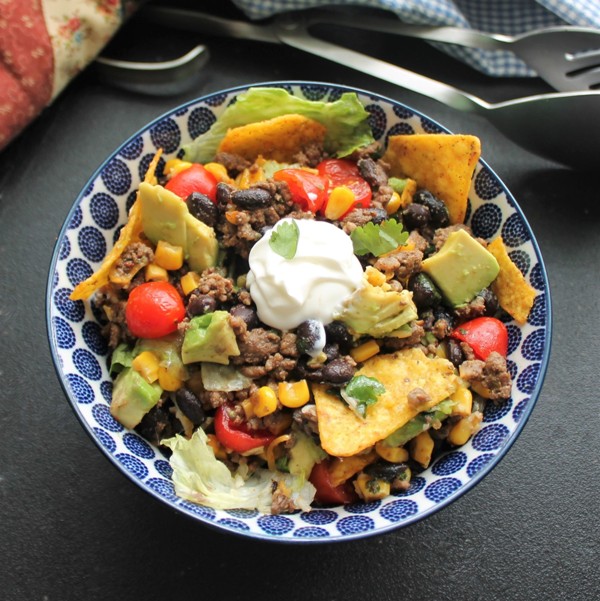 Chrissy Teigen's Cool Ranch Taco Salad
Hearty meal with spicy ground beef, black beans, roasted corn, and a bunch of other good vegetables. Great homemade dressing!
Ingredients
Dressing:
⅔ C vegetable oil (I used canola)
¼ C ketchup
¼ C white vinegar (I used apple cider vinegar)
½ teaspoon kosher salt
½ teaspoon cayenne pepper
Beef Mixture:
2 large ears corn
1 teaspoon canola oil
1 lb ground beef
1 tablespoon paprika
2 teaspoon ground cumin
2 teaspoon garlic powder
1 ½ teaspoon dried oregano
1 tsp. cayenne pepper
1 tsp. kosher salt
1 teaspoon freshly ground black pepper
1 (15 oz) can black beans, drained and rinsed
½ C fresh cilantro, chopped
The Salad:
1 large head iceberg lettuce, shredded
2 beefsteak tomatoes, cut into chunks
1 large avocado, cut into chunks
¼ C sliced black olives (optional)
2 C Cool Ranch Doritos
¼ C chopped red onion (optional)
½ C sour cream
Instructions
For the dressing: In a medium jar with a lid, combine the oil, ketchup, vinegar, sugar, salt, and cayenne pepper. Shake well and refrigerate until ready to use.
For the filling: Heat a large dry skillet over high heat until really hot. Cut the corn off of the ears and pour evenly into the hot pan (lower heat to medium). Let sit without stirring for 1 minute, then stir and let it brown/char on the flip side of the corn for another 1 to 2 minutes.
Turn heat to medium-low and stir the corn for 1 to 2 more minutes until corn is crisp-tender. Remove corn to a plate.
Put the teaspoon of oil in the pan along with the ground beef. Stir to break it apart and cook on medium until browned. Drain if there's excess grease.
While beef is browning, combine the paprika, cumin, garlic powder, oregano, cayenne, salt and pepper into a small bowl and stir (or use a 1.25 oz. packet of your favorite taco seasoning). Pour the spice mixture into the ground beef along with ½ cup of water. Cook, stirring gently, for five minutes until liquid is almost gone, but the beef is still very moist.
Remove from the heat and let cool slightly. Stir in the cilantro.
For the Salad: Arrange the shredded lettuce into a BIG salad bowl and top with the beef-bean mixture. Sprinkle the corn on top, along with the tomatoes, avocado and black olives. Pour the dressing over the top (or have available on the side for everyone). Crumble the chips over the top and sprinkle with onion (if using) and a plop of sour cream. Serve while the meat is still warm.
Notes
Tips and Stuff:
I made a few changes (along with the ones noted in the recipe).  I used a 15 oz. can of kernel corn, drained and patted dry instead of fresh corn.  Fresh corn would be best, though.
I halved the spices because I only used about ¾ lb. of ground beef.  Use taco seasoning in place of those spices if you have it.
I used cherub tomatoes instead of beefsteak because that's what I had.  
When eating the salad, I had a side of whole Dorito's chips and used them to dip some of the salad.  Yum.
Didn't use onion or black olives.  
Nutrition Information:
Yield:

6
Serving Size:

1 serving
Amount Per Serving:
Calories:

1059
Total Fat:

70g
Saturated Fat:

13g
Trans Fat:

2g
Unsaturated Fat:

51g
Cholesterol:

90mg
Sodium:

1305mg
Carbohydrates:

76g
Fiber:

11g
Sugar:

10g
Protein:

36g
Nutrition Values are Approximate