This month's Cake Slice Bakers challenge is Lemon, Ricotta & Thyme Mini-Loaves from The New Way to Cake by Benjamina Ebuehi.
I've always wanted to try thyme in a sweet recipe and this looks like the perfect recipe for it.
First problem: no fresh thyme in three grocery stores I went to. Plenty of oregano and dill, but no thyme. I was going to order it for curbside pick up from Central Market, but the first available pick up date was April 24 - a six day wait! Since my cake is due on the 20th, no fresh thyme for me.
Instead of a tablespoon of fresh thyme, I used a scant teaspoon of dried thyme rubbed between my palms to bring out that wonderful aroma. Thyme actually has a slight lemony scent and I couldn't wait to try this combination.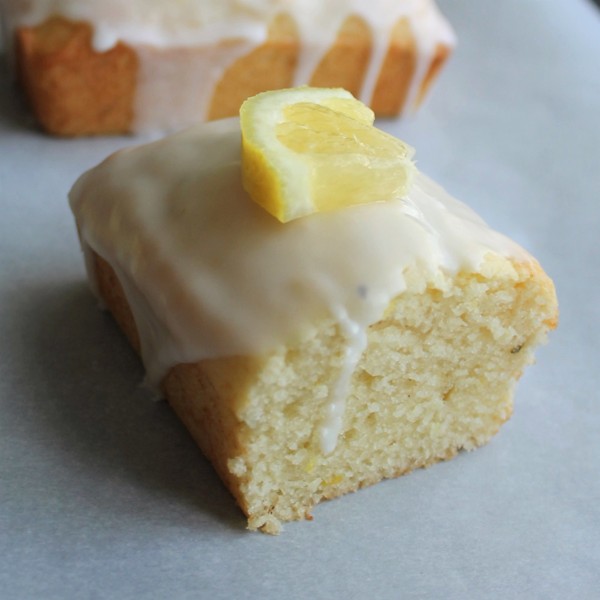 This recipe for Lemon, Ricotta & Thyme Mini-Loaves makes 8 mini-loaves. Raise your hand if you have 8 mini-loaf pans. Right, that's what I thought - me neither.
I ended up making them in little meatloaf mini-pans. They're quite a bit larger than mini-loaf pans, so I only got 5 loaves out of the batter. That's OK. They're really cute and are a great size for giving as gifts.
They puffed up so nicely (2 teaspoons of baking powder will do that) and have such a soft, almost velvety texture. I used rather large lemons, so there was a lot of zest. The flavor, though, is really nice and lightly lemony.
The ricotta (over by the cream cheese in my store) gives these loaves that delicious, velvety texture. I love baking with ricotta because it's so creamy and different.
Don't be afraid of using thyme or any other savory herb in a sweet recipe. As long as you don't go overboard with the herb, it can really add a great flavor. These would be fantastic even without the thyme.
I love the way Benjamina uses herbs, flowers, and spices in her recipes.
They're really different and delicious without having a couple of inches of buttercream on top. Her cookbook is quickly becoming one of my favorite cake books.
Lemon, Ricotta & Thyme Mini-Loaves
A lightly lemony little loaf with just the right amount of thyme to enhance the flavor.
Ingredients
1 C granulated sugar
Zest of two lemons
1 tablespoon finely chopped fresh thyme
½ C sunflower or vegetable oil
1 C ricotta
2 eggs
1 ½ C all-purpose flour
2 teaspoon baking powder
Pinch of salt
For the glaze:
1 ¼ C powdered sugar
Juice of 1 lemon
8 fresh thyme springs (for garnish)
Instructions
Preheat the oven to 350°. Grease eight mini-loaf pans and line each bottom with a strip of parchment paper.
Place the sugar and zest into a large bowl. Use your fingertips to rub the zest into the sugar to release essential lemon oils. Stir in the chopped thyme.
Add the oil, ricotta and eggs and whisk until smooth. Gently stir in the flour, baking powder and salt just until mixed.
Divide the batter evenly into the prepared pans and bake for 27 to 30 minutes, or until the loaves are lightly golden and a toothpick inserted comes out clean. Leave in the pans to cool for a few minutes, then turn out onto a wire rack. Cool completely.
For the glaze: Put powdered sugar to a medium bowl and add enough lemon juice to make a thick-but-pourable glaze. Spoon glaze onto the loaves, letting it drip over the edges. Top with a sprig of thyme if you'd like.
Notes
Tips and Stuff:
If you can't find fresh thyme, use about 1 scant teaspoon of dried thyme, rubbed between your palms to bring out the aroma.
I didn't have sunflower or vegetable oil, so used canola.
Nutrition Information:
Yield:

16
Serving Size:

1
Amount Per Serving:
Calories:

222
Total Fat:

9g
Saturated Fat:

1g
Trans Fat:

0g
Unsaturated Fat:

7g
Cholesterol:

28mg
Sodium:

94mg
Carbohydrates:

33g
Fiber:

1g
Sugar:

22g
Protein:

4g
Nutrition Values are Approximate