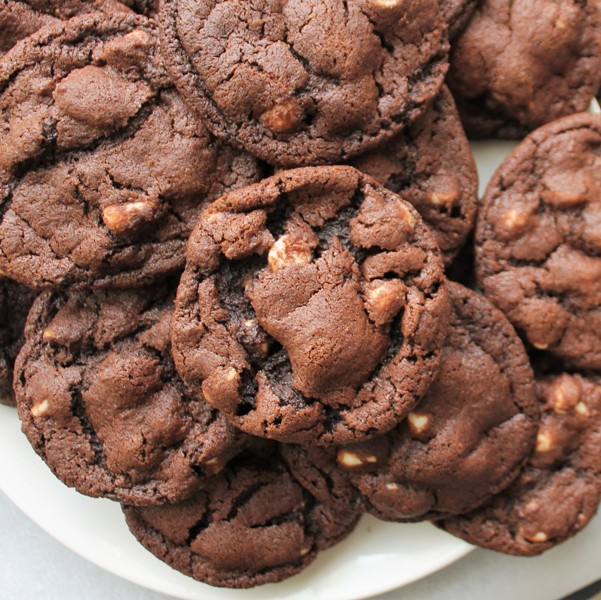 You'd think that as much as I bake that we'd have sweets and desserts just laying around everywhere, waiting for us to devour. Not so, actually. I usually make half portions or take goodies to friends.
These Reverse Chocolate Chunk Cookies are just for Bret and me!
Why did I choose these? Well, chocolate, vanilla chips, cookies - all things I love. They also come from the Union Street Cafe Cookbook that has a stellar reputation for great recipes. They've had a popular restaurant in NYC for decades and have two cookbooks out. These cookies are from the first cookbook.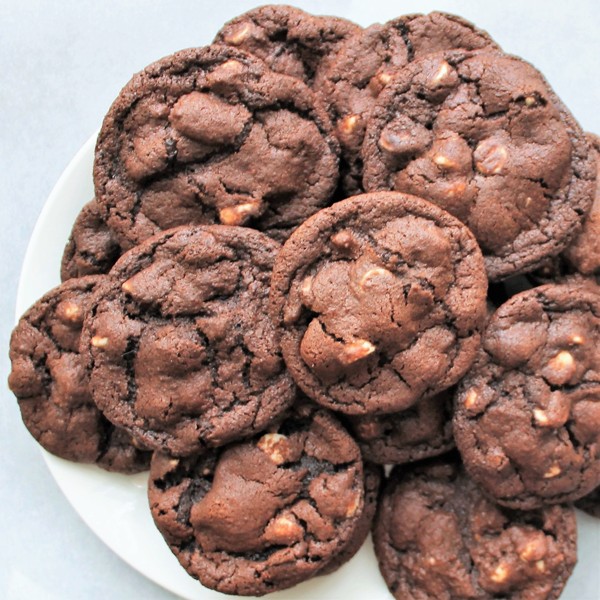 Reverse Chocolate Chunk Cookies are called that because they're kind of a negative of regular chocolate chip cookies. They're deeply chocolate and sweet, with white chocolate chips floating around on them.
Every bite is decadent and delicious.
I highly recommend a glass of cold milk or a cup of your favorite hot tea/coffee as an accompaniment.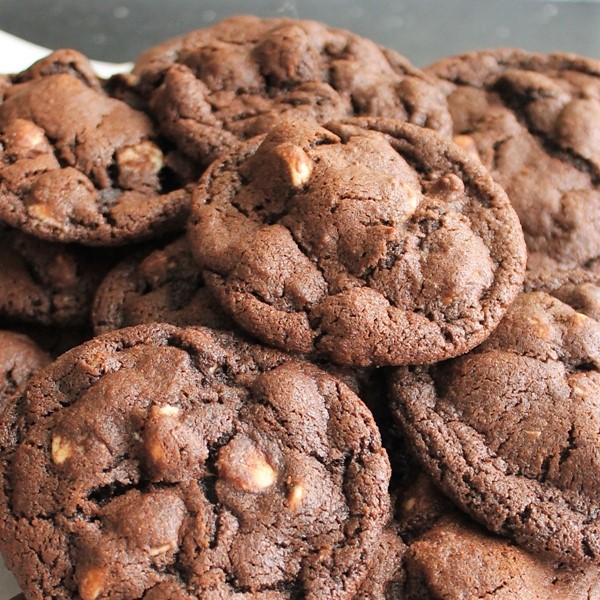 The original recipe (below, plus my addition of vanilla) makes a ton of cookies, so I halved it. The halved amounts are down below the recipe in the Tips and Stuff in case you want to do that. Oh, and you might want to check my math. I'm not exactly Einstein.
I've tagged and am looking forward to trying several more recipes from this cookbook. If they're all as high of quality and delicious as these cookies are, we're gonna have some good meals.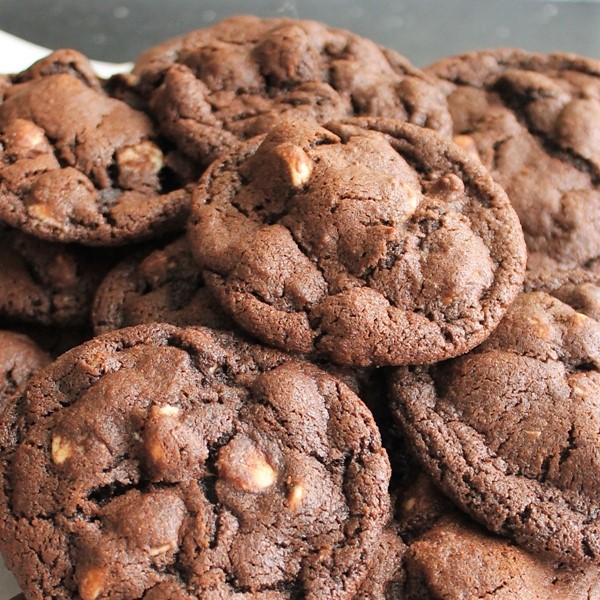 "Reverse" Chocolate Chunk Cookies
Deeply chocolate cookies - chewy and filled with vanilla chips. Decadent and delicious.
Ingredients
1 ¾ C Flour
1 ¼ C cocoa powder
2 teaspoon soda
20 tablespoon (2 ½ sticks) butter, room temperature
1 ¼ C sugar
¾ C brown sugar
2 eggs
1 teaspoon vanilla
10 oz solid white baking chocolate, broken into ¼" chunks or 8 oz. white chocolate chips
Instructions
Preheat oven to 350°. Line 2 cookie sheets with parchment paper (or lightly butter the sheets)
In a medium bowl, combine the flour, cocoa powder, and baking soda.
In a stand mixing bowl , cream the butter, sugar, and brown sugar on medium-high until the mixture is light and fluffy. Add the eggs and continue to beat until the mixture is well combined, about 1 minute. Lower the mixer speed to low and slowly add the flour mixture. Mix together until well incorporated. Stir in the white chocolate chunks or chips.
Using about 1 heaping tablespoon of dough, place the cookies on the baking sheets about 2" apart (they will spread).
Bake for 9 to 9 ½ minutes, until the cookies are just puffed and still soft (don't over bake - they're supposed to be soft!). Remove cookies from the oven and let sit on the baking sheet for 5 to 7 minutes, then carefully remove them to a cookie rack to complete cooling. Store in a tightly sealed container for 2-3 days.
Notes
Tips and Stuff:
I used salted butter, but the original recipe calls for unsalted.  
The batter will be thick.  I rolled the dough into balls (with a resulting sticky hands) and the cookies came out pretty.  Dropping them is OK, too.
If you don't have a stand mixer, make these with a good hand-held since the dough is rather thick).
I halved the recipe because we don't need 48 cookies:
½C plus ¼ C and 2 tablespoon flour
½C plus 2 tablespoon cocoa powder
1 teaspoon baking soda
10 tablespoon butter
½C plus 2 tablespoon sugar
¼C plus 2 tablespoon brown sugar
1 egg
6 oz white chocolate chips 
Nutrition Information:
Yield:

48
Serving Size:

1 cookie
Amount Per Serving:
Calories:

103
Total Fat:

4g
Saturated Fat:

2g
Trans Fat:

0g
Unsaturated Fat:

1g
Cholesterol:

8mg
Sodium:

6mg
Carbohydrates:

15g
Fiber:

2g
Sugar:

9g
Protein:

2g
Nutrition Values are Approximate