My sisters and I went on a sister trip to Maine last week and had a wonderful time.
I was all revved up to make an original Maine recipe and since I didn't want to use lobster and just made Blueberry Lemon Ricotta Tea Cake not too long ago (Maine blueberries and all), I decided to make this New England Clam Chowder from Bon Appétit.
There's an age-old world of controversy about chowder. Should it be thin, should it be thick and creamy....? I compromised and made it half-way between - creamy and just a little thick.
I think it's a perfect rendition of New England Clam Chowder. Delicious.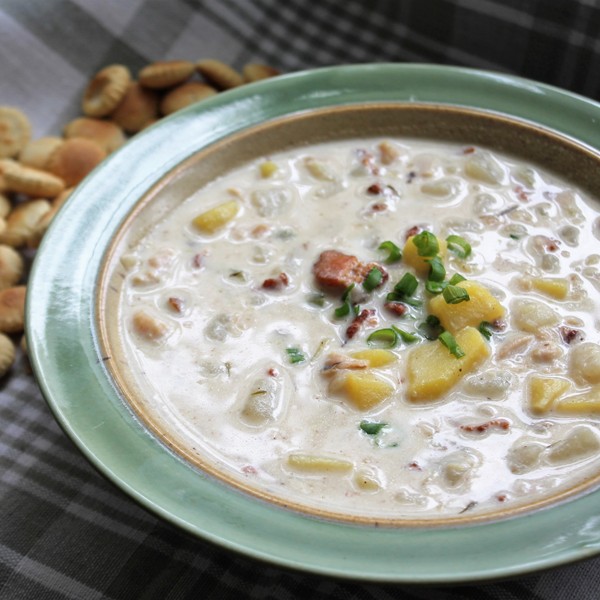 We had a wonderful time in Maine. The leaves just started turning beautiful yellow, orange and red, and are amazing. The air is clean and the lobster is outstanding. I highly recommend it if you're looking for a vacation getaway.
This New England Clam Chowder is from the Bon Appétit web site. Just a note: you'll want to read through the ingredients and have everything chopped and ready when you start the chowder. It takes a few minutes, but will save you time in the long run.
It's not a complicated dish - just make sure all of your ingredients are fresh and of high quality. It makes a big difference.
I really love this chowder and am surprised at how simple it is to get that great flavor. It takes me back to the great vacation with my sisters, eating seafood, laughing, wandering around beautiful Maine, and playing gin rummy!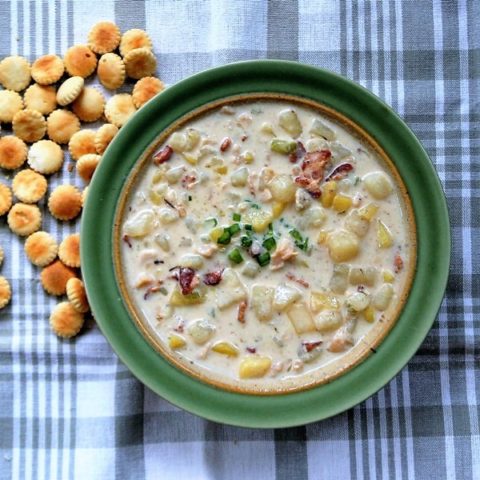 New England Clam Chowder (Bon Appétit)
Excellent New England Clam Chowder stocked with potatoes and a bit of bacon. Creamy, but not thick.
Ingredients
1 10 oz can baby clams (or 2, 6.5 oz. cans)
3 C bottled clam juice (about 24 oz.)
½ tablespoon butter
4 oz bacon, cut into ½" pieces
1 celery stalk, minced
¼ large yellow onion, minced
½ teaspoon garlic, minced
1 ¼ lb Yukon Gold potatoes, peeled and cut into ¼" pieces
½ tsp. dried thyme (or 1 tsp. chopped fresh thyme)
1 bay leaf
1 tablespoon cornstarch
1 C heavy cream
salt and pepper to taste
chopped fresh chives (or the green end of green onions)
oyster crackers
Instructions
Drain the clams, retaining the liquid.
Melt the butter in a large heavy pot (eg. Dutch oven) over medium heat. Add the bacon and cook, stirring occasionally, until bacon just begins to brown (will brown completely on another step), about 5 minutes. Spoon out all but 1 tablespoon of the bacon grease if present.
Add the celery, onion, and garlic, and cook, stirring often, until the onion is translucent, 7-8 minutes. Add the reserved broth of from the canned clams, along with the 3 cups of bottled clam juice, potatoes, thyme, and bay leaf. Bring the chowder base to a low simmer and cook until the potatoes are tender, about 20 minutes.
Stir the cornstarch into a cup with about 2 tablespoon of water until well mixed and it forms a slurry. Pour the slurry into the chowder base, then return to a boil to slightly thicken.
Remove the base from the heat. Carefully discard the bay leaf. Stir in the clams and cream. Season with salt and pepper to taste. Divide the chowder among bowls and garnish with chives and oyster crackers if desired.
Cool any leftovers completely and store in the refrigerator in a tightly sealed container.
Notes
The original recipe calls for 4 lb. of cherrystone clams, scrubbed, but the canned clams are good and way less trouble.  Your choice!
The recipe above is halved from the original Bon Appétit recipe.
Don't leave the bay leaf out.  It gives the chowder that distinctive "chowdery" taste.
If you want it thicker, use a little more cornstarch and water slurry.
Nutrition Information:
Yield:

4
Serving Size:

1 serving
Amount Per Serving:
Calories:

618
Total Fat:

35g
Saturated Fat:

18g
Trans Fat:

1g
Unsaturated Fat:

14g
Cholesterol:

152mg
Sodium:

1875mg
Carbohydrates:

42g
Fiber:

4g
Sugar:

4g
Protein:

34g
Nutrition Values are Approximate