Wow, it's been awhile since I posted. I've made a bunch of new recipes in the past several weeks, but none of them were up to par for posting - good, but not great.
Then along comes this amazing Italian Easter Bread from Brown Eyed Baker. The bread is flavored with orange juice and orange zest, and then I made a few small changes from the original recipe to our tastes.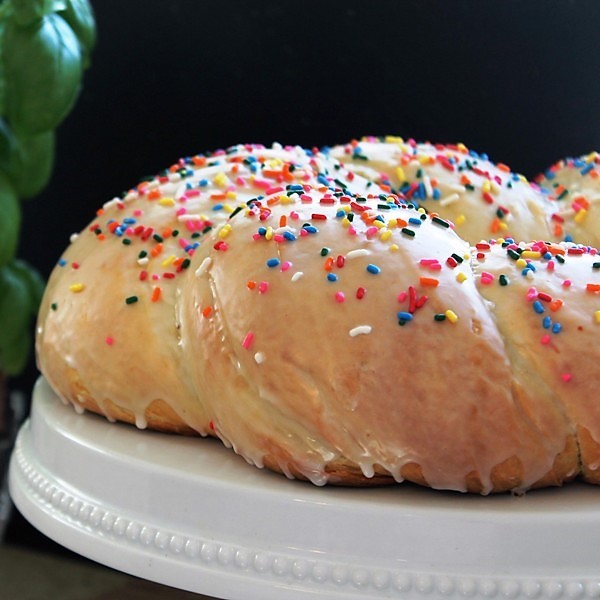 The original recipe calls for anise oil and I substituted almond flavoring. Also I halved the recipe because we don't need two big loaves of bread.
This bread is wonderful, though, and now I'm thinking two loaves would be welcome!
The texture of this Italian Easter Bread is fluffy, fairly soft, and tender. It's a barely-sweet bread and the simple, sweet glaze goes perfectly as the finishing touch.
There are sprinkles on top because I think they look "Spring-y," but sliced almonds would be nice if you want an alternative.
The orange flavor isn't overpowering, but is definitely there and wonderful. The dough is fairly easy to work with and rises nicely to make this beautiful, big loaf. Just take a look!
I'm gonna dab a little butter on a slice tomorrow morning and slide it under the broiler for a great breakfast treat. Don't put it in the toaster, though, or you'll have a little mess with melted glaze...
This beautiful Italian Easter Bread is great for Easter, but I'm sure I'll be making it throughout the rest of the year, too.
Besides the time for rising, this bread is fairly straightforward to make and your guests will be very impressed. Put this one on your holiday baking list!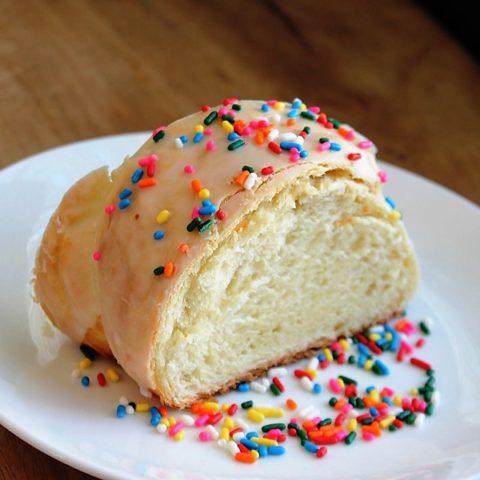 Italian Easter Bread
Total Time:
3 hours
10 minutes
Fluffy, soft, and tender lightly sweet yeast bread, flavored with orange and topped with a sweet glaze. 
Ingredients
4 ½ - 5 C all purpose flour
¾ C milk (I used 2%)
¼ plus 1 tablespoon sugar
1 large orange, zested and juiced
1 envelope (about 2 ¼ tsp.) active dry yeast
½ cup butter
4 eggs, room temperature
½ teaspoon salt
⅛ teaspoon almond extract
1 tablespoon butter, melted (for brushing onto bread)
Glaze:
1 ½ C powdered sugar
2-3 tablespoon milk or cream
2-3 drops almond extract
sprinkles, sliced almonds, or your choice of topping (optional)
Instructions
Place 4 cups of the flour in a large mixing bowl.
Pour the milk in a large glass measuring cup and microwave for 20 seconds at a time until warm to the touch (between 110° to 115°).
While milk is warming, mix the sugar and orange zest together in a small bowl or cup until well-blended.
When the milk is warm, stir the sugar/orange zest mixture into it and stir until well mixed. Make sure the milk is still warm to the touch, then add the yeast and stir. Set aside for 7-8 minutes until the yeast has bloomed.
Create a small hole in the middle of the flour and pour in the milk/yeast mixture. Stir a few times with a large spoon, then use the mixer to continue mixing on medium low. Add the melted, cooled butter and continue to mix. Add the juice of the orange and again continue mixing.
While the dough is mixing, place the eggs, salt and almond extract in a medium bowl and lightly beat with a fork. Turn the mixer on low and add the eggs, scraping down the sides as needed. Mixture will be quite runny at this point.
Begin adding flour, ¼ C at a time until dough comes together (mine took a cup of extra flour to do so). The dough will look more like bread dough, but still be just a bit sticky to the touch.
Flour your kneading surface and turn out the dough onto it. Knead for 5 minutes, adding a small amount of flour if needed until the dough is soft and elastic. Roll gently into a smooth ball and place in a large bowl which is oiled or sprayed. Turn the ball to coat with the oil/spray. Cover the bowl loosely with plastic wrap and place in a warm, draft-free place to rise - about 1 hour.
Line a large baking sheet with parchment paper.
Turn the dough out onto a clean surface and cut it in half. Working with one half, roll the dough into an even 24-inch long rope. Do the same with the second half, then gently twist the two ropes together, about four to five twists.
Move the braid over to the baking sheet and carefully bring the ends around to meet, gently twisting the ends together - pinch dough together if needed.
Brush the melted butter over the top and sides of the braid and loosely cover with plastic wrap. Set in a warm, draft-free place and let rise until almost doubled - 45 to 60 minutes.
Ten minutes before the dough is finished rising, preheat the oven to 350°. Bake the bread until golden brown, 35 to 40 minutes. Remove from the oven and let cool completely on a rack.
When bread is completely cool, whisk together the powdered sugar, milk , and almond extract until smooth. Adjust milk to get desired consistency (leave it a little thick, not runny.) Brush the glaze onto the bread with a pastry brush, using all of the glaze. Sprinkle with sprinkles, almonds, or your choice of topping.
Notes
Tips and Stuff:
The original recipe was doubled for two loaves and uses anise oil instead of almond extract.
Don't panic if you have to add more than a cup of extra flour after the eggs are added - just add ¼ cup at a time till it looks like bread dough (will still be slightly sticky though).
Lower the speed of the mixer when you add the eggs or you'll have egg hair.
Make sure the two 24" ropes are even from the middle to the end or after baked you'll have a puffy side and flatter side.  I didn't show my whole bread in the photos, but the ends that were twisted together are smaller than the other side.  Take your time when you twist and pinch them together.
Any lumps or cracks that are in the risen dough will be amplified after baking, so smooth out any rough edges.  (The glaze covers a lot of sins but not all of them!).
Store leftovers tightly in plastic wrap at room temperature up 3 to 4 days.  Best at room temperature.
Spread a pat of butter on a slice and place under the broiler for a minute to have wonderful breakfast toast.
Nutrition Information:
Yield:

15
Serving Size:

1 slice
Amount Per Serving:
Calories:

865
Total Fat:

14g
Saturated Fat:

6g
Trans Fat:

0g
Unsaturated Fat:

7g
Cholesterol:

72mg
Sodium:

166mg
Carbohydrates:

158g
Fiber:

6g
Sugar:

13g
Protein:

23g
Nutrition Values are Approximate