I love eggnog! Sometimes it seems like I'm the only person around that likes it, but I'm going to take a chance that there are other eggnog lovers out there and post this Easy Eggnog Fudge.
The original recipe comes from Happy Life Blogspot, so thank you Lisa!
There are only six ingredients in this luscious fudge, including the ground nutmeg sprinkled on top as the final touch.
It's very straightforward to make, but always stay nearby your boiling candy because it can go from almost ready to oops too far quickly.
The eggnoggy fudge is very sweet, rather firm, and I love it. You can use pre-ground nutmeg, but fresh is best.
Fresh whole nutmeg will last almost indefinitely stored in your cabinet, so you can use it year after year on your holiday goodies.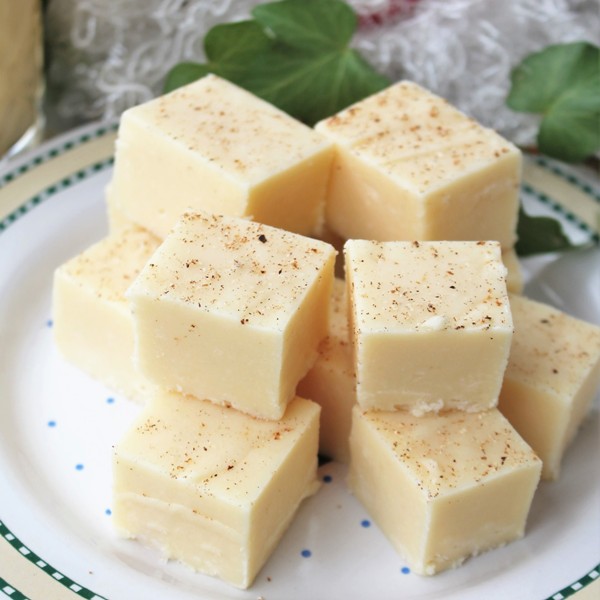 I halved the original recipe. If you double it, use a 13x9" pan.
It's very sweet and rich, so a little of this Easy Eggnog Fudge goes a long way, so cut it into small pieces. It's so pretty on a Christmas plate and gets snapped up quickly!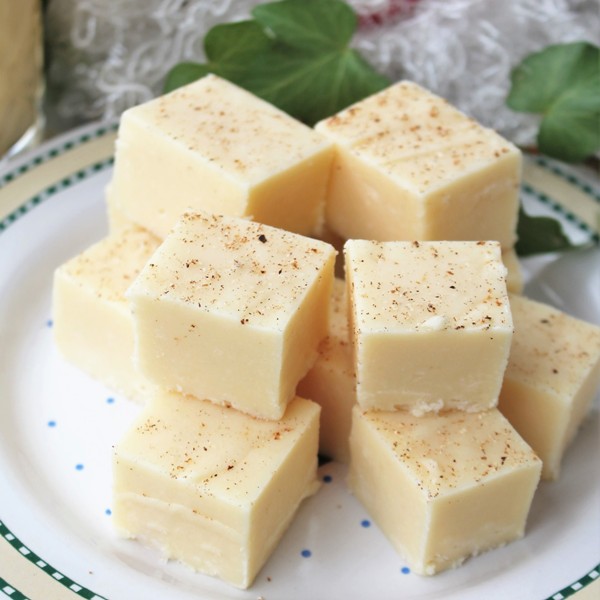 Easy Eggnog Fudge
Yield:
2 lb. of fudge (about 40 pieces)
Total Time:
1 hour
25 minutes
Sweet, thick fudge that completes your holiday goodies platter. Be sure and use fresh nutmeg!
Ingredients
¾ C. eggnog
2 C. granulated sugar
1 (12 oz) package white chocolate chips
½ C butter
5 oz. marshmallow cream (little more than half of a container) **
freshly grated nutmeg
Instructions
Line an 8x8" pan with aluminum foil and lightly spray with cooking spray.
In a large, nonstick sauce pan, combine the eggnog, and sugar. Cook over medium heat, stirring frequently, and bring to a boil. Continue to constantly stir for 10 minutes while it boils. (Full 10 minutes so it won't be grainy!)
Turn off the heat and add the white chocolate chips, butter, and marshmallow fluff. Stir briskly until the chips are completely melted and smooth (be patient!)
Pour the mixture into the foil-lined pan and spread evenly until smooth. Sprinkle the top with a light dusting of fresh nutmeg. Set aside to cool to room temperature.
Cover and refrigerate for about an hour until firm. Once it's thoroughly chilled, lift out of the pan and cut into 1" or so squares. Store in an airtight container.
Notes
Tips and Stuff:
Cut the butter into pieces before putting into the pan to melt for easier combining.
**This is a firm fudge.  If you want it creamier, use the whole 7 oz. container of marshmallow fluff.
If you don't have fresh nutmeg, that's OK, just use what you have.
I halved the original recipe, so if you double, use a 13x9" pan.
Nutrition Information:
Yield:

40
Serving Size:

1 piece
Amount Per Serving:
Calories:

81
Total Fat:

3g
Saturated Fat:

2g
Trans Fat:

0g
Unsaturated Fat:

1g
Cholesterol:

9mg
Sodium:

25mg
Carbohydrates:

14g
Fiber:

0g
Sugar:

13g
Protein:

0g
Nutrition Values are Approximate