Babka is a traditional Jewish yeast bread, barely sweet with a swirl of sticky chocolate and cinnamon all the way through it.
Babka means "little grandmother" in various Eastern European countries and this bread is reminiscent of a bread that was pieced together by granny for shabbat (sabbath).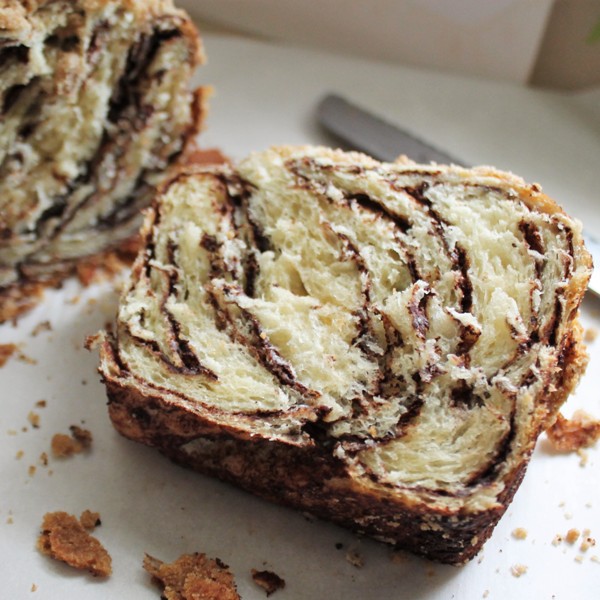 It was originally filled with seeds and nuts and wasn't really filled with chocolate until it made its way to the U.S. I, for one, am glad they decided chocolate swirl is the way to go.
I love yeast breads and this one had the house smelling like a bakery by the time it was finished. When you make this, put aside the day since the first rising time is 1 ½ to 2 hours. After that, the dough cools in the refrigerator for 45 minutes, is spread with the filling, then you set it aside to rise another 30 minutes.
Finally, you sprinkle streusel over the top, then bake it for almost an hour. I was very impatient for it to cool so I could cut and sample it, but made myself (and hubby) leave it alone.
This Chocolate Babka is unusual in that it uses streusel, not normally seen on the loaf. The recipe is from Bon Appetit, though, so I knew it would be a superb loaf.
I've been wanting to make babka for years and just now got around to taking the time to do it. It's an outstanding, tender bread and not really that difficult - just time consuming and patience consuming.
I wanted to make this early in the Fall so you can put it on your to-try list before the holidays sneak up on you. Chocolate Babka takes a little effort and time, but will be an impressive addition to a Thanksgiving table or an incredible gift for your friends and family.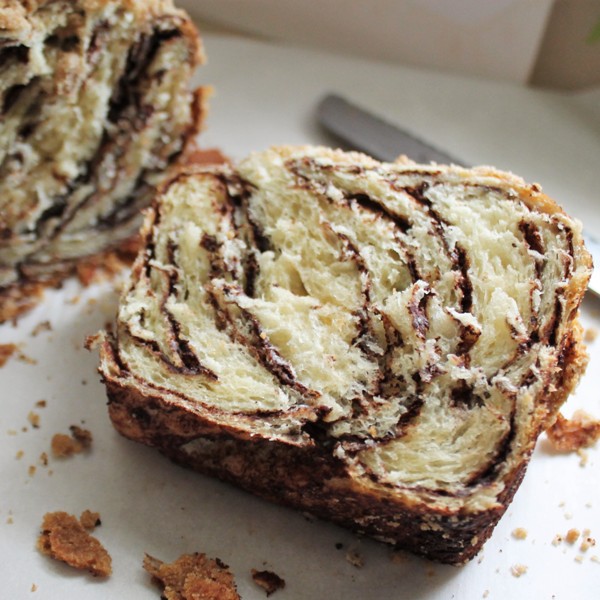 Chocolate Babka ("Little Grandmother")
Inactive Time:
1 hour
30 minutes
Lightly sweet yeast bread with a swirl of chocolate and cinnamon throughout, topped with a crunchy, buttery streusel. 
Ingredients
½ c milk
1 envelope (¾ oz) active dry yeast (about 2 ¼ tsp)
¼ C granulated sugar, plus a pinch for the yeast
1 large egg
1 large egg yolk
½ teaspoon kosher salt
2 C all-purpose flour
7 tablespoon butter, room temperature cut into pieces, plus enough butter to grease bowl
Filling
4 tablespoon butter, melted, divided in two, plus a little more for pan
3 oz bittersweet chocolate bar, finely chopped
2 tablespoon unsweetened cocoa powder
2 tablespoon granulated sugar, divided
¾ teaspoon ground cinnamon, divided (¼ teaspoon plus ½ tsp)
2 tablespoon brown sugar
5 tablespoon all-purpose flour
1 egg
1 tablespoon heavy cream
Instructions
Pour milk into a measuring glass or small bowl, sprinkle yeast and a pinch of granulated sugar over milk. Stir once. Let sit for about 5 minutes, until foamy
In a medium bowl, whisk the egg, egg yolk, and remaining ¼ cup of granulated sugar in a medium bowl until smooth. Whisk the egg mixture into the yeast mixture.
Combine salt and 2 cups flour into a bowl fitted with the paddle attachment. Add egg mixture and beat on low speed until incorporated, about 30 seconds. Clean off paddle attachment and switch to a dough hook. Add the 7 tablespoons of butter a tablespoon at a time and beat on medium-low until butter is completely incorporated and dough is smooth, about 8-10 minutes. The dough is sticky.
Lightly flour a large, clean surface and turn out the dough onto it. Knead a couple of times until very smooth (dough will still be fairly sticky). Transfer the dough to a large buttered bowl. Cover with plastic wrap and let rise in a warm place until doubled in size, 1 ½ - 2 hours, then move straight away into the refrigerator for 45 minutes.
While the dough is rising, heat the chocolate, cocoa, 2 tablespoons butter, 1 tablespoon sugar, ¼ teaspoon cinnamon and ⅛ teaspoon of salt in a heatproof bowl set over a saucepan of simmering water, stirring occasionally until all is melted together and smooth. (I used a double boiler.)
Lightly flour a clean surface and turn out the chilled dough onto it. Roll out to a 22x12" rectangle (will be fairly thin) and orient so that the long side is facing you. Use an offset spatula to spread the chocolate gently over the dough to the outside edges, being careful not to rip the dough.
Preheat the oven to 350° and butter an 8 ½ x 4 ½ loaf pan.
Roll up the dough (away from you) in jelly roll style, tugging very gently to keep the roll fairly tight. Cut the roll into exact half and place one of the halfs over the other half in an X. Twist the right end of the X together, twisting twice, then twist the left end of the X together, twisting twice (total of 4 twists). Transfer the bread to the buttered pan. Cover with plastic wrap and let sit in a dark, warm place for 30 minute to rise.
Make the streusel while the bread is rising: In a medium bowl, whisk together the brown sugar and 1 tablespoon granulated sugar, ½ teaspoon cinnamon, and ⅛ teaspoon salt. Pour in the remaining 2 tablespoons of melted butter and stir. Stir in the flour until it forms moist clumps.
Whisk the egg and cream together in a small bowl. Brush some of the egg wash evenly over the entirety of the bread, then sprinkle the streusel over the top. Bake the babka for 50-60 minutes, turning the pan halfway through baking.
Transfer the pan to a wire rack and let it cool for about 15 minutes. Turn the bread out onto a rack, running a knife along the edges if needed before turning out. Let cool completely.
Notes
Tips and Stuff:
Start making this bread in the morning, as it has at least 3 hours rising, resting time.
Use a good quality chocolate - I used Ghirardelli Bittersweet Baking Bar and it's delicious.
This makes a lot of streusel, so start with ½ of it sprinkled on the bread and then add the rest to your tastes.  
You can melt the chocolate mixture in the microwave in 2 sessions of 30 seconds, stirring between sessions, if you want to save a little time.
Dough is sticky, but after turned out onto floured surface and risen, it will be an OK texture to roll up.  Roll it up gently, though, as the dough will be initially rolled out fairly thin and might break.  Pinch together if needed.
Nutrition Information:
Yield:

12
Serving Size:

1 slice
Amount Per Serving:
Calories:

303
Total Fat:

18g
Saturated Fat:

11g
Trans Fat:

0g
Unsaturated Fat:

6g
Cholesterol:

95mg
Sodium:

215mg
Carbohydrates:

30g
Fiber:

2g
Sugar:

8g
Protein:

6g
Nutrition Values are Approximate