Updated: September 2020
It was hard to pick from this month's Cake Slice Baker's four choices, but I finally decided on Blum's Coffee Crunch.
This was a popular signature cake in the 70's from a San Francisco bakery called Blum's and I can understand why it was so popular.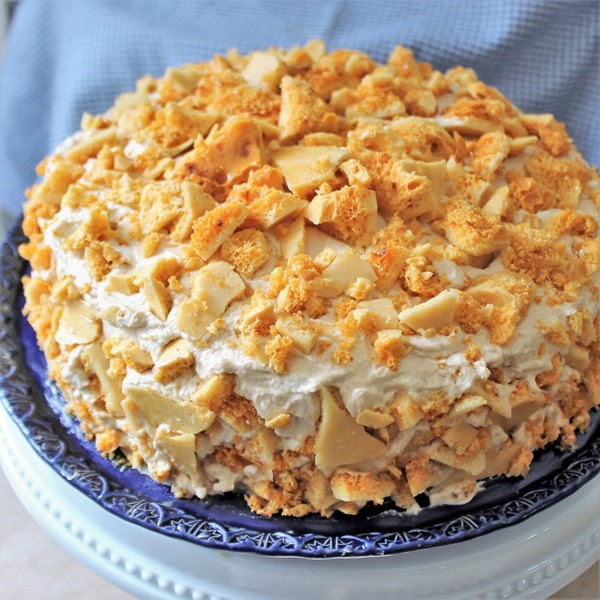 The cake itself is a luscious two-layer, lightly-lemon chiffon cake.
Then there's the coffee-flavored, incredible whipped cream frosting. The most unique part of the cake, though, is the crunchy coffee candy pressed into the sides of top.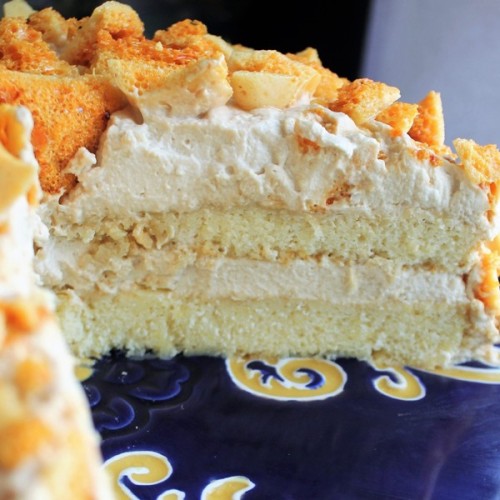 The coffee crunch is caramely, pillowy, and crunchy, kind of like a honeycomb candy, but a bit stickier. The combination of the cake, whipped cream, and crunchy candy is incredible and decadent, but also light in a way.
I was excited because the baking phase was going swimmingly and I thought, hey, this one looks difficult but is actually fairly easy. The candy was fairly straightforward to make. The cake is one 9-inch layer cut into two layers, then slathered with the easy-to-throw-together whipped cream frosting. Easy.
But then....you put the coffee candy in a plastic bag and tap it with a mallet until it makes a little smaller than bite-sized pieces. A little too late I realized it didn't take much force to break up the candy and I ended up with quite a bit more powdered candy than chunks. No problem, though. I sprinkled the tiniest pieces between the layers and used the bigger pieces on the outside of the cake. There was plenty to go around!
Would I make this cake again? Definitely. I think it tastes divine!
Now, if you're making Blum's Coffee Crunch cake for a special occasion, be sure and make it the same day. I stored mine in the refrigerator (because of the whipped cream, of course) and the candy got stickier and a little soggy. You'll want to serve this the same day you make it.
Update: I stored it in the fridge and it actually seems to be getting better every day. The candy became softer, but still great and the cake and frosting became unbelievably richer and better!
Blum's Coffee Crunch
Prep Time:
1 hour
30 minutes
Total Time:
2 hours
10 minutes
Heavenly, decadent cake with honeycomb-like candy sprinkled on a coffee whipped cream frosting.
Ingredients
For the Coffee Candy:
1 ½ C (10 ½ oz) sugar
¼ C brewed coffee
¼ C light corn syrup
1 tablespoon baking soda
For the Cake:
1 cup sugar
1 ¼ C cake flour
1 ½ teaspoon baking powder
¼ teaspoon salt
5 large eggs (2 whole, 3 separated), room temperature
6 tblsp butter, melted and cooled
2 teaspoon vanilla extract
1 teaspoon grated lemon zest, plus 2 tablespoon lemon juice
For the Whipped Cream:
2 C heavy cream, chilled
6 tablespoon sugar
1 tablespoon instant espresso powder or instant coffee granules
1 teaspoon vanilla extract
Instructions
For the coffee candy: Grease an 8" square baking pan and line with parchment paper, allowing extra paper to overhang the pan edges. Grease/spray the parchment.
Heat sugar, coffee, and corn syrup in large saucepan over medium-high heat, stirring occasionally until mixture registers 310° on a candy thermometer. Stir in baking soda until incorporated, about 20 seconds. Mixture will puff up significantly. Pour the mixture immediately into the prepared pan and let cool completely, about 1 hour.
Once cooled, remove coffee crunch block from the pan and place in a large zip-lock plastic bag; seal. Using a rolling pin, gently tap on the candy and crush into bite-sized pieces.
For the cake: Preheat the oven to 325°. Grease a 9" round cake pan and line with parchment paper. Spray the parchment paper and lightly flour the pan. Set aside 3 tablespoon of the sugar. Whisk flour, baking powder, salt, and the remaining sugar together in a large bowl. Add 2 whole eggs and 3 egg yolks from the separated eggs, melted cooled butter, vanilla, lemon zest and lemon juice and whisk until smooth.
Using a stand mixer fitted with a whisk attachment, whip the remaining 3 egg whites from the separated eggs on medium-low speed until foamy, about 1 minute. Increase the speed to medium-high and whip whites to soft, billowy mounds, about another minute. Gradually add reserved sugar and whip until glossy, soft peaks form, 1 to 2 minutes.
Using a rubber spoon, stir one-third of the whites into the batter bowl. Gently, very gently fold remaining whites into the batter until no white streaks remain.
Pour batter into prepared pan. Bake until toothpick inserted in the center comes out clean, 30 to 40 minutes, rotating pan halfway through baking. Let cake cool in pan on wire rack for 10 minutes. Remove cake from pan, discarding parchment paper, and let cool completely on a rack, about 2 hours.
For the whipped cream frosting: Using a stand mixer fitted with the whisk attachment, whip the cream, sugar, espresso powder (or instant coffee granules), and vanilla on medium-low speed until foamy, about 1 minute. Increase speed to medium-high and whip until stiff peaks form, 1 to 2 minutes.
Assemble the cake: Using a long, serrated knife, carefully cut the the cake horizontally into two even layers. Line edges of your cake platter with 4 strips of parchment paper to keep plate clean. Place 1 of the cake layers on the plate and spread 2 cups of frosting evenly over top, right to the edge of the cake.
Top with the second cake layer and press lightly to adhere. Spread the remaining frosting over the top and sides of the cake. Gently press crushed coffee crunch candy all over the cake (top and sides). Slide the parchment strips out from under the cake before serving.
Notes
Tips and Stuff:
Read through the recipe at least once and have your ingredients, utensils, pans and bowls at the ready.
The original recipe calls for unsalted butter, I use salted. It also calls for instant espresso. I use instant coffee granules and it works perfectly.
Tap the candy gently in the zip-lock bag, as it crushes easily. If you have lots of tiny pieces that won't look right on the cake, just sprinkle them between layers.
If you're making this the day before for a special event, don't put the coffee candy on the cake until you're ready to serve. The candy gets a little soggy from the frosting after a few hours in the refrigerator (but still fantastic....).
Nutrition Information:
Yield:

12
Serving Size:

1 slice
Amount Per Serving:
Calories:

381
Total Fat:

22g
Saturated Fat:

13g
Trans Fat:

1g
Unsaturated Fat:

7g
Cholesterol:

138mg
Sodium:

516mg
Carbohydrates:

41g
Fiber:

0g
Sugar:

30g
Protein:

5g